5-member team constituted to probe charges
Allegations against nursing college Principal Raj Rani
Amritsar, September 14
The Directorate of Research and Medical Education (DRME) has constituted a five-member team to investigate the allegations of "forcibly extracting" hostel and other charges from the nursing students that led to the suspension of the nursing college Principal.
All set for OST Centre's opening
NACO team gives go-ahead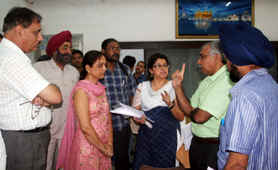 Amritsar, September 14
A high-level 10-member team of National AIDS Control Organisation, headed by Deputy Director General Dr Neeraj Dhingra, today visited the de-addiction centre of Guru Nanak Dev Hospital in connection with setting up of Opioid Substitutional Therapy (OST) Centre.
A team of NACO and Punjab State AIDS Control Society visits Guru Nanak Dev Hospital in Amritsar on Tuesday. A Tribune photograph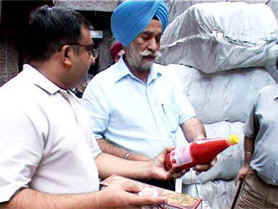 Spurious sauce, noodles seized from factory
Amritsar, September 14
A team of the Health Department today raided a factory situated on Ali Baksh road near Ram Bagh and seized huge quantity of spurious sauce and noodles from three godowns of the factory. "The raiding party recovered more than 1,500 quintals of spurious sauce and other material from the spot," revealed Dr Chandanjit Singh Kaundal, Civil Surgeon.
Civil Surgeon Chandanjit Singh Kaundal looks at a bottle of spurious sauce during a raid at a factory in Amritsar on Tuesday. Photo: Vishal Kumar

2 policemen injured in attacks, 13 booked
Tarn Taran, September 14
Two policemen were injured when they were attacked in two different incidents in the area for which 13 persons, including four of a family, have been booked.
Young World
GND varsity q-papers: Next year on, BEd, MEd students can pick their language
Amritsar, September 14
Guru Nanak Dev University has decided to provide question papers in English, Punjabi and Hindi to candidates appearing in the BEd and MEd examinations from next year. The examinees would be at liberty to attempt their question paper in any of the three languages.
2 women held for trying to travel on fake visas
Amritsar, September 14
Vigilant sleuths of the Immigration Department at Rajasansi International Airport detected two women passengers trying to travel abroad on fake visas. The immigration staff handed them over to the airport police station for carrying out further inquiry after completing their paperwork. The women have been identified as Rajo, daughter of Bhola Singh of Kotkapura in Faridkot district, and Alpana Rani, daughter of Raghubir Singh, resident of Sultanpuri, New Delhi. They were travelling to Dubai from Amritsar.
Man, son die after taking poisonous food
Wife says she saw lizard-like creature in the food bowl
Amritsar, September 14
The father-son duo lost lives, while another son of his was hospitalised after consuming poisonous food, last night, here. According to information, the New Azad Nagar-based family had taken food last night, suspected to be infected with a lizard-like animal. The deceased have been identified as Hardip Singh, (45) and his son Robin (16).
City lad chosen for national sub-junior badminton tourney
Amritsar, September 14
Class X DAV Public School student Rahul Soni (14) has been selected to play in the seven-day open national sub-junior badminton championship to be held at Hyderabad in November.
315 farmers get Rs 10.18-cr loan
Amritsar, September 14
As many as 315 farmers were given loans to the tune of Rs 10.18 crore at a day-long loan mela organised by the Rajasansi circle office of Punjab National Bank today.
New science block inaugurated
Amritsar, September 14
Vice-Chancellor of Guru Nanak Dev University Dr Ajaib Singh Brar inaugurated the science block at the Khalsa College for Women here on Monday. Addressing the faculty, Dr Brar emphasised the need to educate girls.