Diarrhoea claims another life
30 fresh cases reported; minister visits hospital
Bhanu P Lohumi
Tribune News Service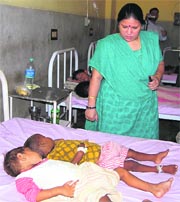 Health Minister Geeta Bhukkal at the Civil Hospital in Karnal on Thursday. Tribune photo: Ravi Kumar
Karnal, September 16
An elderly woman of Kalsera village, Vimla, reportedly died of diarrhoea at a hospital here this evening. While 94 diarrhoea patients from Kutel village have already been admitted to hospital, 30 fresh cases were reported at the trauma centre today.
Concerned over the increasing number of cases of diarrhoea, state Health Minister Geeta Bhukkal reached here this morning to take a stock of the situation.
Besides the disease, the patients' miseries were confounded by several other problems like non-availability of beds, unhygienic conditions, extra charges for beds and shortage of doctors, para-medical staff and stretchers.
The situation at the trauma centre was pathetic. Jyoti and Seema of Kutel village were forced to share the same bed as no spare beds were available.
A kid was heard telling his parents that he was fine and wanted to go home. "I am fine, please take me home. If I stay here any longer, I will definitely fall sick," he said.
The trauma centre, which was set up to cater emergency cases, has belied the hopes of the people and virtually become a referral centre. It has no neuro surgeon and CT scan facility, the bathrooms stink and even the attendants have to put up masks before entering the wards.
The track record of the centre in treating serious patients was also dismal and in most of the cases, the patients were either referred to the PGI, Chandigarh or the PGI, Rohtak.
The only de-freezer at the postmortem house has been lying non-functional for the past several months and the stink has enveloped the entire campus.
Civil Surgeon Vandana Bhatia said the proposed Kalpana Chawla Medical College would solve the problems, but there was no answer how to cope up with the present situation. When mediapersons apprised the Health Minister of the staff crunch in the Civil Hospital, Karnal, and other health institutions, Bhukkal said the process of rationalisation of the staff was in process and a new transfer policy, which was on the anvil, would take care of such problems.
Bhukkal said the authorities concerned had been directed to take all possible steps to ensure supply of safe water and take preventive precautionary steps to check contamination of water.
Village sarpanch Krishan Kalyan rued that the authorities concerned were informed in advance about the supply of contaminated water, but no action was taken.
Meanwhile, nine persons of Kutel village tested positive for cholera, adding to the worries of the Health Department. Fifteen samples were sent for test, out of which nine tested positive for cholera.