M A I N N E W S
RBI hikes key rates
EMIs set to go up
Shiv Kumar/TNS
Mumbai, September 16
The RBI in its first mid- quarter review of its monetary policy increased repo and reverse repo rates leaving the cash reserve ratio (CRR) unchanged as it battles to contain inflation.
The central bank noted that food inflation has risen to 15.10 per cent for the week ending September 4, thus making it necessary to rein in liquidity. As a result, RBI raised short-term borrowing rate (reverse repo) by 0.50 percentage points to 5 per cent and lending rate (repo) by 0.25 percentage points to 6 per cent. The increased rates aim to make financing costly thus curbing consumption.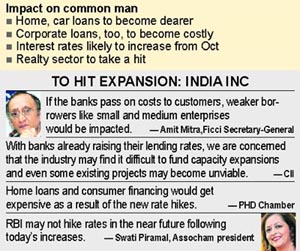 However, the RBI's observation that inflation rates have reached a plateau cheered investors, who felt that the central bank would put future rate hikes on hold. "Essentially, inflation rates have reached a plateau, but are likely to remain at unacceptably high levels for some months," RBI said.
The new rates would come into effect immediately, the RBI said. The apex bank also signalled banks to raise fixed deposit rates. "One important consequence of negative real rates is that banks have seen a deceleration of deposit growth, as savers look for higher returns elsewhere. If bank credit is not to become a constraint to growth, real rates need to move in the direction of encouraging bank deposits," RBI said.
The central bank also noted that the government was on target to contain the fiscal deficit. "With reference to government finances, the deficit appears to be conforming to the estimates made in the Union Budget for 2010-11," RBI said.
Meanwhile, banks across the country will take a call on increasing interest rates next month. Analysts feel that interest rates on housing loans and consumer financing would go up in the next couple of months.