HC refers back Josan's petition
Chandigarh, September 20
DAV-10 principal Dr BC Josan's petition against the orders, placing his services under suspension, could not make any headway today.
SSP finds night staff missing from duty
Chandigarh, September 20
Checking ground realities in the Chandigarh Police, the new SSP Naunihal Singh found several SHOs missing from duty last night.


Transfer policy for GPA holders
Bansal miffed at admn's attitude
Chandigarh, September 20
Pawan Bansal, Union Minister for Parliamentary Affairs and Water Resources, has expressed his displeasure at the attitude of the Chandigarh administration regarding the resumption of transfer policy for general power of attorney (GPA) holders in cooperative group housing societies.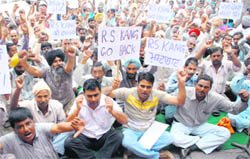 Protest by MC horticulture staff
Chandigarh, September 20
The Chandigarh Municipal Corporation Horticulture Worker Union staged a protest against Chief Auditor RS Kang's attitude towards employees here today.




MC workers protest outside the MC office, Chandigarh, on Monday. A Tribune photograph
CHB Sec-52 Housing Scheme for UT staff
Draw before Diwali
Chandigarh, September 20
After dilly-dallying for months over holding the draw of lots for the special housing scheme for UT employees in Sector 52, the Chandigarh Housing Board (CHB) officials are now hinting at pre-Diwali bonanza for thousands of employees who have applied for a house.
GMADA urged to improve sanitation in Sector 66
Mohali, September 20
The Defence Accounts Pensioners Welfare Association has urged the Greater Mohali Area Development Authority (GMADA) to improve the state of sanitation in Sectors 66 to 69.
Underground parking for ISBT-43 mooted
Chandigarh, September 20
With a view to tackling the parking problem, the Chandigarh administration has mooted a proposal for the construction of a Rs 16-crore underground parking at the Inter-State Bus Terminus (ISBT) at Sector 43 here.
Cong counterattacks BJP on councillor's defection
Chandigarh, September 20 The war of words between the Congress and the BJP over the induction of councillor of the municipal corporation of Chandigarh Jatinder into Congress hot up today, with former Mayor and Union Minister Pawan Kumar Bansal's media coordinator Pardeep Chhabra demanding the resignation of the two councillors of the BSP who had joined the BJP along with Dhawan recently.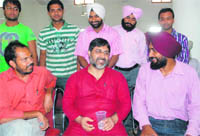 Geelani flays govt on Kashmir issue
Chandigarh, September 20
Prof Sayed Abdul Rehman Geelani from the University of Delhi spoke firmly against the attitude of the Government of India in dealing with the issues of all states, including Jammu and Kashmir.


Prof Sayed Abdul Rehman Geelani speaks at a convention in Chandigarh on Monday. A Tribune photograph
JP's Socialist Party to be revived
Chandigarh, September 20
Aiming for free and common education and equal opportunities for all, delegates of socialist fronts from 13 states from across the country have announced to revive the Socialist Party of Jai Prakash Narayan and Ram Manohar Lohia.
Drug awareness programme
Chandigarh, September 20
A drug awareness programme was organised to educate and aware the young minds at Snehalaya.
With docs absent, GMCH patients left in lurch
Chandigarh, September 20
Patients and their attendants in the emergency ward of Government Medical College & Hospital, Sector 32, had to go through a nightmare today morning with doctors in the surgery wing nowhere in sight for well over an hour from about 1 am.
State govt shielding Kanda: INSO
Activists burn effigy of Haryana Home Minister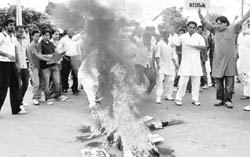 Panchkula, September 20
The youth wing of Indian National Lok Dal and Indian National Student Organisation (INSO) today burnt the effigy of Haryana Home Minister Gopal Kanda near Majri Chowk in Sector 2 here today.


The youth wing of the Indian National Lok Dal and INSO burn an effigy of Haryana Home Minister Gopal Kandal in Sector 2, Panchkula, on Monday. Tribune photo: Nitin Mittal
Proposal to make Mohali a solar city
Mohali, September 20
The Punjab Energy Development Agency (PEDA) has sent a proposal to the Municipal Council asking the civic body to make Mohali a solar city under a scheme of the Central government.
Despite DC orders, vehicles continue to be parked on highways
Zirakpur, September 20
In violation of the direction issued by the District Magistrate, Mohali, vehicles continue to be parked outside marriage palaces on the highways causing traffic chaos.
Cultural Extravaganza
Himachali folk dance a big draw
Chandigarh, September 20
A complete entertainment package, including music, masti, dances, modelling and two short plays, marked the fourth annual cultural extravaganza presented by students of the Aryans Group of Colleges, Banur, at Randhawa auditorium here today.


CAS guidelines to be released soon
Chandigarh, September 20
The Panjab University Teachers' Association (PUTA) today held their general body meeting at the English Auditorium, Panjab University.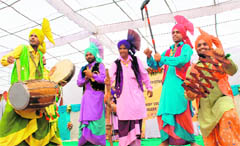 SGGS-26 first in mime
Chandigarh, September 20
Enthusiasm marked the second day of the four-day Panjab University Zone-A Youth and Heritage Festival at Postgraduate Government College, Sector 11.

Students perform during the zonal youth and heritage festival at Government College, Sector 11, Chandigarh, on Monday. Tribune photo: Nitin Mittal
Ram shines in shloka recitation
Chandigarh, September 20
Sanskrit Day was celebrated at the Sanskrit department of Panjab University here today.
Students hold discussion on inclusive development
Chandigarh, September 20
Critique, a students' discussion forum, today held a unique discussion in the sociology department, Panjab University, on the theme "Inclusive development, displacement and alterative politics".