UP IN ARMS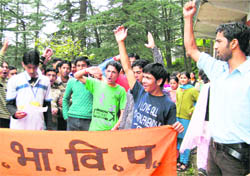 Activists of the ABVP shout slogans against the poor infrastructure in Sanskrit College and substandard material being provided by college canteen in Shimla on Tuesday. Photo: Amit Kanwar
Tourists stranded due to landslides
Shimla, September 21
More than 150 tourists, including 20 foreigners, have been stranded in the Sangla valley with the Sangla-Karcham and Wangtoo-Bhavanagar road being blocked due to massive landslides in the tribal district of Kinnuar. Police sources said some of these people were unwell, especially those prone to asthma, but medical help had been provided to them.
Japan-funded farm projects to start next year
Shimla, September 21
The Rs 400 crore projects for crop diversification and technical cooperation being funded by the Japan International Cooperation Agency (JICA) will be implemented from the next financial year.
Exam Scam
Postal, school staff under lens
Dharamsala, September 21
The police will question postal employees and some workers of government schools in Nagrota Bagwan of Kangra district for examination scam.
BJP blames Cong, backs school board chief


Shimla, September 21
While blaming the previous Congress regime for allowing the certificate scam despite their own legislator Vijai Singh Mankotia raising the matter in the assembly, the BJP today said it would ensure that the culprits were punished. Coming to the defence of the HP Board of School Education chief, senior BJP leader and Chairman of the Housing Board Ganesh Dutt today said Chaman Lal Gupta had acted the moment the matter came to his notice.
CM for national education policy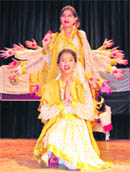 l Spending on education must go up l Provide better facilities to rural schools
Shimla, September 21
Chief Minister Prem Kumar Dhumal has underlined the need for a national education policy to bridge the gap between the haves and have-not. Presiding over the annual function of St Mary School here today, Chief Minister said budget spending on education must go up substantially as it was only 2.86 per cent at the national level, whereas Himachal Pradesh had earmarked 18 per cent for the sector. He said good education would help in laying a solid foundation for a bright future.
Students of St Mary School present a cultural programme in Shimla on Tuesday. Photo: Amit Kanwar
Drug menace on rise among school kids: DGP
Shimla, September 21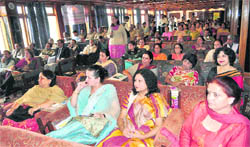 With at least one youth from every panchayat in Kullu district serving sentence for drug trafficking and peddling, increasing incidents of chemical substance abuse, especially among youths could lead to a very dangerous situation in the coming decades.


Principals from various schools of the city during a seminar in Shimla on Tuesday. Photo: Amit Kanwar
Seminar on biotechnology
Bilaspur, September 21
The science of biotechnology will soon bring a virtual revolution in the society and it would usher in an era of better life for human beings, said principal Dr Subhash Gupta while inaugurating a seminar organised by the Biotechnology Department of Government Postgraduate College here yesterday.
BJYM launches 'Save J&K' campaign
Anurag Thakur blames Cong, NC for turmoil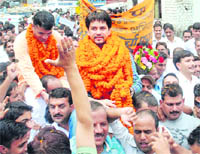 Mandi, September 21
The Bhartiya Janata Yuva Morcha's (BJYM) today launched its "Save Jammu and Kashmir" campaign from this temple town today with BJYM's national chief Anurag Thakur blaming the Congress and National Conference government for the present turmoil in J&K.


BJYM national chief Anurag Thakur with state president Narender Attri at a rally in Mandi on Tuesday. A Tribune photograph
Wood Smuggling
` 6.89 lakh recovered from ITBP official
Shimla, September 21
The police yesterday recovered Rs 6.89 lakh taken by arrested ITBP official Sukdev Singh Rana as payoff for ensuring smooth transfer of the valuable red sander wood from India into China across the Lepcha border. The recovery has confirmed the unholy collusion between the smugglers and those responsible for protecting the border.
Man gets life term for wife's murder
Chamba, September 21
Chamba Sessions Judge LR Sharma has convicted Raju Ram, alias Raj Kumar, a resident of Kalwara village, for murdering his wife, under Section 302 of the IPC and sentenced him to undergo life imprisonment and to pay a fine of Rs 50,000. In default of payment of fine, the convict shall further undergo rigorous imprisonment for a period of two years.
'Harassed' instructor ends life
Solan, September 21
In a bizarre incident, a physical training instructor committed suicide on Saturday following alleged harassment at the hands of her headmistress at Government High School, Kansawala, in Darlaghat subdivision.
Undertrial's Death
'Drug' pouch found from deceased
Dharamsala, September 21
The death of undertrial Ajay Guleria in Dharamsala jail two days back has taken a new turn. Highly placed sources told The Tribune that the doctors who conducted postmortem examination on his body recovered a small pouch containing white powder attached with tape to his private parts. The white powder is suspected to be charas.
Kapurthala man held for fraud
Bilaspur, September 21
The police has arrested Sarvajit Singh of Kapurthala for trying to deceive Ramesh of Kot Majhon village at Ghumarwin near here. Sarvajit assured him to send Ramesh to foreign country if he paid him Rs 1.50 lakh.