NC-Congress coalition to stay, says Soz
Udhampur, September 23
Pradesh Congress Committee (PCC) chief Saifuddin Soz today put to rest speculations about fissures in the NC-Congress coalition government. The difference of opinion surfaced during the recent visit of the all-party delegation to the state.
Impending Ayodhya Verdict
Administration makes dossier on troublemakers
Jammu, September 23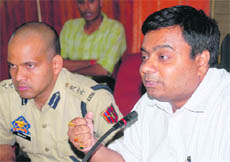 Ahead of the Ayodhya verdict, which has been deferred to September 28, the district administration has prepared a dossier of troublemakers and rumourmongers."We urge the civil society here not to trust rumourmongers and maintain communal harmony in the winter capital. The district administration has prepared a dossier of elements inimical to peace," Deputy Commissioner MK Dwivedi told reporters here today.

M.K. Dwivedi, Deputy Commissioner, Jammu, addresses mediapersons in Jammu on Thursday. Photo: Inderjeet Singh

Ladakh leaders fear rigging in LAHDC poll
Jammu, September 23
Sitting chairman of the Ladakh Autonomous Hill Development Council (LAHDC) Chhering Dorje today charged the state government with adopting all illegal means to rig the coming elections of the hill council to get the Congress candidate elected unanimously from the Skumorhkha segment.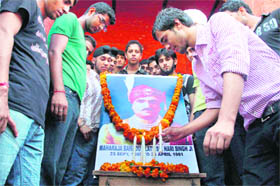 Students of GGM Science College pay tributes to Maharaja Hari Singh on his 115th birth anniversary in Jammu on Thursday. Photo: Inderjeet Singh
Curfew relaxed in Mendhar
Jammu, September 23
Even as the curfew was relaxed for three hours on the ninth day today since it was clamped on the violence-hit Mendhar town of Poonch district, Jammu Divisional Commissioner Pawan Kotwal urged the people in Mendhar town to maintain communal harmony.
Kashmir a national issue: Shabir Shah
Jammu, September 23
Separatist leader Shabir Shah, imprisoned in the Kot Bhalwal Jail under the Public Safety Act and under treatment at a private hospital, said today that the visit of the all-party delegation to the state was a welcome step and it would bring positive results.
Alleged Act of Sacrilege
Separatists 'whipped up mob frenzy' in Jammu region
Jammu, September 23
With the Kashmir valley already on the boil, separatists used an alleged act of sacrilege in the USA as a ploy to whip up violence in the Jammu region.Over 18 persons were killed and several others injured in the violence fomented by the separatists following a report of the alleged sacrilege.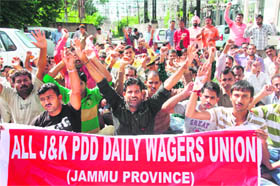 Members of the J&K PDD Daily Wagers Union protest in support of their demands in Jammu on Thursday. A Tribune photograph
Rs 4 lakh for free medicines in hospitals
Srinagar, September 23
Minister for Rural Development Ali Mohammad Sagar today released Rs 4 lakh out of his Constituency Development Fund (CDP) for providing free medicine to patients admitted in three government hospitals.
Shops, vehicles damaged in landslide
Ramban, September 23
Several shops and vehicles were damaged and a policeman was injured today when a landslide hit the Jammu-Srinagar National Highway, choking it for three hours, in Ramban district of the state.
All-party delegation flayed for not meeting terror-hit
Jammu, September 23
The Sangarsh, an organisation of students and scholars at Jammu University, today criticised the all-party delegation for not listening to the problems of the refugees and militancy-hit migrants.
Army school student wins international contest
Jammu, September 23
A class IX student of Army School, Nagrota, has brought laurels to the state by winning highly competitive FEI Children International Competition held recently at Sirhind.
Last date for IT returns in state extended till Nov 30
New Delhi, September 23
The Income Tax Department has extended the last date of filing of returns for the assessment year 2010-11 in the state to November 30 due to the law and order problem in the state.
Members of the All-J&K SRTC Consolidated Drivers Welfare Association protest in support of their demands in Jammu on Thursday. Tribune photo: Anand Sharma
National psychiatry conference in Jammu
Jammu, September 23
The annual national conference of the Indian Association of Private Psychiatry (ANCIAPP) will be held in Jammu from September 24 to 26.
Bhasin re-elected consumer council chief
Jammu, September 23
Ved Bhasin was re-elected as the president of the Jammu Consumer Council (JCC) while Jatendar Bakshi was elected secretary-general at the 20th meeting of the general body of the council here today.
Regular classes in schools, colleges from Sept 27
Srinagar, September 23
Divisional Commissioner, Kashmir, Asgar Samoon, has said regular classes will start in all schools and colleges in the Valley from September 27 in view of little time available for completion of studies and school examinations.