Devotees take part in a Rath Yatra Mohatsav at the Digamber Jain temple in Sector 27, Chandigarh, on Saturday.
Tribune photo: Manoj Mahajan


BJP workers participate in a candlelight march for peace in the Kashmir Valley, at Sector 17 Plaza in Chandigarh on Saturday. Tribune photo: S Chandan
Admn welfare funds for poor remain unutilised
Chandigarh, September 25
Ignorance, they say, is bliss. But not always!
Double Murder Case
Juvenile put on probation period
Panchkula, September 25
The local juvenile court awarded three-year 'punishment of probation period' (meaning set free) to the key accused Robin Khan (name changed), one of the accused in the double murder of Vinod Mittal and his four-year-old son Yashan in February 2009.
Nari Niketan Case
Crucial witness goes missing
Chandigarh, September 25
A crucial witness in the Nari Niketan rape case, Rekha, has gone missing from the state-authorised shelter home, Missionaries of Charity.


CGHS Dispensary Shifting
20,000 beneficiaries face uncertainty
Chandigarh, September 25
Over 20,000 beneficiaries of the Central Government Health Scheme (CGHS) in the region could be deprived of health care facilities until and unless either the Union Health Ministry takes urgent steps to find an alternative place to shift its lone dispensary in Sector 45 or the UT administration shelves its plan to evict them from there.
Leukaemia within realm of curable disorders: Experts
Chandigarh, September 25
Largely untreatable hitherto, acute leukaemia is now well within the realm of curable disorders and a proper diagnosis and treatment with regular follow-up can save the lives of a majority of such patients. Medical experts deliberated on various aspects of leukaemia treatment at a conference of the north-west chapter of the Indian Society of Haematology and Transfusion Medicine, here today.
Newborn's Death
Family alleges docs' negligence
Chandigarh, September 25
A newborn, discharged from the PGI with remarks "normal new born", died within a day, as doctors allegedly failed to notice that the baby was not able to pass stool due to "anorectoal malformation".
GMSH-16
Use of mobiles by staff banned

World Heart Day
Is your heart healthy?
Avoid junk food, sweets, says Talwar
Chandigarh, September 25
"Exercise and a controlled diet can keep one's heart healthy," said cardiologist and PGI director Prof KK Talwar on the occasion of World Heart Day.
Camp at Press Club
Chandigarh, September 25
A heart check-up camp was organised at the Chandigarh Press Club here today. Dr UP Singh, managing director, Prime Heart Institute, said more and more people were complaining about heart problems.
Khaki loses sheen, as crime continues to rise
Panchkula, September 25


Call it a paucity of manpower, shortage of funds or ill-equipped force, residents of the city are bearing the burnt of frequent burglaries, kidnappings, dacoities, murders, and other petty crimes.
Residents seek traffic lights on Zirakpur-Kalka highway
Zirakpur, September 25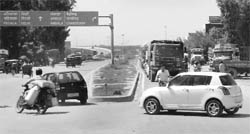 In the absence of traffic lights and traffic police on the Zirakpur-Kalka highway near Baltana link road, heavy traffic has become a nightmare for residents of adjoining areas.



Vehicles take a risky turn on the Kalka-Zirakpur highway near Baltana at Zirakpur. Tribune photo Nitin Mittal
No takers for fish market again
Chandigarh, September 25
The first-air-conditioned fish market of the city at Sector 41 has again failed to find any takers as only one tender was submitted for auction of booths in the market, forcing the MC authorities to cancel the auction.
TTEs to locate train berths with hand-held devices
Chandigarh, September 25
In order to minimise paper wastage while preparing reservation charts as well as to speed up the process of providing on-the-spot tickets to passengers, Indian Railways has decided to introduce a new device called handheld terminal (HHT) on trains. In the first phase of the exercise the devices are being installed at major stations, including Jammu and Amritsar from where important trains begin their journey.
Stress on importance of consumer rights
Chandigarh, September 25
An open house session for consumer awareness was organised by BSNL Chandigarh telecom district in the telephone exchange building, Sector 34, here today.
Corbusier's paintings found at craftsman's house
Chandigarh, September 25
In a significant development, officials of the UT Administration have recovered 17 paintings of the Le Corbusier's time from the residence of Jaswinder Singh, son of Giani Rattan Singh in Sector 27, who was one of the craftsmen of Le Corbusier.

Mushaira enthrals audience
Chandigarh, September 25
Impassioned verses with rich and varied thought content recited by acclaimed poets enthralled audience in the "Kul Hind Urdu Mushaira" at the Randhawa auditorium here today.

Cop poet Rajbir Deswal at the 'Kul Hind Urdu' mushaira in Chandigarh on Saturday. A Tribune photograph
'Proposal' has audience in splits
Chandigarh, September 25
The Chandigarh Institute of Performing Arts (CIPA) presented a Hindi comedy play "Proposal" in collaboration with NZCC at the Kalagram here yesterday to a sizable audience comprising senior citizens.


Filling of vacant posts against varsity rules
PU VC denies allegations
Chandigarh, September 25
Panjab University Vice-Chancellor RC Sobti today denied all allegations levelled by RTI activist RK Singla against him that three posts have been filled against the university rules. Sobti today quoted Section 2 (E) of the PU calendar and said the recruitment against three posts of station manager (PU community radio station), training-cum-placement officer (UIAMS) and public relation officer (PRO) (against DPR-cum-editor, PU News) were all done as per the rules and regulations.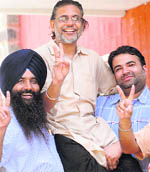 Ronki wins PU Senate byelection
Chandigarh, September 25
Winning by a margin of eight votes, Ronki Ram, former president of Panjab University Teachers' Association (PUTA) and head of political science department, today defeated Manjit Singh in the Senate byelection.




Ronki Ram, new Senate member from the arts constituency, in a jubilant mood after winning byelection by eight votes. A Tribune photograph
Student council vice-president enters into argument
Chandigarh, September 25
An argument between Panjab University Campus Student Council (PUCSC) vice-president Vibha and students of the department of botany was reported during the freshers' party held at the geology department auditorium today.