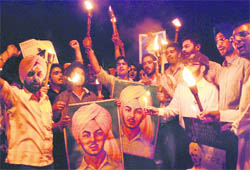 Members of a students' organisation hold a candlelight march on the eve of Shaheed Bhagat Singh's birth anniversary at Panjab University in Chandigarh on Monday. Tribune photo: Vicky Gharu
Budget hotels shun foreigners
Chandigarh, September 27
While the city soaks in the spirit of World Tourism Day today, foreign tourists continue to be unwanted guests for the lesser-known budget hotels. Blame it on self perceived moral issues, 'tedious' registration formalities or low profit, foreign tourists are a big no-no for most of the small hotels located in the heart of the city. This also exposes the truth about many city hotels that claim they will welcome foreign guests ahead of the upcoming Commonwealth Games in New Delhi. "Having a foreign tourist in your hotel means a lot of hassles.
Police searches PG accommodations, slums
Zirakpur, September 27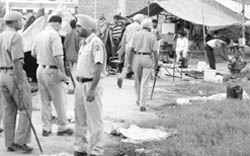 With the country gearing up for Commonwealth Games, the Mohali police is leaving nothing to chance. In an attempt to keep a tab on the activities of anti-social elements, the police has launched a major search operation in PGs, tenants and slum areas.


Policemen conduct a search at a slum in Zirakpur on Monday. A Tribune photograph
Sector 76-80 Scheme
Oustees seek price parity with general applicants
Mohali, September 27
Members of the Oustee Category Sangharsh Committee, Sectors 76-80, have urged the Punjab Chief Minister to direct the Greater Mohali Area Development Authority (GMADA) to charge rates same rates as charged from general category applicants for plots allotted to farmers after acquiring their land.
Corporation for Mohali
House to discuss issue on October 6
Mohali, September 27
The proposal regarding upgradation of the Mohali Municipal Council into a corporation will be discussed by the General House on October 6, even as the ruling minority group and opposition councillors have stuck to different stands on the matter.
Dissent over garbage plant at Jheuriwala village
Admn now looks for alternative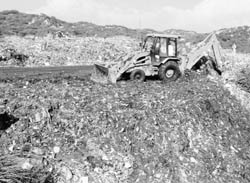 Panchkula, September 27
Even though the district administration awaits clearance from the ministry of environment to set up a garbage treatment plant at Jheuriwala village, the project seems to have hit the roadblock as villagers have protested against the same.




JCB machines clear garbage from the dumping site at Sector 23, Panchkula, on Monday. Tribune photo: Nitin Mittal
PROMOTING TOURISM? CHECK THIS OUT FOR REALITY!
Tourism plans that failed to sustain themselves
1. Bed and Breakfast Scheme: The scheme, which was launched about two-and-a-half years ago, was scrapped last year following violations of rules and misuse by certain elements.



From left: A defaced signboard near the Government Museum at Sector 10; a broken antelope model beside the Sukhna Lake; and an uncared 'vanaspati upvan' near the Rock Garden in Chandigarh. Tribune photos: Manoj Mahajan
Panel drafts e-waste disposal policy
Chandigarh, September 27
The Chandigarh administration has drafted a policy for the proper management of e-waste of the city.
Spoof on corruption tickles audience
Chandigarh, September 27

As a part of the Tourism Week celebrations by the Chandigarh Administration, a Hindi comedy play "Rashtriya Bhrashtachar Adhiveshan" was staged at the Tagore Theatre here today.





Artistes perform a play directed by Kuldeep Sharma at the Tagore Theatre in Chandigarh on Monday. Tribune photo: Vinay Malik
Traders' body splits
Jagdish Arora, 37 others quit
Chandigarh, September 27
It is official now. The Chandigarh Beopar Mandal (CBM), the apex body of city traders, formally split today, with the resignation of 37 members, along with Jagdish Arora, president of the recently formed Chandigarh Business Council (CBC).



Women police personnel march while an official cleans a weapon ahead of the SSP's inspection in Chandigarh on Monday. Tribune photos: Manoj Mahajan
26 youths get plumber certificates
Chandigarh, September 27
The Municipal Corporation, Chandigarh, distributed certificate to 26 unemployed youngsters who got training under a plumber training programme for the youth living Below the Poverty Line (BPL) under the Swaran Jayanti Shahri Rozgar Yojana (SJSRY).
142 IAF personnel donate blood
Chandigarh, September 27
As many as 142 Air Force personnel donated blood at a camp organised at the Air Force Station, High Grounds, near here today.
203 patients examined
Chandigarh, September 27
A total of 203 patients were examined at a free health check-up camp organised by Rotary Chandigarh at Shivalik Kajheri village here.


PU to absorb talented post-doctorate students
Will offer them teaching jobs; proposal will be drafted under PURSE grant
Chandigarh, September 27
In a move to absorb its own talent and thus prevent depletion of excellence from its campus, Panjab University is now considering to retain outstanding post-doctorate students in the university by offering them teaching jobs.
Hi-tech computer lab launched at PU
Chandigarh, September 27
Panjab University Vice Chancellor RC Sobti today inaugurated a new laboratory with a "high performance-computing cluster" at physics department. The super computer with 48 integrated computers has been installed to enable students and teachers to perform high-speed calculations and scientific derivations.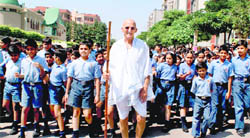 Students on peace track
Panchkula, September 27
More than 1,000 students from 20 different countries participated in the 5th International Students Peace Festival organised by The Gurukul, Sector 20, under the aegis of Yuvasatta here today.

Students of The Gurukul, Sector 20, during a peace march in Panchkula on Monday. A Tribune photograph
Commonwealth Games
Education dept to spread awareness among students
Chandigarh, September 27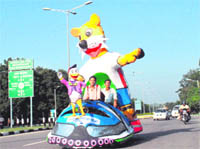 After their Delhi counterparts, it's city students, who will befriend "Shera" and celebrate the spirit of Commonwealth Games. In a bid to make this historic sports extravaganza memorable, the UT education department is planning to organise various activities and events related to the Games to get children interested in the event and also create awareness about players, sports events and countries participating.
College students with Commonwealth Games mascot "Shera" promote the game in Chandigarh. A Tribune photograph
Councillors' study tour sent for approval
Chandigarh, September 27
The Mayor, Anu Chatrath, has sent a communique to the local government Secretary and Home Secretary Ram Niwas, informing about the purpose of the study tour of councillors.