Core industries register sluggish growth at 3.7 pc
New Delhi, September 29
Key infrastructure industries registered a sluggish growth of 3.7 per cent in August, leading to apprehensions that it may pull down the country's overall industrial output for the month. The growth rate was 6.4 per cent in August 2009.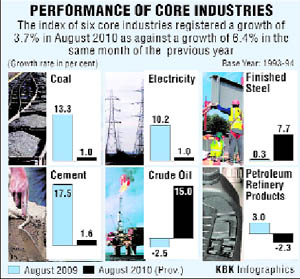 The six core industries -- crude oil, petroleum refinery products, coal, electricity, cement and finished steel -- had registered 4 per cent growth in July this year.
The expansion of the infrastructure industries has an impact on industrial growth, as they contribute over one- fourth (26.7 pr cent) to the Index of Industrial Production (IIP). The IIP data for August would be released next month.
The IIP in July was 13.8 per cent.
The growth of these six industries in August is far less than the 5 per cent and 5.4 per cent growth rate achieved in May and April, respectively.
This translates into an average growth of 4.1 per cent for the first five months of this fiscal, as against 4.8 per cent during April-August 2009-10, showed the data released by the Commerce and Industry Ministry.
"This is not a good sign for a sustainable growth. The lower (core sector data) numbers would pull down the IIP of August,"Crisil Principal Economist D K Joshi said.
He said the slow growth in cement, coal and electricity was reflecting sluggish construction activities.
August's petroleum refinery production contracted by 2.3 per cent, against positive growth of 3 per in year-ago month.
The crude oil output growth was 15 per cent while it had contracted by 2.5 per cent in August 2009.
Production of both coal and electricity slowed to mere one per cent each, as against robust growth of 13.3 per cent and 10.2 per cent in August 2009, respectively.
Similarly, cement production too slowed to 1.6 per cent from 17.5 per cent in the year ago period.
However, finished steel output grew by 7.7 per cent in August this year. It was 0.3 per cent in the same month last year.
During the April-August period, crude oil, petroleum refinery products and cement production registered a growth of 6.5 per cent, 5.3 per cent and 4.6 per cent, respectively.
Growth in refinery products had contracted in the same period last year by 4.9 per cent.
As per the data, growth in coal output during the first five months of the fiscal slowed to 0.9 per cent from 12.6 per cent in the year-ago period. Similarly, growth in electricity generation slowed to 4.4 per cent from 6.2 per cent in April- August 2009-10.
However, finished steel output growth was higher at 3.5 per cent in April-August 2010-11, as against 1.9 per cent in the corresponding period last year. — PTI