Ayodhya Verdict
Malerkotla streets present deserted look
Tribune Reporters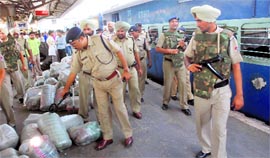 Personnel of the RPF check luggage at Bathinda railway station. Tribune photos
Malerkotla, September 30
Chairman of the Punjab Wakf Board Izhar Alam today welcomed the Ayodhya verdict and urged people not to make it a political issue. "I welcome the verdict and people should accept it as it is in favour of the country," he added.
On the other hand, the Sunni Waqf Board and the Babri Masjid Action Committee said they would appeal in the Supreme Court against the verdict delivered today in Lucknow.
Former Mufti-e-Punjab and founder member of the All-India Muslim Personal Law Board Fuzailur Rehman Hilal Usmani said they honoured the verdict but would appeal in the court against it, adding that if anybody was not satisfied with the judgment, they had option to move the court.
The police had made tight security arrangements at sensitive places here today. Sangrur SSP Harcharan Singh Bhullar said the intelligence network was on high alert to monitor the movement and activities of anti-social elements.
He said as a preventive measure, security forces were deployed at sensitive places, including temples and mosques.
Several shops and business establishments, which were open earlier in the day, downed their shutters as the time of the verdict advanced.
Police personnel in large number were seen near Kali Mata Mandir, Hanuman Mandir, Sirhandi Gate, Kullar Wala Chowk, 786 Chowk and other sensitive areas of the city.
Earlier, a meeting of a peace committee was called at Milan Palace near the railway station by the local administration under the presidentship of Sangrur DC Harkesh Singh Sidhu. Hundreds of Hindu and Muslim leaders participated at the meeting and assured the administration that peace would be maintained at any cost in the city.
Arshad Dally, a social worker, said everyone should honour the verdict and everybody had the right to move the Supreme Court, but the most important was to maintain love and affection between both religions.
Bathinda remains peaceful
Bathinda: In the light of the judgment of the Allahabad High Court on the Ram Janmabhoomi-Babri Masjid title suit, a large number of police personnel were deployed at temples and mosques here to check any untoward incident. In each temple and mosque, three to four police personnel had been deployed.
However, the situation remained normal and no tension was reported from any anywhere. Bathinda SSP Sukhchain Singh Gill said around 1,100 police personnel had been deployed in all parts of the district.
Earlier in the day, a team of the Railway Protection Force also checked bundles of goods and bags at the railway station.
FEROZEPUR: Yoga Guru Swami Ramdev on Thursday claimed that the verdict in the Ram Janmabhoomi-Babri Masjid case was a victory of truth.
Talking to mediapersons at Zira, he said all members of the Muslim community should respect the verdict and not get disappointed over the same.
He said the verdict should not be made an agenda of personal happiness and mass celebrations in this connection should be avoided.