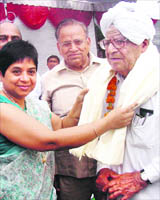 Senior citizens honoured
Hisar, October 1
Vaanprastha, a local organisation, today honoured 10 senior citizens on the occasion of Senior Citizen's Day for their contribution to society. They were Jai Singh, O. P. Nain, R. P. Girdhar, Ved Khanna, Phholpati, Bimla Sharma, Vinod Shankar Gupta, NK Tiwari, YK Kaura and Inder Singh.





DC Neelam Pradip Kasni honours an elderly person in Karnal on Friday. A Tribune photograph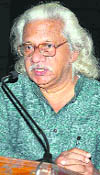 Film fest opens with Adoor's 'Shadow Kill'
Yamunanagar, October 1
Renowned filmmaker Adoor Gopalakrishnan inaugurated the third Haryana International Film Festival with the lighting of the auspicious lamp at DAV Girls College here today. Referring to his film - "Shadow Kill" screened on the opening day, he said it was inspired by the true story of the last hangman in the erstwhile Kingdom of Travancore.



Film-maker Adoor Gopalakrishnan addresses a press conference in Yamunanagar on Friday. A Tribune photograph

More funds for Krishi Kendras sought
Hisar, October 1
Extension education specialists have underlined the need for strengthening Krishi Vigyan Kendras to help raise agricultural output. Extension educationists had gathered here at Haryana Agricultural University to deliberate on the future of extension education in the country.
Law officers collect Rs 2 lakh for Ladakh relief fund
Chandigarh, October 1
Haryana law officers and the state advocate-general have collected Rs 2 lakh for the Ladakh relief fund.
KU taking steps to check teaching shops, says VC
Kurukshetra, October 1
Faced with the problem of a large number of BEd and technical colleges virtually running teaching shops and indulging in malpractices, Kurukshetra University, entrusted with the task of filling 60,000 BEd seats, has evolved a mechanism to check malpractices and ensure that the quality of education is not compromised with.

Gadkari's pocket picked
Thief nabbed by Faridabad police
Faridabad, October 1
In a major embarrassment to the Haryana police, a pick- pocket today stole a mobile phone of BJP party president Nitin Gadkari during his visit here.

BJP president Nitin Gadkari in Faridabad on Friday. Tribune photo:
Sayeed Ahmed

Rebuked at school, girl kills herself
Sirsa, October 1
Sarita, a plus one student of Kendriya Vidyalaya 2 (KV-2) here, hanged herself to death at her residence last evening. Sarita, whose father is in the Indian Air Force, was upset after she was rebuked at school for not bringing her parents to a parent-teacher meeting.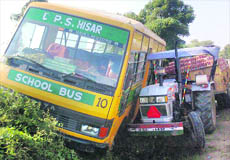 Lucky escape for school kids
Bus collides with tractor-trailer, nobody hurt
Bhiwani, October 1
At least 15 schoolchildren had a narrow escape when the school bus they were travelling in collided with a tractor-trailer near Hansi crossing at Buwani Khera village, 18 km from here, today.


The accident site near Buwani Khera in Bhiwani. Photo: Shiv Sharma

4 undertrials attempt to escape, held
Kaithal, October 1
Four undertrials attempted to flee while boarding the prisoner's van at the district courts after attacking the escorting police party here today.
Youth beaten to death
Jhajjar, October 1
A youth was allegedly thrashed to death in Sunderheti village here last night. The deceased has been identified as Vinod, a resident of the same village. The police has registered a case of murder against three co-villagers in this regard.