Green tourism: Dehradun duo succeeds where others failed
The twosome has employed 70 local youth
Seema Sharma
Tribune News Service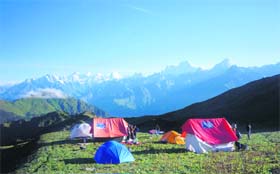 A tourist camp by Mountain Shepherd in Chamoli.
Dehradun, October 3
While almost all big tourism projects which were started by the Centre and state governments to boost tourism and biodiversity in environmentally fragile areas have more or less failed, the efforts of Dhan Singh Rana and Sunil Kainthola have met with success.
The projects involved opening of hotels and resorts and invoking community participation by providing them employment in these accommodations or other tourists activities.
Dhan Singh Rana and Sunil Kainthola, residents of Dehradun, had established their company Mountain Shepherd Initiative Private Limited in 1994.
These environment lovers, who had participated in the Chipko Andolan, jumped into another one in 1998, after the Nanda National Park was established, when communities were barred from using the area for their livelihood.
Later, the government relaxed the rules, but the experience certainly opened new vistas for this duo to explore tourism for the benefit of the community and, most importantly, to make them equal stakeholders. "The boys employed with us are stakeholders with equal equities," said Kainthola.
Sunil, who stunned the audience with the success story of his maiden experiment, said, "We have proved that there is no need to build posh accommodation, like hotels or resorts, for adventure tourism in hill states. Mere clean and comfortable camps or tents equipped with clean water and simple food and good equipment for adventure activities such as rafting, mountaineering and paragliding are needed. The ones, who look for luxuries should stay away from the mountains. They should rather go to plains and stay in five-star hotels".
He said true nature lovers were the ones who switched off their mobile phones while seeking solace and pleasure from nature.
These technocrats have woven their success story by using technology to their advantage.
They got help from an outsider who read about them on the Internet, contacted them and facilitated them with a website.
The website has fascinated several foreign tourists and even those who facilitated the training for their boys at the Nehru Institute of Mountaineering (NIM).
Not only this, they have also placed their tour packages, short video films, GPS reading etc on the youtube website.
The twosome has employed 70 dropout youngsters and got them trained. "We selected school dropouts living in and around scenic places throughout Garhwal as the highly educated would rather look for big and steady jobs.
"The selected youngsters were then provided professional training and the ones meant for mountaineering purposes were sent to NIM, Uttarkashi".
Now, the group is doing so well that they will open their institute to provide basic knowhow in adventure sports.
Their team handles sightseeing and adventure sports. Other services like arranging railway or air tickets and conveyance from Delhi airport to destinations in Uttarakhand are outsourced.
Keeping in mind the bright future of the green tourism industry, Sunil has been reinvesting his income to buy land to pitch their own camps. They have managed two in Uttarkashi and one at Dhodi Taal so far.
Their next step is to again rope in technology for further diversification. "Internet users will be able to buy good literature on Uttarakhand, music, films and handicrafts put forth by us though online payment gateway services where customers will get the product within 48 hours," Sunil said.
The duo has definitely set an example for others entrepreneurs to follow and make their own destiny without looking to governments for assistance.