Four hurt in Shopian police firing, curfew in Srinagar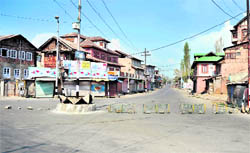 Srinagar, October 3
Four persons were injured when the police allegedly opened fire on protesters in Shopian,even as the authorities today reimposed the curfew on various parts of the Kashmir valley to foil a "Baramulla chalo march" call given by separatists.


A deserted street in Srinagar where the curfew was reimposed on Sunday. — AFP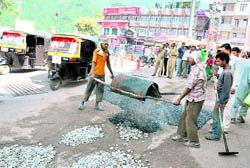 Labourers repair a damaged road in the main chowk ahead of the Navratras in Katra on Sunday. Tribune photo: Anand Sharma

Self-styled HuJI commander, associate held
Jammu, October 3
The police claims to have nabbed a self-styled district commander of the Harkat-ul-Jehad-Islami (HuJI) outfit of militants, along with his associate, from Kishtwar district last night.
Gujjars appeal for safe passage through Valley
Srinagar, October 3
Gujjars and Bakerwals of the state have appealed to law-enforcement agencies to ensure a safe passage for the communities along with their livestock through the curfew-bound Kashmir valley.
Govt committed to balanced development: CM
Srinagar, October 3
Chief Minister Omar Abdullah today reiterated his government's determination to reach out to every area in the state for a balanced economic development and upgradation of basic amenities.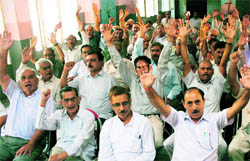 Members of the All-J&K Pensioners Association hold a rally in support of their demands in Jammu on Sunday. Photo:Inderjeet Singh

4 cops shifted for dereliction of duty
Jammu, October 3
Four policemen, including two SHOs, of Kathua district were transferred to Kathua police lines yesterday for the alleged dereliction of their duty, the police said.
Drug-peddler arrested
Jammu, October 3
The Kathua police today claimed to have arrested a drug-peddler and recovered 950 intoxicant capsules from his possession. The police said Mangesh Kumar, a resident of Madhopur (Punjab), was intercepted in Kathua city and was found carrying a large number of intoxicant capsules.
A woman carries a tea pot on her head for people working in the fields on the outskirts of Srinagar on Sunday. — PTI

Unrest in Valley
Assembly to have day-long discussion on Valley unrest
Srinagar, October 3
The state Legislative Assembly will have a day-long discussion on October 5 on the unrest that has claimed over 100 lives so far in the Valley, officials said here today.
Protests against traffic problems
Jammu, October 3
The Jammu West Assembly Movement (JWAM) has decided to stage protest demonstrations from October 6, against the alleged failure of the government to solve the worsening traffic problem in the city.
Two killed in road mishaps
Jammu, October 3
A 21-year-old man was killed in a road mishap after a minibus hit a motorcycle that he was riding in the Rehari area this afternoon, the police said. According to the police, the deceased, Kashish Vaid, who was riding his motorcycle was hit by a minibus on the Janipur-Parade route around 12 noon.
5 lakh jobs for Valley youth sought
Srinagar, October 3
The state Youth Congress today demanded that the Centre should introduce an employment package of nearly 5 lakh jobs in the Valley so that the youth might not be "misled into stone-pelting".
Youth Cong adopts remote village
Jammu, October 3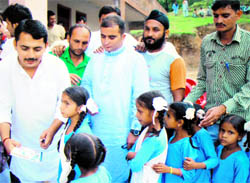 On the occasion of Gandhi Jayanti, the Pradesh Youth Congress (PYC) adopted a remote village in Udhampur district for its all-round development and to provide basic living facilities in the village. Giving details of the project, PYC senior vice-president RS Pathania, while addressing a press conference here today, said they had adopted Chor Panjian village for its all-round development and to create basic living facilities in that village.
RS Pathania, senior vice-president, J&K Pradesh Youth Congress, distributes stationery among the needy children at the remote Chor Panjiam village on Sunday. A Tribune photograph

revocation of ban
Baramulla mobile phone users get hefty bills
Srinagar, October 3
The joy brought by the revocation of a three-month-old ban on the services of the private cellular companies in Baramulla has been short-lived as thousands of subscribers in the district have started getting hefty bills.