M A I N N E W S
Out-of-court settlement divides Ayodhya Muslims
Aditi Tandon writes from Ayodhya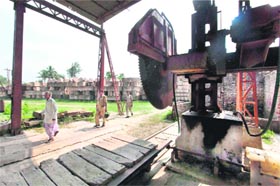 A stone-cutting machine at Ram Janmabhoomi Karyashala installed for the construction of Ram temple, in Karsewakpuram in Ayodhya on Sunday. — PTI
It was a difficult day for Hashim Ansari, the oldest petitioner in Ram Janmabhoomi-Babri Masjid discord, who struck a reconciliatory note in the matter and ended up inviting the wrath of his colleagues.
This afternoon, 90-year-old Ansari surprised everyone in Ayodhya when he paid a visit to Mahant Gyan Das, the head of Akhil Bharatiya Akhara Parishad, the umbrella body for all Hindu Akharas, including the Nirhomi Akhara, primary petitioner in this case on the Hindu side.
"I have come here with the blessings of Sunni Central Waqf Board and want to explore the possibility of dialogue, if any. We must try and end this matter here so that no one is able to politically exploit the situation any further," Ansari claimed when asked what brought him to the chief representative of the Akharas. His claims obviously inspired new hope.
While Ansari spent about 40 minutes at Mahant Gyan Das' Hanuman Garhi temple residence, discussing "the contours of reconciliation", Sunni Central Board of Waqf rushed to deny any link with the meeting or any authorisation for it.
Lawyer for the Board, Zafaryab Jilani said he knew nothing of Hashim Ansari's move and had no idea of where it came from. Another influential Ayodhya-based Muslim petitioner Haji Mehoob, who is more proactive on the front, went a step further to dismiss Ansari as a "nobody" in the case.
"Ansari has lost it. He does not know what he is saying. Look at his age. Moreover, the Board is not his private property that he can decide on its behalf. The Board is a representative of all the Muslims who have announced their intentions in the case. We are going to the Supreme Court to claim the title of the inner courtyard land, which the High Court has termed as Ram Janmabhoomi. We reiterate our stand," Haji told The Tribune, saying Ansari was moving on his own and had no licence from the Waqf Board. Today's developments exposed the divide within the Ayodhya's Muslims on the ways to end the 61-year-old discord.
Mahant Gyan Das said, "This is not the first time Hashim Ansari has visited me nor is this the first time we have hoped for reconciliation. I have been trying to engage with the Muslims for 10 years but to no avail. I had hoped they would stand by us this time. Let us see if they do," he said, not paying much attention to Nirhomi Akhara's separate claim to Ram Janmabhoomi. "All claims will fizzle out in the apex court. Only Ram Lalla Virajman's claim will last."