PUNJAB
HARYANA
JAMMU & KASHMIR
HIMACHAL
REGIONAL BRIEFS
NATION
OPINIONS
LETTERS
BUSINESS
SPORTS
WORLD
Monday, October 4, 2010, Chandigarh, India
Updated at 3:00 am (IST)

DELHI RISES TO INDIA's GLORY
Games get off to spectacular start
New Delhi, October 3
The XIX Commonwealth Games got off to a glittering start here today with over 60,000 spectators in the jam-packed Jawaharlal Nehru Stadium witnessing a stupendous show that was a fascinating mix of Indian culture and modernity.


Action Arenas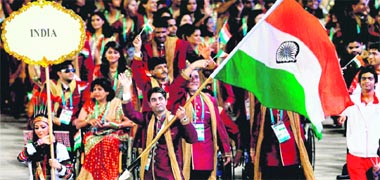 Ace shooter Abhinav Bindra leads the 619-member Indian contingent at the opening ceremony of the XIX Commonwealth Games at the Jawaharlal Nehru Stadium in New Delhi on Sunday evening. — PTI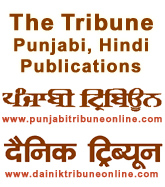 EDUCATION
JOBS & CAREERS
HEALTH & FITNESS
SCIENCE & TECHNOLOGY
REAL ESTATE
SPORTS & WELLNESS
(Left)Wrestler Sushil Kumar hands over the Queen's Baton to Prince Charles at Jawaharlal Nehru Stadium. — Reuters
(Right) A tabla player is reflected in the aerostat. — PTI
Proud moment to host CWG: PM
New Delhi, October 3
Prime Minister Manmohan Singh today said it was indeed a proud moment for India to host the 19th edition of Commonwealth Games in the historic city of New Delhi. "Welcome to India, welcome to these Games.
Now a strong case for 2020 Olympics
IOC chief visits the Games Village, comes out impressed
New Delhi, October 3
Despite the controversy-marred build-up to the Commonwealth Games, International Olympic Committee (IOC) president Jacques Rogge feels India has set a "good foundation stone" for an Olympic bid in future.


The AYODHYA Verdict
'Does India function under divine rule guided by faith?'
A member of the national executive of the All India Muslim Personal Law Board, Zafaryab Jilani has already dedicated 24 years of his life fighting the Babri Masjid title suit as the lawyer for the Uttar Pradesh Sunni Central Board of Waqf.
UNION BUDGET 2010-11
RAILWAY BUDGET
2010-11

NDA 60 Glorious Years
1857 The First Challenge
E - Revolution 2005:
A Two-day IT conclave
Assembly Elections - 2005
Turbans
Chandigarh is 50
125 Years of The Tribune
India: The Tasks Ahead
India at Sixty
A Tribune Supplement
EARLIER FEATURES
On Sundays
On Saturdays
Out-of-court settlement divides Ayodhya Muslims
It was a difficult day for Hashim Ansari, the oldest petitioner in Ram Janmabhoomi-Babri Masjid discord, who struck a reconciliatory note in the matter and ended up inviting the wrath of his colleagues.
NATO mulls alternate route to Afghanistan
Islamabad, October 3
Incensed over the terror attacks on NATO supply trucks travelling to Afghanistan through Pakistan, US-led allied forces have warned Islamabad they would abandon Pakistan as a major supply route to the war-torn country if such assaults are not prevented.
FCI, arhtiyas' stalemate hits paddy procurement
Chandigarh, October 3
Three days into the arrival of paddy in state mandis, the stalemate between the Food Corporation of India (FCI) and commission agents is threatening the smooth running of the procurement process in the entire region. According to the latest figures of procurement available with The Tribune, the FCI has not lifted a single grain of paddy so far. The procurement officially started on October 1.
ALL SET FOR THE BIG BASH
October 3, 2010
In Ayodhya, now Hindu vs Hindu
October 2, 2010
AYODHYA HEADS TO SUPREME COURT
October 1, 2010
Nation on alert for Ayodhya
September 30, 2010
How The Seats Are Sold
September 29, 2010
Seats for sale in PGI
September 28, 2010
Almora in dire trouble
September 27, 2010
8-point initiative for Kashmir
September 26, 2010
As monsoon recedes, sun shines on CWG
September 25, 2010
SC puts off Ayodhya verdict for a week
September 24, 2010