Manpreet Badal down with dengue
Chandigarh, October 4
Punjab Finance Minister Manpreet Singh Badal was admitted to the PGI here today as he was reported to be suffering from dengue. Though the condition of Badal was stated to be stable, the count of platelets had decreased to one lakh, said hospital sources. — TNS


Hawara a source of uneasiness for prison staff: Affidavit
Chandigarh, October 4
Punjab's late Chief Minister Beant Singh's assassin Jagtar Singh Hawara is still a source of uneasiness for the prison authorities. They still apprehend that he may escape the gallows by fleeing from the high-security Burail Jail.
NHAI directed to earmark bus stops
Chandigarh, October 4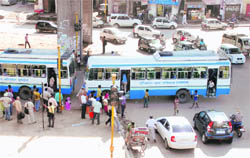 In an apparent bid to prevent buses from halting just about anywhere on the national highway between Ambala and Zirakpur, the Punjab and Haryana High Court has directed the National Highways Authority of India (NHAI) to earmark bus shelters or stands on the stretch.



Buses halt on the highway at Zirakpur causing traffic jam. A file photo
Zirakpur MC seeks shifting of sales tax barrier
Zirakpur, October 4

The Zirakpur municipal council is seeking the shifting of a sales tax barrier from township entrance to "some other place". It has already shot of communication to the excise and taxation department, Patiala.





Vehicles parked along the highway at sales tax barrier at Zirakpur. Tribune photo: Nitin Mittal
Mohali to ban polythene bags in Phase VII market
Mohali, October 4
In the first step towards making Mohali polythene bag-free city, the district administration has decided to ban use of polythene bags in Phase VII market. Shopkeepers of the commercial area have been given one-month time to come out with ways to self-enforce the ban.
Sellers at apni mandis exploit consumers
Authorities fail to take action against those indulging in overcharging
Mohali, October 4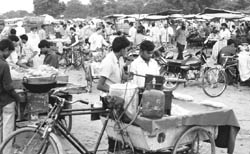 Consumers are being exploited with impunity at apni mandis held here with the authorities concerned failing to take any action against sellers indulging in overcharging.






A view of apni mandi at Phase III-B2 in Mohali. Tribune photo: Vicky Gharu
'Beat up' auto driver; one suspended, 3 others sent to lines
Chandigarh, October 4
Four Chandigarh Police personnel paid the price for allegedly beating up an auto-rickshaw driver who refused them a ride in his vehicle at Maloya in the wee hours today.
CHB gets tough on encroachers
Chandigarh, October 4
To deal with the encroachers, the Chandigarh Housing Board (CHB) has pasted notices in all its colonies asking violators to remove the encroachments voluntarily or be ready to face action.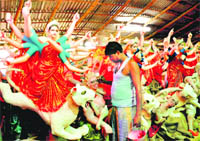 Preparations on for Durga Puja
Chandigarh, October 4
With Navratras approaching, the close-knit Bengali community in the city is already in a celebratory mood.





Artists prepare idols of Durga in Chandigarh on Monday. Tribune photo: Manoj Mahajan
Senior citizens honoured
Chandigarh, October 4
The Senior Citizens Welfare Association, Greater Chandigarh, celebrated "Sanman Day". A meeting was held at the Community Centre, Sector 15, here. The association honoured KD Dhawan (98), Kharati Lala Malhotra (92), JM Sethi (92) and Bachan Singh (90). Shawls were presented to the senior citizens. Balwant Singh, CL Ohri, YL Arora and Pritam Kharbanda were also honoured. The meeting was presided over by Manmohan Singh Walia, president of the association. — TNS

Tribune employee retires
Chandigarh, October 4
Lok Pal Verma, Composing Supervisor, Dainik Tribune, retired volunteerly here today after putting in more than 30 years of service. He had joined the institution in 1980. He was given a warm send-off by his colleagues. They also lauded his services to the institution. — TNS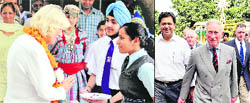 Camilla relishes Punjabi cuisine
Chandigarh, October 4
Duchess of Cornwall Camilla Parker Bowles paid a visit to St Stephen's School, Sector 45.
Duchess of Cornwall Camilla Parker Bowles interacts with students of St Stephen's School; and Prince Charles heads towards the Punjab Energy Development Agency (PEDA) office in Sector 33, Chandigarh, on Monday. Tribune photos: Manoj Mahajan
Mobile van to educate rural kids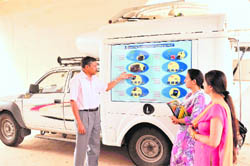 Chandigarh, October 4
In what appears to simplify the learning process, a unique mobile van "Mobile E-learning terminal (MeLT)" is being used to apprise rural children of the basics of information technology (IT).



Engineering students being apprised of functions of mobile e-learning terminal at the NITTTR campus, Sector 26, Chandigarh. Tribune photo: Manoj Mahajan
Lawrence School celebrates 163rd Founder's Day
Going down the memory lane
Chandigarh, October 4
The three-day 163rd Founder's Day Celebrations of The Lawrence School, Sanawar, had a special flavour, as students of 1960, 1980 and 2000 batches celebrated their golden, silver and tin jubilees, respectively.
Book penned by PU Dean out
Chandigarh, October 4
RC Sobti, Vice-Chancellor, Panjab University, today released a book- "Mucoadhesive Drug Delivery Systems using Optimised Polymer Blends" authored by Bhupinder Singh Bhoop of the University Institute of Pharmaceutical Sciences, and Dean, alumni relations, Panjab University. The 227-page paperback book published by Lambert Academic Publishing, Germany, is also listed on the prestigious e-BookCentre Amazon.com.
NCC cadets selected for Commonwealth Games
Mohali, October 4
Five NCC cadets of Gian Jyoti Institute of Management and Technology (GJ-IMT) have been selected for the Commonwealth Games. Chairman of the institute JS Bedi said the cadets would help security personnel in guarding the stadium during the games.
Principals gather at VC's office
Chandigarh, October 4
Principals of colleges affiliated to Panjab University today gathered at the Vice-Chancellor's office. They demanded removal of Keshav Malhotra, Associate Dean, College Development Council. The committee constituted by the VC to look into the matter, has demanded proof against the Dean in writing for any action to be taken in the matter. — TNS