Mind in own business
Transcending the boundaries of a regular job and giving up the lure of a hefty pay package is a challenge that is not a bad bargain ultimately as Charandeep Singh finds out from the real-life experiences of some entrepreneurs from the region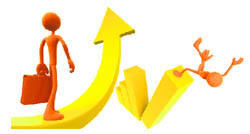 A young college pass-out, high on energy, adrenalin pumping in his blood, is having lofty thoughts of making it big in the corporate world. But the life comes a full circle on him when after spending some time in his job, he starts feeling that his job has become stale. He is unable to draw intellectual enrichment from his job and neither is his job able to give him job satisfaction.

Tough road

IRS Surveyor

LPO on a fast track

Work experience essential for MBA
Office Mantra
Take negative out of "NO"
Once the wife of a worker was about to deliver a child. He approached his boss with the request to get a leave sanctioned. The officer pounced upon him thus: "How dare you ask for a leave when you know we have sufficient pending work. It's not my responsibility. You should have the sense not to bother me like that...!"
Boom time for professionals
Happy days are here again for skilled professionals, mainly in IT, telecom and financial services sectors, as they are drawing multiple job offers from companies faced with talent shortage, experts said.
Careercature
Sandeep Joshi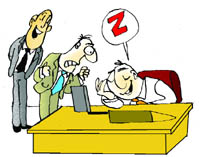 Don't disturb him. He is following his dreams.

A profitable MIX
Desa mein des Haryana jit doodh dahi ka khana is a famous saying that tells about the basic diet of Harayanavis. Milk and its by-products are their staple diet. Hence milk producing animals cannot be separated from their lifestyle. No family is considered complete in rural areas without buffaloes and cows.
NCR highest job creator
The National Capital Region has emerged as the highest job generating city among the four major metros in India in April-August 2010, industry body Assocham said.According to a survey by the chamber, NCR has created 34.2 per cent employment followed by Mumbai (12.70 per cent), Chennai (6.12 per cent) and Kolkata (4.19 per cent) in a sample of 2,40,314 employment opportunities generated in 60 cities during the period.
Institute Newsboard
Social responsibility
JK Business School, a venture of the JK Group, has taken an initiative to teach social responsibility lessons to its management students. The institute has signed an MOU with CII in this regard. CSR as a subject will be compulsory, and the institute management has decided to give extra marks to students for their CSR project.
Nokia-IGNOU tie up
Nokia India and Indira Gandhi National Open University (IGNOU) have announced a first-of-its-kind strategic collaboration to provide mobile intervention for Certification Programmes in English on Nokia's Ovi Life Tools.
Civil Engineering
Building dreams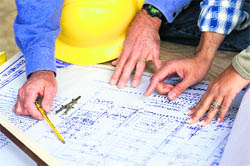 Mounds of sand and rubble, building materials, workers and machines strewn across many cities today include growth and development. Over the past couple of years not only the metros but other cities in India, too, have witnessed hectic construction activities. Projects like new complexes, housing projects, shopping malls, educational institutes, hospitals as well as huge infrastructure projects speak volumes about development activity going on in almost every sphere of life. This all has happened due to technical advancement in the field of civil engineering.
Happiness work
Let the leader think
Gems of ancient wisdom
Each person has his limitations. To avoid getting your best man overworked, keep the thinker and doer in your team separate. As the onus of the Pandava win was on Krishna, he didn't wield weapons in the Mahabharata war. He just made strategies to ground the Kaurava warriors whom Arjuna killed. Even Yudhisthira, the eldest son of Pandu who ascended the throne after the Pandava win, played a lesser role than his mighty brothers Bhima and Arjuna.