Separatists reject Deoband clerics' stand
Srinagar, October 11
Rejecting the stand taken by Jamiat Ulema-i-Hind (JuH), a powerful body of Deoband clerics, on the state, separatists today said Kashmir was an internationally recognised issue and should not be viewed from the Hindu-Muslim angle.

JKLF chief Yasin Malik detained
Srinagar, October 11
The police today detained JKLF chairman Mohammad Yasin Malik along with seven of his party colleagues in the Palahalan area of Baramulla district.
Get ready for panchayat poll, Farooq asks partymen


Srinagar, October 11
National Conference (NC) President and Union Minister for New and Renewable Energy Farooq Abdullah today convened a meeting of senior NC leaders and legislators at the Nawa-e-Subh complex here today.


Farooq Abdullah

Debate on "Police Ki Chhavi"
Jammu, October 11
A debate on the image of the police, "Police Ki Chhavi", was organised by Vijay Singh Sambyal, Commandant, IRP-8th Batallion, here today.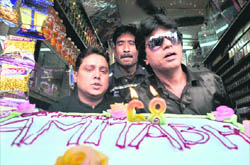 For them, life starts and ends at Big B
Jammu, October 11
Even as Amitabh Bachchan celebrated his 68th birthday today, his two lookalikes in Jammu did what they have been doing for the past many years on the day - celebrating his birthday with much fanfare.

Fans of Amitabh Bachhan celebrate his birthday in Jammu on Monday. Tribune photo: Anand Sharma

Ramban, Batote get streetlights
Jammu, October 11
Ramban and Batote towns got 14 streetlights, which were formally inaugurated by local MLA Ashok Kumar today.
Mehak wins flower arrangement contest
Jammu, October 11
The first phase of the Display Your Talent 2010-11 started at the Gymnasium Hall of Jammu University here today. The 13-day talent show begin with a Flower Arrangement Competition, which was inaugurated by Prof Varun Sahni, Vice-Chancellor of the university.




A student participates in a flower-making competition during the "Display Your Talent" contest at University of Jammu on Monday. Tribune photo: Anand Sharma

Legislative Council adjourned sine die
Srinagar, October 11
Deputy Chairman of the State Legislative Council Arvinder Singh Micky today adjourned the House sine die, after the Legislative Assembly was adjourned sine die on Saturday.
Incomplete syllabus gives students sleepless nights
Srinagar, October 11
Students in the Kashmir valley these days are caught between the devil and the deep sea as their syllabus remains incomplete while examinations are approaching. They are worried now as they are unable to attend schools while the date sheet is out.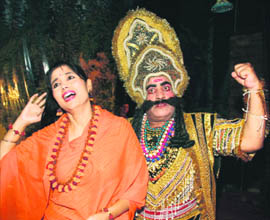 Artists give a performance at a Ramleela in Jammu on Monday. Photo: Inderjeet Singh
College students boycott classes
Jammu, October 11
Students of various government colleges today boycotted their classes. They demanded an immediate appointment of Vice-Chancellor for the Central University of Jammu.
Mental Health Day observed
Jammu, October 11
The Rotary Club, Jammu Tawi, observed Mental Health Day here today in collaboration with the Department of Psychology, Government College for Women, Gandhi Nagar.
3 kids, cop hurt in mishaps
Jammu, October 11
A police inspector was injured after an oil tanker allegedly hit his car at Jajjer Kotli here this morning, the police said.
Cop dies after consuming poison
Jammu, October 11
A constable, Subhash, who consumed poison at his house in Sai village of Arnia yesterday died at Government Medical College and Hospital (GMCH) here today.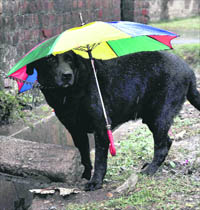 A dog gets a colourful protection from rain that lashed Jammu on Monday. Tribune photo: Anand Sharma
Central Varsity
NSF threatens agitation
Jammu, October 11
Expressing concern over delay in the establishment of the central varsity in Jammu, Randeep Singh Chib, district president of the National Secular Forum (NSF), threatened to launch a stir if the work on the university was further delayed.
Man dies of shrapnel injuries
Jammu, October 11
A 55-year-old man died of shrapnel injuries from a bullet at the Army's firing range in the Nowshera area of Rajouri district today, the police said.
1 killed along border
Jammu, October 11
An unidentified person was killed by the security forces late last night near the Regal Border Outpost in Samba district, the police said.
Bus conductor's body fished out
Jammu, October 11
The Kathua police today finally managed to fish out the body of a bus conductor, who had reportedly drowned in a river at Lakhanpur in Kathua district last evening.