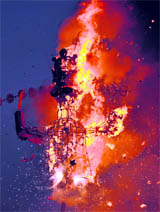 An effigy of Ravana goes up in flames on Dasehra in Jammu on Sunday. Tribune photo:Anand Sharma
Rules harsh on employees can be relaxed: HC
Directs govt to consider regularisation of services of petitioners
Jammu, October 17
Justice Sunil Hali of the Jammu and Kashmir High Court at Jammu, while allowing a writ petition filed by Rajan Warikoo and others, directed the state government to consider the case of petitioners for the regularisation of their services against the post of Subject Matter Specialists in relaxation of the J&K Agriculture (Gazetted) Service Recruitment Rules, 1988, retrospectively with effect from April 20, 1988.
Dejected over Omar's remarks, SPOs plan quitting jobs
Jammu, October 17
Special Police Officers (SPOs) engaged by the state in 1997 have played a significant role in containing militancy. The recent remarks of Chief Minister Omar Abdullah in Srinagar that their wages would not be raised has caused resentment among 2,000 SPOs in twin border districts of Rajouri and Poonch.
'Sensitive' Nowhatta sees fewer protests
Srinagar, October 17
Nowhatta, the hotbed of protests over the last two decades in Jammu and Kashmir, has been unusually calm this summer even as most of the Valley witnessed unrest, leaving 106 persons dead and thousands others injured.
100 RTI applications filed in a day
Jammu, October 17
Setting up a new record, Sangharsh - a right-to- information movement - filed 100 RTI applications to spread awareness about the Act here today. The organisation has a number of noted activists.


WORSHIPPING WEAPONS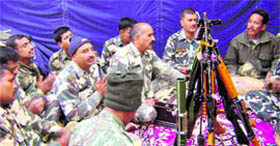 CRPF jawans offer a special prayer, "Shastra Puja"on Dasehra in Pulwama on Sunday. Photo: Amin War
Cong decries Bill to set up trans-world varsity
Jammu, October 17
Although the Bill on setting up three universities in the state, including Trans-World Muslim University, has been referred to the Joint Selection Committee after being opposed by the Congress in the Legislative Council, the move is snowballing into a controversy as the Congress has expressed resentment against neglecting it while taking the decision. The Akhil Bharatiya Vidyarthi Parishad (ABVP), the student wing of the BJP, has already announced to launch an agitation.
Sunday market reopens after a month
Srinagar, October 17
The weekly Sunday market which reopened here after a month, drew large crowds. The Sunday market, one of the major attractions in the city, had a number of buyers, who were seen haggling with the sellers for woollens and other clothes.
Panchayat poll vital for growth, says minister
Srinagar, October 17
Lashing out at parties that are trying to oppose the proposed panchayat poll, Minister for Rural Development and Parliamentary Affairs Ali Mohammad Sagar said the aim of holding the elections was the empowerment of people.
Kashmiri Samaj rally stopped at Ramban
Jammu, October 17
The protest rally of about 100 members of the Youth All-India Kashmiri Samaj (YAIKS) was stopped at Ramban today.
Traffic to be streamlined
Jammu,October 17
The Jammu and Kashmir police plans to streamline traffic in twin capital cities. Addressing mediapersons here today, the IG (Traffic), Hemant Kumar Lohia, said the police had decided to install CCTV cameras with GPRS facility at vantage points on national highways, particularly at sharp curves, to check jams because of road mishaps.
'Provide jobs to tehsil youths'
Jammu, October 17
The Unemployed Youth Welfare Association, Ramban, today urged the state government, particularly agencies that are constructing the Nashri-Chenani tunnel for the Jammu-Srinagar road at Nashri, Batote, to give priority in employment to unemployed youths of the tehsil and the adjoining villages.
Three girls found abandoned at Jammu Railway Station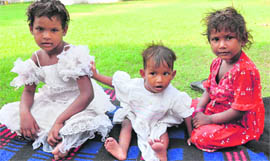 Jammu, October 17
Five-year-old Kajal and her two younger sisters may have to lead the rest of their lives as orphans. In a brazen instance of cruelty, their parents, abandoned the three girls near the reservation counter of Jammu Railway Station last evening.


Girls who were found abandoned at Jammu Railway Station on Sunday. Tribune photo: Anand Sharma
Hindi play 'Chhote Bade' staged
Jammu, October 17
Mani Madhukar's highly symbolic and intellectually stimulating Hindi play- 'Chhote Bade', directed by Balwant Thakur, was staged here toady in the Natrang's Sunday Theatre series.