Jolt to wholesalers
Smriti Sharma Vasudeva
Tribune News Service
Chandigarh, October 19
A day after the UT administration destroyed a whopping 7,500 kg of what it termed as "spurious and adulterated sweets", the wholesale sweet manufacturers claim to have lost business worth lakhs of rupees as a fallout.
"I had bulk orders for providing sweets in three marriage parties. After reading the news published today, all three were cancelled this morning, " said N K Singhania, owner of Chandigarh Sweets, who claimed that he was willing to get any sweet sample tested as per the laid down norms.
His claim was seconded by a group of over 20 wholesale sweet manufacturers, who were quick to form the Wholesale Sweet Manufacturers Association. The delegation met Deputy Commissioner Brijendra Singh, who said he would give them a "patient hearing" only on Thursday, October 21, to know their side of the story.
"We have invited the hoteliers, restaurateurs and sweets manufacturers to attend a presentation on safety, standard and hygiene norms on October 21. There was a pressing demand to guide them on food-safety norms. The Health Department and Medical Officer of Health (MOH) will make the presentation jointly", said Brijendra Singh.
Members of the newly found association said that the business had been adversely affected for most of these sweet makers who operated their units in the periphery areas of the city, including in Daria village, Mani Majra and the Industrial Area.
"Terming the sweets and bakery items as spurious just at a glance is unfair. We do not mind them taking samples and getting them tested. But destroying hundreds of kilograms of "mithai" has only demoralised hundreds of workers who are employed by us. Yesterday, all our workers had tears in their eyes when they saw officials ruthlessly throwing the sweets," they said Once a sleepy village, Daria, which is located barely 500 m from the railway station, is now a centre of sweet manufacturing business with half-a-dozen sweet manufacturing units operating in the area.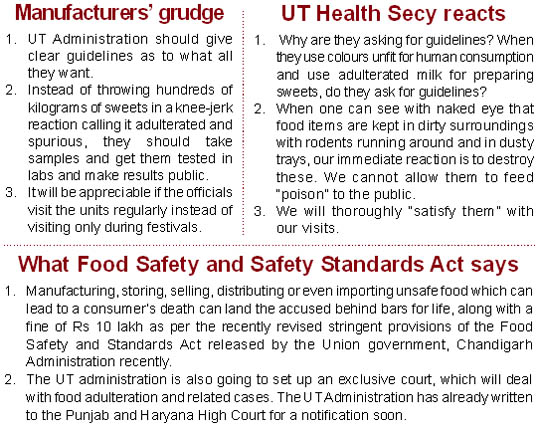 Loopholes favour offenders
Arun Sharma/TNS

Chandigarh, October 19
Even as health officials of the Chandigarh administration have claimed to have lifted hundreds of samples of food articles from different parts of the city, this has proved to be no deterrent against adulteration. In fact, loopholes in the system of sampling have proved to be a boon for the offenders.

While it takes around five-six years for a case to be decided in court, the health

department has been losing almost all cases filed against shopkeepers with regard to adulterated food samples.

Sources in the health department said in 2003, while deciding the case "Ravi Kumar Kakkar vs UT State through the Food Inspector", the UT CJM passed an order stating that four food inspectors in Chandigarh had not undergone proper training as per the Central government rules. Citing this as the reason, all those accused of adulteration won the case. More than 100 cases have already been lost by the authorities in the courts against the samples lifted prior to the year 2003, said the sources. And the cases filed in the preceding years were still pending in courts.

Court Cases

Last year health officials lifted 231 samples from the city and filed court cases against 155 persons, who were found selling adulterated items. The items found adulterated at various shops included khoya, burfi, milk, paneer, pulses, gur and chilli powder. The samples of khoya or burfi of Gobind Sweets, Sector 46; Highway Sweets, Sector 20; Chandigarh Sweets, Industrial Area, Phase I; Kailash Sweets, Sector 30; and Sai Sweets, Sector 22; failed quality test. Samples of khoya, ghee and paneer lifted from Baba Dairy, Sector 21, on May 5 were found adulterated and the department moved court. In the cases of rehri phariwalas, the department finds it helpless to sue them, as they have no permanent address. Under such conditions, destroying the food items suspected to be inferior or adulterated are destroyed on the spot