Handsome honorarium for CM's staff ?
Pre-Diwali Gift could be a month's salary for 'hard work and commitment'
Chandigarh, October 19
Hard work pays, and it may pay more if you are on the staff of the Chief Minister. For the first time, as a Diwali gift, Chief Minister Bhupinder Singh Hooda's staff may get a month's salary as honorarium for "hard work and commitment" all through the year.
UP leaders eyeing foothold in Haryana
Chandigarh, October 19
Some UP-based leaders, who find themselves in political wilderness in their home state, are making a foray in Haryana politics. Yash Pal Malik, president of the Akhil Bharatiya Jat Aarakshan Samiti, and former Samajwadi Party (SP) leader Amar Singh are among the leaders who feel dwarfed in their state before leaders like Mayawati, Mulayam Singh and Ajit Singh, son of former Prime Minister Charan Singh.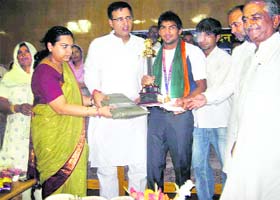 Commonwealth Games boxing gold medallist Manoj Kumar being honoured by state PWD Minister Randeep Singh Surjewala at a function in Kaithal on Tuesday. He was given a cash reward of Rs 50,000. Photo: Satish Seth
SC accepts Chautala brothers' plea for early hearing
New Delhi, October 19
The Supreme Court today agreed to advance by a week the hearing on a plea by Chautala brothers, Ajay and Abhay, in the corruption cases against them. A Bench comprising Justices VS Sirpurkar and Cyriac Joseph accepted senior counsel Mukul Rohatgi's plea for an early hearing as the trial court was about to frame charges against his clients.
Truck mows down elephant
Panipat, October 19
Despite having been declared the "national heritage animal", wildlife officials and the district police allowed owners of a female elephant, which was mowed down by a speeding truck on the Jind highway near Utla village late last night, go scot-free.
Eve-teasers beware! Women cops are watching you
Karnal, October 19
Eve-teasers and roadside Romeos, beware! The hawk eye is watching you. Any misadventure or undue liberty can land you in jail. The Karnal police has taken a unique initiative, the first of its kind in the state, to keep vigil on loafers and eve teasers, and teach them a lesson.
Man shot dead in judicial complex
Sonepat, October 19
Om Prakash of Butana village was allegedly shot dead by two armed youths in front of the court of Additional District and Sessions Judge Kuldeep Jain in the local judicial complex here today.
Dengue survey in Sirsa village
Sirsa, October 19
The health authorities conducted a survey in Khatrawan village coming under the Odhan Community Centre here recently after two cases of dengue fever were reported from here.
Roadways to add 1,000 buses
Panipat, October 19
In order to increase the availability of buses and to bring more areas under direct connectivity, the state Transport Department has decided to add 1,000 buses to its existing fleet of 3,237 buses in the 11th Five-Year Plan.
Chahal on Central Pollution Control Board
Chandigarh, October 19
In recognition of the good work being done by the Haryana State Pollution Control Board (HSPCB), its chairman, Dr Ajaib Singh Chahal, has been nominated as a member of the Central Pollution Control Board.
Villagers force revenue officials to return
Sirsa, October 19
Angry residents of Shahpuria village here today forced a team of revenue officials, who had gone to the village with the police to evict a farmer, to make a retreat. The farmers, who were armed with lathis and other weapons, made it clear that they would not allow the officials to take possession of farmer Ram Chander Punia's 5 acres of agriculture land.
Dearness allowance increased by 10 pc
Chandigarh, October 19
The state government has increased dearness allowance (DA) for its pensioners and family pensioners from 35 to 45 per cent with effect from July 1, 2010. Finance Minister Capt Ajay Singh Yadav said here today that the dearness relief to pensioners and family pensioners would be admissible on the pattern of the union government.