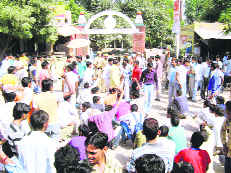 Chided, Rewari student kills himself; principal booked
Rewari, October 15
Infuriated at the death of Hoshiar Singh (22), a BA-III student who committed suicide at Jhabua village here last night, students of Government College, Bawal, today locked the main gate of the college and also staged a demonstration.
Irate students of Government College stage a demonstration in Bawal on Friday. Photo by writer

Wrestler's son shot dead in Jhajjar
Bahadugarh (Jhajjar), October 15
A youth was allegedly gunned down by his friend near the bus stand at Chhara village here last night. The deceased has been identified as Dharmender (30), son of Dhanna Ram, a famous wrestler of the region and owner of Dhanna Akhara (wrestling centre) here.
Four cases of suspected dengue in Jakhal
Fatehabad, October 15
Four cases of suspected dengue have surfaced in Jakhal town of Fatehabad. The victims have been shifted to Hisar after they complained of fever with symptoms of dengue.
Vitamin Overdose
Report blames doctor, school principal
Sirsa, October 15
A doctor and an auxiliary nurse (midwife) working with the primary health centre (PHC) at Kalanwali village, near here, have been found negligent in performing their duty, leading to an overdose of Vitamin A drops to students of Government Girls Senior Secondary School.
4 booked for obstructing channel waters
Water supply to villages restored
Rohtak, October 15
The blockade created by some residents of Sundana village in the water minor (channel) here has been removed and the water supply restored. The police has registered a case under various Sections against Krishan Kumar, Devender, Shri Bhagwan and Kaala, all residents of Sundana, under Sections 332, 353, 430 and 186 of the IPC, for blocking the minor that led to the movement of water downstream being blocked for several days. No arrest has been made so far.
Centre must address Mirchpur Dalits' issues: Ex-MLA
Hisar, October 15
Haryana Vanchit Varg Sangharsh Samiti chief and former legislator Roshan Lal Arya has demanded that the Centre should intervene to find a permanent solution to the problems of Dalits in Mirchpur village. After visiting Mirchpur, Arya told mediapersons here today that the Dalits continued to feel insecure and wanted to be be rehabilitated at a safer place.
On Ashtami, tribute paid to girl child
Karnal, October 15
The festival of "Navratras" had a special significance for inmates of MDD Bal Bhawan as the National Integrated Forum of Artistes and activists (NIFAA) organised a special "puja" for them with a novel theme "Beti ko marvaoge to kanjak kahan se laoge" to create awareness against female foeticide.
Cash looted from car
Panipat, October 15
Unidentified persons took away a bag containing Rs 1.5 lakh by breaking one of the windowpanes of a car parked outside a private bank here today.