Shortly after India's independence our population was just around 400 million and the water table twice what it is today. Sixty years down the line, from the fresh water point of view, we are in a precarious position indeed. India has faced and is facing other problems as well.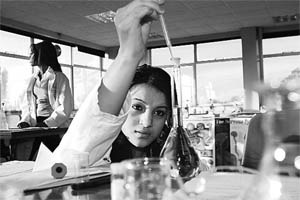 Indian scientific research does not count for much in the world
In the early sixties the country was facing an acute food shortage. We had to be rescued by the US PL 480 plan. Power, Employment, Health including Environmental Pollution and so on have also been chronic problems.
The food crisis of the sixties was solved by the Green Revolution, but it is threatening to come back again, given the fact that the population has more than doubled from that time. The point is that these mega problems that a country with our mega population faces can only be solved with suitable application of science and technology. This requires an innovative community of scientists and engineers.
Unfortunately while the number of scientists and engineers in the country has grown by leaps and bounds, the quality of science has actually plunged. There have hardly been any breakthroughs in the account books of Indian science and technology. Can we blame this on inadequate funding ? The answer in my opinion is, No. We can certainly have more funding, but this too would only go to further increase the mediocrity of Indian science.
If Nobel prizes are an index of scientific excellence of a country, then India has drawn a total blank-the last science laureate from the country, working in the country was Sir C.V. Raman and in British India. He worked with no funding and against all odds. Or, we could have a more modest index of scientific progress: Breakthroughs in science and technology. Even here we have drawn a blank.
Let us take finally an even more modest index, what in the scientific world is referred to as the citation index, which measures the impact of the scientific work. Here Indian science has actually gone down hill over the past few decades.
The problem is that the university system, which is the feeder of the country's laboratories and higher institutes of research, has all but collapsed. Almost all the ills of the country could be traced to politicians and bureaucrats but the steep decline
of Indian science and technology has been the handiwork of the Indian scientific community itself.
To analyse a little further, after independence the best talent in the country took to degrees and courses which ensured jobs, like Civil Engineering, Medicine and Law. Hardly any bright people took to scientific or technological research, or even research in medicine and life sciences.
This brain drain into what may loosely be called the industry, left the academia getting more and more depleted. Few worthy young men took to teaching or research, as these were meagrely paid jobs if at all jobs were available. This resulted in two very negative consequences. The first was that the quality of teaching in higher education plunged, leaving students groping on their own. The second was that what is sometimes called the Peter principle startedoperating. That is, mediocrity bred mediocrity and repelled quality or excellence. True there are exceptions, as always, but these do not prove the rule.
No doubt the Government was pouring funds into science and technology, but in a clueless manner. C.V. Raman derisively called this the Nehru Bhatnagar Effect. Dr. S.S. Bhatnagar, the eminent and well intentioned scientist, would approach Nehru for funds and the even more well intentioned Nehru would practically give him blank cheques. Much of this money went into building impressive brick and mortar institutions, rather than concentrating on ways and means to develop suitable human resources of excellence.
It is said that years ago Mrs. Indira Gandhi asked the eminent Indian American scientist, Dr. C.K.N. Patel, the then Executive Director of AT&T Bell Laboratories, what could be done to improve the Indian scientific research institutions. His reply silenced her into silent inaction. He suggested that all the research laboratories in India should be closed down and reopened six months later with a new set of scientists with a new agenda. That has been a major criticism of Indian science-it has not been people or society oriented in trying to tackle the fundamental problems of the country. V.S. Naipaul lamented that Indian scientists were working on problems that would get them a nod from Western institutions, rather than looking at the country or be on their own.
Some years ago Nobel Laureate Prof. Roald Hoffmann had this to say while delivering the B.M. Birla Memorial Lecture: "If I were to meet your Prime Minister, I would tell him, ask your researcher to concentrate on problems like Malaria. Let them join hands with their counterparts in a country like Columbia to solve this common problem". He went on to lament that a Malaria vaccine could be found in the US in practically no time but they would not do it for the wrong reasons. Malaria is a poor man's disease and there is no money in it.
The question is, after all this investment in science over the decades, are there any positives? Well, we might boast of the second largest scientific community in the world, which, however mediocre, can nevertheless provide support services for a vast country like India. This includes engineers for maintaining technical equipment like power plant or roads or bridges or dams, or doctors for health care, even in remote areas. Our scientists may not be able to come out with new inventions or medicines or cures, but they are capable of using existing technologies for maintenance of humans and equipment and keep afloat software outsourcing jobs. That is something positive, because many developing countries lack even that.
There is another positive too. The lack lustre and dreadful system of higher education and research in the country has driven some bright people to the developed world to pursue higher studies and research. Over the years, India has managed by default to build a bank of scientific and technical talent abroad. We could today rope them in but that is not easy. What these very bright scientists need is not so much money, but a proper environment.
Nobel Laureate Prof. Norman Ramsey once told me that rather than material incentive, it is peer pressure that drives excellence in research. Such an environment unfortunately has been destroyed by the mediocrities of our science. In other words we need to call back the brightest scientists and engineers and give them a free hand without any interference whatsoever from the Indian system. Then results will start tumbling out slowly. The question is, can we do it?
(The writer is Director, B.M. Birla Science Centre, Hyderabad)