Female criminality and male perception
What drives women, traditionally perceived as nurturers and care-givers, to crime? Many factors are attributed to feminine criminality, but only proper research can lead to a gender-sensitive approach in legislation, adjudication and reform
Sarvesh Kaushal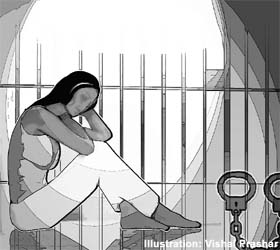 CRIME is defined by legal and social institutions and except in case of typical sexual offences, does not essentially hinge on biology and gender. The underlying idea of a gender-based analysis is to rip apart skewed perceptions and gender bias of the dominant lawmakers, enforcement agencies, adjudicators and reformers. Men may have their own bias, and feminists may oscillate to the other extreme, but the real essence of a gender approach is to go behind the terse letter of the law and analyse how genetic, environmental, economic, personality and other issues fuel criminality and delinquency in different genders.
Feminist criminology has of late hyped the subject of women and crime aside from a purely male outlook and primarily masculine terrain. Sexism advertently or sub-consciously colours the process of crime prevention, punishment and imprisonment of women.
Feminists rightly allege that many police personnel, judges and reformatory officials nurture a wholly misconceived notion that only males are expected to indulge in crime, and women should be austere, compliant and virtuous daughters, wives and mothers. Men tend to regard women as vulnerable and thus insecure. There has been a plea that women in crime should not be considered mad . A criminal is a criminal, and should be treated as bad, and dealt with accordingly.
Those rightly emphasising upon gender equality emphasise that crime should not be treated as a monopoly domain of males. A study of history reveals that women have the potential and have committed as horrific crimes as male criminals, such as murder, treason, blasphemy and drug peddling, etc. Women have even volunteered as deadly human bombs. As per war chronicles, 60 women stood trial before the War Crimes Tribunals between 1945 and 1949. Of these 21 were found guilty and were executed.
However, men still tend to traditionally expect women to be involved in less violent crimes as prostitution, shoplifting etc. When women go beyond that, they are irrationally described as masculine, or an aberration.
There has been an intense debate whether criminal women show masculine biological and psychological traits. Criminologists suggest that they have atavistic throwbacks into their relatively primitive state triggering intense criminality. They are more adaptive when faced with a hostile environment and turn to prostitution as an alternative to intensely violent crime.
Some suggest that a desire for recognition urges females to get involved in illegal activities. However, since most of the feminine crime is actuated by economic factors or a backlash to violent aggression they suffer, it is incorrect to attribute the natural desire for recognition as the main trigger for female criminality. Female criminality rejects inherent female biological passivity and endeavours to be like men.
Women have fewer opportunities to be involved in organised and corporate crime. Researchers have concluded that the pattern of women's crimes is broadly similar to that of the men. The child bearing and rearing role leaves women with lesser time to stray into the world of crime. When women commit violent crimes which are purely looked at by men according to their perception of femininity, women receive unduly harsh punishments. It has now been realised that with the gender divide crumbling in a liberal social scenario, women have opportunities to commit crime at the workplace such a fraud and other white-collar economic offences.
Feminists blame the existence of a misplaced masculinity in a female for such an orientation. They emphasise that women normally possess a larger deep limbic system and are more in touch with their feelings and much less insensitive than men. However, it is a moot question whether sensitivity, or hyper-sensitivity, in certain cases could lead to exaggerated feelings of hatred, vengeance, jealousy etc. which degenerate into criminality.
Environmental influences, social milieu and cultural traditions influence criminality. The modern-day breed of intoxicated young ladies may cause the same degree of havoc as male drunken hooligans. Drugs and drinks open the gateway to crime for women as much as they do for men. Mental problems, childhood abuse and drug addictions combine to surely convert women as violent female criminals.
Researchers have found that more than one-third women convicted of sex offences had a history of psychiatric problems. Others may fall into crime for economic reasons, exploitative social milieu or as a reaction to physical or psychological oppression. However, in case of male sexual offenders indulging in rape, non-consensual sex, sexual abuse and sexual molestation, the trigger exists elsewhere and their criminal instincts are not as much attributable to psychiatric problems as in the case of women.
Genes and criminality of an individual go together. Research based on family and adoption studies as well as laboratory experiments has confirmed this. However, genes alone may not be enough to push a female, or for that matter a male, criminal to crime. Genetic predisposition combined with conducive environment is likely to trigger criminality.
Research points out that neuro-chemicals like monoamine oxidase, epinephrine and dopamine influence criminality. This strengthens the argument that genes do have a role to play. However, gender based differentiation of their impact on females in particular is not very clear.
Similarly, research is categorical in establishing that personality traits and disorders seen in children such as attention-deficit hyperactivity disorder, conduct disorder, oppositional defiance disorder, impulsivity and aggression determine later adult anti-social behaviour.
According to another research, sociopath females, as in the case of males, lacking in moral development and not feeling socially responsible for their actions are the outcome of the individual's personality, physiotype and genotype. This shift is strengthened by social discrimination.
Unless there is an intensive research on what drives women, as different from men, to crime in different social contexts, there can be no meaningful gender approach to legislation, adjudication and reform, which has huge undefined grey areas susceptible to the gender bias Grey areas of perceptional discretion granted to the key male navigators of criminal justice system tend to make it unfair to the females.
The writer, a senior IAS officer, is the Member Secretary, Punjab State Women Commission