Though the National Highways Development Project represents the first real effort at creating a modern highway network in the country, the highways, being a basic infrastructure facility, generate economic activity and, therefore, need to be planned properly and provided in a manner that they give impetus to economic growth. A close look
National highways
Engines of growth
Deepak Dasgupta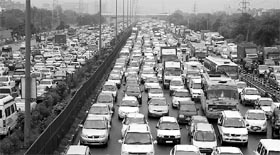 The Gurgaon -New Delhi National Highway. Tribune Photo: Syeed Ali Ahmed
According to a recent report, the travel time between Delhi and Jaipur now extends to over seven hours on account of the widening work on the Delhi- Jaipur highway. A personal experience when it took six hours to get to Jaipur from Gurgaon bears this out.
The widening work on this highway from two lanes to four lanes and now to six lanes and eight lanes has been on going ever since 1995 or so with very little periods in between for a hassle-free drive. The same is true of Delhi to Chandigarh and Delhi to Amritsar highways where widening has been going on from perhaps even earlier.
This reflects, in this writer's view, the paradigm governing the development of infrastructure in India, where by virtue of being a poor country, the provision of infrastructure was limited to a perceived demand projected from existing usage. Since the existing usage was itself highly suppressed, this has resulted in infrastructure acting as a constraint on development rather than its availability providing the impetus for economic growth.
The application of this principle to the road sector was compounded further by the application of a stage construction methodology, whereby a road was developed in stages, layer by layer or lane by lane. While this allowed the available funds to be applied over a larger number of roads and thus served a political purpose, it also meant that the full benefits flowing from the construction of these roads were postponed.
Clearly, the economic benefits that follow the development of a road network were not realised and instead we have had sub-standard and sub-optimal roads. This is in the face of India having over three million kilometres of roads, second only to the United States, but with a substantial length of this comprising poorly maintained and unpaved dirty roads.
The length of national highways is only 70,000 km though more than 40 per cent of the total traffic, particularly the heavy goods traffic, moves on these. Even here, nearly 30,000 km of state roads have been designated as national highways in the last ten years only and are, therefore, far from national highway standards.
Apart from around 14,000 km recently made four-lane, under the National Highways Development Project (NHDP), the remaining national highways are two lanes with a length of 17,900 km being single or intermediate lane only.
The NHDP represents the first real effort at creating a modern highway network in India. Under this programme, it is proposed to build 1000 km of expressways, around 28,000 km of four/six-lane highways and 20,000 km of improved two lane with paved shoulders.
Nearly 15,000 km have since been completed with work going on in another 6,000 km. It is expected for the balance length to be awarded by the end of 2012.
The rebuilding of the national highways under the NHDP has already begun to have an impact by making road transport easier and more efficient. The period 2000 to 2009 has seen an increase in the number of registered cars from 6.14 million to 15.78 million and increase in the number of registered commercial vehicles from 3.28 million to nearly 7 million.
Furthermore, unlike in the past, when only single axle trucks were suitable for narrow Indian roads, the new national highways can easily accommodate large multi axle trucks and trailers. As a direct corollary of this growth, the auto component industry has seen its revenue grow from US $ 5 billion in 2002-03 to US $ 20 billion in 2008-09.
Despite one of the most extensive rail network in the world, the bulk of commercial goods movement in India is by road and clearly the recent growth trajectory of the Indian economy bears the impact of the improved road network under the NHDP.
Notwithstanding the obvious achievement under the programme, there is a general impression that in view of the large deficit in the country's highway network, the rate of implementation needs to be increased. At the same time, some critics have observed that wasteful expenditure is being incurred on building over designed roads with excess capacity.
Clearly, there is an inherent contradiction in these observations. Empirical evidence shows that in quite a few cases, the capacity created is already under strain requiring further capacity augmentation. Furthermore, the capacity of a road cannot be judged on the basis of the existing traffic and its design should cater to traffic at least 15 to 20 years in the future.
This is especially so when 15 to 20 year concessions are being granted. In no way also can the highways being developed under the NHDP be described as being overdesigned when compared to highway systems in developed countries or in other Asian countries such as China, South Korea, Malaysia etc.
In fact, the highways being developed under the NHDP lack in a number of features, such as access control, grade separated intersections, provision of safety barriers, provision of bypasses around habitations, etc. which are common elsewhere on major highway networks.
Finally, highways being a basic infrastructure generate economic activity and, therefore, need to be planned and provided in a manner that they give an impetus to economic growth. Thus if the NHDP does create some excess capacity, it will surely generate economic activity in the area along with related traffic and we should proceed with its implementation as rapidly as feasible.
The writer, a 1966 batch IAS officer of Haryana cadre, is a former Chairman, National Highways Authority of India