Ayodhya under tight vigil
With the stage finally set for history to be made, the Uttar Pradesh government and state judiciary is going all out to ensure that September 30, the day of the verdict in Ram Janmabhoomi-Babri Masjid dispute, passes off without communal flutters.



Lalus, Mayas of tomorrow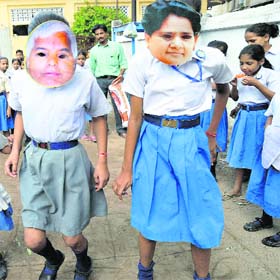 Poll gear:

School girls with the masks of Mayawati and Lalu Prasad Yadav and in Patna.
— PTI
UID project to be launched today
Nw Delhi, September 28
Come tomorrow and India will take the first step forward to becoming the first country in the world to implement a biometric-based unique ID system for all its residents as Prime Minister Dr. Manmohan Singh and UPA Chairperson Sonia Gandhi will release the first set of Unique Identification Numbers (Aadhaar) at a village in Nandurbar District of Maharashtra, dedicating the Unique ID Mission to the nation.
Almora disaster
Surviving drivers anxiously await relief
Chaamriya, September 28
They have had a close encounter with death and are now whiling away time staring into the emptiness just hoping that they would somehow get out of the trap that they have landed in.
Sukhois deployed for CWG security
New Delhi, September 28
In what will be an unprecedented security apparatus for the Commonwealth Games, a 60-km radius area around the National Capital has been totally 'sanitised' to keep an eye at rogue aircrafts, para-gliders and even small microlights to counter any threat posed by militants.
ITBP vehicles to be tracked via satellite
Chandigarh, September 28
Tasked with operating in remote mountainous areas amid inclement weather conditions, the Indo-Tibetan Border Police Force (ITBP) is turning towards satellite-based systems to track and control the movement of its vehicles.
Antony asks US to remove Pokhran-test era sanctions
New Delhi, September 28
Defence Minister AK Antony has asked the US to remove a major irritant between the two countries to establish a long-term Defence relationship. Antony, who returned to India from the US tonight, has specifically asked it to correct what India perceives as a "wrong' imposition of sanctions on key Indian Defence manufacturing units following the May 1999 nuclear tests at Pokhran.
Kasab challenges death penalty in Bombay HC
Mumbai, September 28
In a fresh development in the 26/11 terror attack case, Pakistani terrorist Ajmal Kasab today filed an appeal in Bombay High Court challenging death penalty awarded to him for killing 166 persons on November 26, 2008.
Efforts on to rope in Barua for talks
Guwahati, September 28
Buoyed over desertion of Bangladesh shelters by several senior leaders of the ULFA in the past few days, Assam Chief Minister Tarun Gogoi stated that there was no let up in the efforts to bring the fugitive commander-in-chief of ULFA, Paresh Barua to the negotiation table that was likely within next two months.
Delay in DA case
SC suspects Centre-Maya collusion
New Delhi, September 28
The Supreme Court yesterday said the corruption case relating to Uttar Pradesh Chief Minister Mayawati should go if the Centre was not serious about pursuing the case.
India needs 'agile' food policy, says PM
New Delhi, September 28
Prime Minister Manmohan Singh today said the country needed an agile food policy, under which procurement and distribution were alive to market reality and provided stability in prices.
'Breast cancer more prevalent in metros'
Chennai, September 28
Breast cancer is the number one type of cancer in the metros of India, Dr Dinesh Pendharkar, president of the Indian Society of Medical and Paediatric Oncology, said and attributed this trend to the changing lifestyle in the Indian cities.
Centre to frame guidelines to check builders
New Delhi, September 28
The Centre yesterday informed the Supreme Court that it was framing guidelines for restraining builders from luring clients by giving false promises through advertisements.
Vishwanathan is LS Secy Gen
New Delhi, September 28
Adviser to the Ministry of Law and Justice T.K. Viswanathan has been appointed the new Secretary-General of Lok Sabha and will assume office from October 1. He succeeds P.D.T. Achary, who held the position for five years from 2005, getting two extensions.