Whither medical and health care
The government has deliberately allowed its hospitals to go to seed so that private hospitals can flourish
Pushpa M Bhargava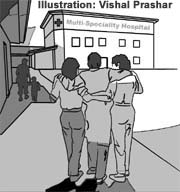 When I was a college student in the 1940s we, like others, had a family doctor - a general physician (GP). He was the best friend of the family. Specialisation in medicine was yet in its infancy.
Even today, with so much specialisation, the backbone of the national health service in the UK is the family doctor - a GP. He decides if you need to go to a specialist. In fact, very few need to, for over 90 per cent suffer from less than 0.1 per cent of known diseases, and the family doctor can take care of such common diseases better than a specialist because he knows the patient very well.
But in our country today, while there is a specialist of one kind or the other around every corner in our urban areas, there are simply no GPs; as a class, they have vanished. Till a few years ago, no medical college gave a M.D. (a post-graduate degree) in family medicine. Following my convocation address to the University of Health Sciences in Calcutta a few years ago, the Government of West Bengal decided to have such a course. Even today it is probably an exception. We need to reinstate the tradition of family physicians or GPs as a first step towards ensuring effective and least expensive medical care.
In the absence of GPs, we all go to specialists, and the specialist generally finds a disease that you are not suffering from and prescribes a cure for it. I was told of a person who saw seven specialists in a major corporate hospital. None of the specialists asked him if he was taking any drugs, and each of them prescribed him a course of different antibiotic. He ended up in the hospital with antibiotic toxicity.
Commonsense tells us that, excepting in the case of an emergency requiring a specialist in a particular area, it would be in the interest of the patient to first go to a GP and then to a specialist only if referred to by a GP. The tragedy is that even multi-speciality hospitals in a country -- that are largely in the private sector - do not have enough GPs, if they have one at all. We need to urgently fill this lacuna.
The second problem is that of increasing commercialisation of medical and health care in the last three decades, during which period the government has been increasingly abrogating its responsibility in this area. Till, the 1970s the government hospitals and those rune by trusts (such as Christian Medical College Hospital at Vellore) were very good. They were the only kind we had and each of them satisfied a minimum requirement. Health care was not a business but social service; it is just that the number of hospitals was very small. Today, health care is big business and the government is a party to it. It has deliberately allowed the government hospitals to go to seed so that private hospitals can flourish.
For example, people being treated under Arogyasri go to private hospitals; so everywhere new private hospitals are coming up to take advantage of this situation. Why didn't the Government, instead of subsidising private hospitals through Arogyasri, spend that money to upgrade its own existing hospitals and open new ones of quality. Further, private hospitals are given all kinds of concessions, for example in respect of cost of land and duty on equipment, on the condition that they will treat a certain number of patients free ; not one is treated free and the Government ignores it.
I do not deny that we have some ethical, people-oriented private hospitals but their number and proportion is extremely small. For a vast majority of private hospitals, the primary objective (in some cases, the sole objective) is to make money; cures in these hospitals are mostly incidental. They engage in gross exploitation of a patient (particularly the uneducated and uninformed ones) by total lack of transparency, inflated bills and unnecessary procedures.
Thus, according to a recent report, private hospitals in Hyderabad carry out, per 100 patients, eight times more hysterectomies, two times more tonsilectomies, three times more caesarian operations, and 15 times more appendectomies than are needed or done in govenment hospitals. This is in addition to unnecessary tests!
Not only that, there is a nexus between private hospitals and private doctors on the one hand and diagnostic centres on the other, so that when a doctor or a hospital asks you to go to a particular centre for a diagnostic test (whether it was necessary or not is another question), he gets a commission from the diagnostic centre for this referral.
Many private hospitals and private doctors in urban areas have touts in rural area who bring patients to the doctor or the hospital for a consideration. The tout gets a commission for the referral and also for the unnecessary tests done on the trusting and ignorant rural patients. In one case, we provided incontrovertible evidence for such an happening, with a complete recording of the conversation between the doctor and the tout, to the Medical Council of India (MCI), but nothing happened. We all now know the extent of corruption in the MCI with its Chairman in jail and its Governing Board reconstituted by Parliament.
The pity of it all is that wherever it can get away with it, the government has been a party to all the above happenings. Not that it cannot run first-rate hospitals ; examples would be AIIMS at Delhi, PGI at Chandigarh, and JIPMER in Pondicherry. But their number is extremely small. Most of the government hospoitals are just bad, steeped in inefficiency and corruption.
Sometime back, we found that in one hospital in Bhopal set up to take care of Bhopal gas tragedy victims, all the drugs used were fake and from companies that are known to make fake drugs.
One of the reasons for the situation outlined above is that to get admission in a medical college, most of which are private, you need to pay huge sums (as much as Rs 1 crore) as capitation fee. This money will have to be earned by the individual after getting the degree which, of course, is guaranteed. The quality of medical education in the country is abysmally low, except in less than 10 per cent of the medical colleges ; most of such colleges are run by the government or non-profit-making trusts.
It is true that government doctors don't make as much money as good private doctors do. But good government hospitals, often attached to good medical colleges, provide facilities that private hospitals do not - for example, of research and security. But, then, the system of capitation fees will have to be abolished de facto, not just de jure.
What should, then, be our medicare policy, taking ground realities into account ? As was shown by the late N. Antia (one of India's foremost plastic surgeons), we can have a successful and validated computer programme which can tell trained, bright high-school-pass young persons coming from the village itself, as to what drugs or treatment should be given to a person in 80 per cent of the cases. The programme would also tell him/her to identify the remaining 20 per cent of the reporting patients who should then be referred to the district hospital which should have basic diagnostic facilities.
Out of these 20 per cent over 15 per cent would be taken care of at a good district hospital. The remaining 5 per cent or so should be referred to good private hospitals committed to following a carefully prepared code of ethics, and covered by insurance. Obviously, facilities for transportation from the village to the district hospital, or to the nearest approved private hospital, would need to be provided. This kind of public-private partnership in medical and health care could go a long way in effectively democratising it and building a sound base for further improvement as the economic status of the majority improves.
Dr Pushpa M Bhargava is currently the Chairman of the Sambhavna Trust and The Medically Aware and Responsible Citizens of Hyderabad
Problems
n Even multi-speciality hospitals in the country do not have enough general physicians (GPs).
n Increasing commercialisation of health care.
n The government abrogating its responsibility.
n Exploitation of patients.
n Nexus between private hospitals and diagnostic centres.
n Capitation fees.
Remedies
n Reinstate the tradition of family physicians.
n All medical colleges should give a postgraduate degree in family medicine.
n Have a validated computer programme, which can tell trained, bright high-school-pass young persons coming from the village itself, as to what drugs or treatment should be given to a person in 80 per cent of the cases.
n The programme will also tell him/her to identify the remaining 20 per cent of the reporting patients who should then be referred to the district hospital which should have basic diagnostic facilities.