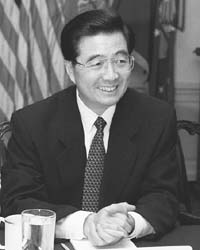 CHINA is an expanding power in South Asia. That is the real significance of the news that it may build a new nuclear reactor in Pakistan without the approval of the International Atomic Energy Agency or the Nuclear Suppliers Group, and also of the earlier stories about the presence of Chinese troops in the Pakistani half of Kashmir. Moreover, Beijing's wish to construct a road linking western China with the port of Gwadar in north-western Pakistan is just another example of China's determination to expand its influence in South Asia. China regards the Indian Ocean as its sphere of influence and seeks to counter America's presence there.
Nearly half of the world's seaborne trade passes through the Indian Ocean, and its coastal states are the source of some 60 per cent of the world's oil and a third of its gas reserves. To satiate its appetite for energy, China has embarked on projects in several countries situated along the sea routes stretching from the Malacca Straits to the Cape of Good Hope. Some of these countries lie in South Asia — and that is India's concern.
China has a stake in every South Asian country. Beijing has expanded its relations with Afghanistan, Pakistan, Nepal and Sri Lanka and seeks to use its leverage in the region. That fact disturbs India, its neighbour and rival for clout in South Asia. It also worries the US, which, while being indebted to China, and admiring its economic progress, feels uneasy at the prospect of authoritarian China becoming Asia's most powerful country.
Amicable ties between Beijing and New Delhi are essential for the stability in South Asia. Good trade relations exist despite the sharing of a contested border. But New Delhi is disturbed by China's renewed harping on its claim to the north-eastern Indian state of Arunachal Pradesh. This implies that China is not a status quo power but an expanding one.
Rivalry between China and India is to some extent inevitable. They are the world's fastest-growing economies, though at the moment China's economy is larger than India's. Indeed, China has the world's second largest economy. But even if India fails to overtake China economically, it will remain a close second to China militarily and economically and also the most serious challenge to China's growing influence and power. Neither will accept that regional stability is synonymous with the primacy of the other.
China has tended to believe that the Indo-US nuclear deal of 2006 is directed against it. But it has recognised that the deal suits India and has so far decided not to take a dogmatic stand against it.
Chinese investments in South Asia worry India, but they are not improper: indeed, they raise the question why Indian companies do not expand into Nepal, Myanmar or Sri Lanka as boldly as Chinese ones are doing. (Is it, for example, because leading Indian companies tend to look westward; or they are more interested in buying world-profile western companies like Jaguar, Corus and Arcelor Steel than in betting on economic uncertainties in underdeveloped neighbouring countries?)
Like India, China will not contribute troops to help NATO in Afghanistan. But in Afghanistan and Pakistan, which are at the top of the West's military agenda, China has significant military and economic interests.
Since the 1960s China has been a major arms supplier to Pakistan and so far the two countries have remained all-weather friends. China and Pakistan have traditionally valued one another as a strategic hedge against India. For Pakistan, China is a guarantor of security against India.
They share a free trade agreement. Trade between Pakistan and China was over $6 billion last year and is expected to rise to the $15 billion mark over the next few years.
Beijing also considers Islamabad critical to energy security. Gwadar — 400 km from the Strait of Hormuz — along with a network of rail and roads through Pakistan assures the convenient transport of Middle-Eastern oil and gas to China via its western province of Xinjiang.
In Afghanistan, China's interests are linked to Pakistan, India and Central Asia, and its concern that the US could remain indefinitely there. China fears that a long-term American presence in Afghanistan could be the stepping stone to the expansion of the US influence in Central Asia, which in turn could lead to the strategic "encirclement" of China by the US. At the moment China is the largest investor in Afghanistan. The China Metallurgical Group has invested $3.5 billion to develop the world's largest copper field in Anyak. State-owned Chinese companies are likely to pursue Afghanistan's untapped oil, gas and iron resources.
The war in Afghanistan has presented Beijing with the chance to become a regional player and major world power. China is concerned that a Taliban victory may result in the extremist ideology being exported to its Muslim Uighurs, but it has shown no sign of putting pressure on Pakistan to stop training terrorists. It has some 30 million Muslims, including the 12 million restive Uighurs of Xinjiang province, which directly borders on Afghanistan.
In the land and mountain-locked kingdom of Nepal, China has inspired Maoists and wants to complete a railway line from the Tibetan capital of Lhasa to Kathmandu.
In Sri Lanka, the government could not have defeated Tamil separatists without Chinese arms. A vast new port facility is being built in the Sri Lankan town of Hambantota eight months after the end of the country's civil war. China is to lend Sri Lanka about $200m to build a second international airport in the south of the island. Another $100m from Beijing will help boost the island's railway network. The new airport will be near a vast seaport, which is being largely funded with Chinese money.
India has blocked China's membership of SAARC, where China has only observer status. Were China to join SAARC it would doubtless be locked in a battle with India for the leadership of the association, and SAARC's smaller members would have to choose between being dominated by democratic India or authoritarian China. The Great Game between Asia's largest and fastest-growing rising powers looks set to continue.
The writer is Visiting Professor, Centre for Peace and Conflict Resolution, New Delhi