Bulbul Case
4 GMSH docs, six employees booked
Tribune News Service
Chandigarh, October 19
The police today booked four doctors of the Sector 16 Government Multi-Specialty Hospital (GMSH) - Dr Veena Sarna, head of gynaecology department, Dr Deepak Thakur, diplomate of National Board student, Dr Usha Bansal and Dr Praveena Dhiman - and six other employees of the hospital on the charges of negligence and destroying and tampering with the material evidence in the infamous Bulbul case.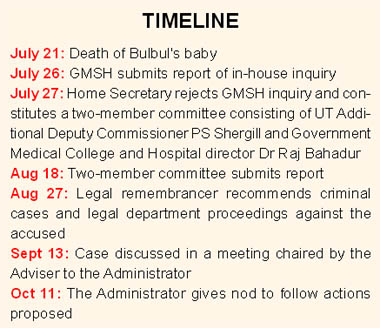 Sources in the Sector 17 police station said the case was registered against Dr Veena Sarna and Dr Deepak Thakur for allegedly destroying and tampering with the material evidence in the form of missing registration card and medical record of Bulbul while Dr Usha Bansal and Dr Praveena Dhiman, who are both on deputation, were booked for negligence.
The police has also booked Maya Devi, security guard, Parkash Rani, a ward servant and Dharma Devi, out patient department attendant, for criminal negligence in performing their moral and medical duties. Names of two technicians, Deepshikha and Kanchan Kataria, and a counsellor, Manju Arora, also figured in the case.
The development followed an inquiry report forwarded by UT Administrator Shivraj V Patil who gave a nod for registration of a case on October 11.
Confirming the development, UT SP (Traffic) HS Doon, who is officiating in place of the UT SSP, said: "We have registered a case against all those named in the inquiry report forwarded by the UT Administrator. We will now conduct an investigation into the case and take action against the guilty as per their role in the case leading to the death of the newborn child of Bulbul."
On July 21, Bulbul, who hailed form Bihar, was forced to move about in the hospital's gynaecology ward during labour. She delivered the baby near the OPD counter and the head of the baby reportedly hit the floor, causing instant death.
Sources said a case under Sections 304-A (causing death due to negligence), 201 (destruction of evidence), 465 (forgery), 466 (forgery of record of court or of public register) and 109 (act abetted in consequence where no express provision is made for its punishment) under the IPC had been registered against the accused at the Sector 17 police station.
Apart from recommending criminal case against five employees, the administrator had also approved departmental proceedings against Dr Usha Bansal and Dr Praveena Dhiman, both on deputation in the city, with the matter to be taken up with their parent state of Punjab.
With this, the Administrator also ordered a departmental action for medical negligence and slapping of show cause notices to Dr Paramjit Singh, Dr Ranjit Kaur, Dr Ashok Saini, Dr Neeraj Dhawan, Dr Dimple Dhaliwal Srivastava, Dr Jagrity Bahuguna Trigathia and Dr Parveena Dhiman for not attending to the newborn babies in the labour personally.