HC disposes of 2 pleas on CWG graft
New Delhi, October 20
The Delhi High Court today disposed of two petitions, seeking separate inquiries into the alleged corruption in the funding of the 2010 Commonwealth Games.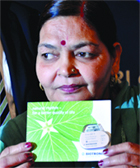 Advanced pacemaker for heart patients
A new range of advanced bradycardia sytem-ProMRI, now available at an economical price
New Delhi, October 20
If high-end pacemakers, used especially in the case of elderly patients who suffer from bradycardia (a medical condition in which the heart vessels are unable to pump enough blood), are beyond the reach of the budget, do not worry.
Usha Rani, who is implanted with the new pacemaker, at a press conference in New Delhi on Wednesday. Tribune photo

Badarpur Metro corridor to be ready by month-end
New Delhi, October 20
The Central Secretariat-Badarpur Metro corridor which was opened till Sarita Vihar, in a hurry for the Commonwealth Games, is likely to be completely commissioned in 10 days.
Mayor writes to L-G over road rights
New Delhi, October 20
In a letter written to the Lieutenant-Governor (LG) Tejender Khanna, Mayor Prithviraj Sawhney today expressed concern about the Delhi government's attempt to take away the rights of constructing and maintaining rural roads from the Municipal Corporation of Delhi (MCD).
Rise in excise revenue collection
New Delhi, October 20
The sales and excise duty collection has increased this year compared to last year. However, the sale of liquor was less in October due to more dry days, traffic restrictions and closure of markets, restaurants and bars on account of CWG. The sale was also low due to 'Shradh and Navratra' festivals.
Servant held for robbery
New Delhi, October 20
The Delhi police has arrested four men for allegedly being involved in various cases of house robbery, the police said today. The accused have been identified as Dinesh Yadav (28), Teju Yadav (23), Mahesh Mukhia (22) and Hari Prasad Yadav (22).
Crime File
Boy killed after being sodomised
New Delhi, October 20
The decomposed body of an 11-year-old boy was found in a park in east Delhi today. The police suspects that the victim was murdered after being sodomised. The boy had been missing since October 18, a senior police official said.
Emaar's Rs 183-cr bank guarantee confiscated
New Delhi, October 20
The central government today confiscated Rs 183-crore bank guarantee from Emaar-MGF, a day after the Delhi Development Authority (DDA) came out with findings of irregularities by the builder in the construction of Games Village.
Polythene factory catches fire
Faridabad, October 20
Fire broke out at a factory in the industrial sector 28 here today. The fire, which raged for about two hours, was ultimately put out with about 20 fleets of fire brigade.
Hospital worker dies while cleaning sewer
New Delhi, October 20
A 30-year-old sanitation worker employed with a hospital in south Delhi died when he got down a sewer to clean it and came under the influence of some poisonous gases.
Court order in Sajjan case today
New Delhi, October 20
A Delhi court will tomorrow pronounce its order on a plea seeking direction on a chargesheet prepared by Delhi police against senior Congress leader Sajjan Kumar in a 1984 anti-Sikh riots case.
11 buildings razed in demolition drive
New Delhi, October 20
The Municipal Corporation of Delhi today carried out major demolition drive, which was launched by the building department of the Central zone.
Jailed for murder bid
New Delhi, October 20
A city court today convicted a man to nine months of imprisonment for attempting to kill his neighbour.
5 Gzb students held for drug trafficking
Ghaziabad, October 20
Seven people, including five students, were arrested for supplying brown sugar in different educational institutes of Ghaziabad, the police said today. The police recovered 350 gm of brown sugar from their possession.