In WB, Maoists abduct two but Mamata says withdraw troops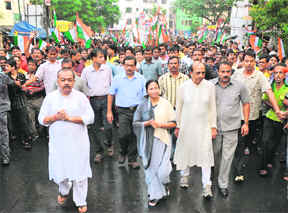 Kolkata, October 23
Partha Biswas, an IB officer of the state police, and Soumyajit Bose, a schoolteacher, were kidnapped by alleged Maoists during their visit to Ayadhya Hills in Purulia today. Interestingly, around the same time Trinamool Congress and Union Railway Minister Mamata Banerjee was taking out a protest march in the city, demanding withdrawal of the joint action force from the Maoist-infested Lalghar-Jangalmahal area in west Midnapore.
Mamata with supporters in Kolkata
HC raps Maya for defending controversial Ansari brothers
Lucknow, October 23
The Allahabad High Court today dismissed a contempt petition filed against Uttar Pradesh Chief Minister Mayawati over a speech made by her at an election rally where she had reportedly spoken in favour of don-turned-politicians Mukhtar Ansari and his brother Afzal. While dismissing the contempt petition, the court however gave her a verbal rap for her controversial statement giving a clean chit to the Ansari brothers.
Protests force maker to delete scenes from 'Rakta Charitra'
Hyderabad, October 23
Maverick Bollywood filmmaker Ram Gopal Varma'slatest multi-lingual political thriller "Rakta Charitra" (blood-soaked history) has set off a storm of protests, forcing him to delete certain scenes allegedly projecting former Andhra Pradesh Chief Minister and Telugu Desam Party founder late NT Rama Rao in poor light.
Fresh trouble for Sajjan Kumar


New Delhi, October 23
Turning down the Delhi police's plea to club the cases involving senior Congress leader Sajjan Kumar with the ongoing trial in another case relating to the 1984 anti-Sikh riots, a Delhi court today held that there was no existing order, as claimed by cops, of clubbing the chargesheets and that it should be filed separately.
A Delhi court has directed the police to file separate chargesheet against the ex- MP in another '84 riots case

Two years after 26/11, Chabad House to reopen
Mumbai, October 23
The Chabad House, one of the affected sites in the 26/11 attacks, is all set to reopen partially in a few weeks. The first two floors of the six-storey building, also called Nariman House, will be thrown open on the second anniversary of the terror attacks next month while the rest of the building will be completed down the line. "We were supposed to complete the entire work by November 26 but could not due to shortage of funds," says Rabbi Eliran Russo, who is overseeing restoration work.
Centre banned LTTE without knowing its agenda: Home Ministry
Chennai, October 23
The Union Home Ministry, which has extended the ban on the LTTE, said it was unaware that the outfit's agenda was limited to fighting for a separate homeland within Sri Lanka alone.
Diversion of govt fund to militants
DHD (J) chief among 16 named in NIA chargesheet
Guwahati, October 23
The National Investigation Agency (NIA) recently filed chargesheet against 16 persons in a case (No. 02/09) related to diversion of development funds meant for North Cachar Hill district in Assam to the coffer of militant outfit Dima Halam Daogah (J).
Difference in BPL estimates
SC asks Centre to allocate PDS foodgrain as per states' estimates
New Delhi, October 23
The Supreme Court said the Centre should allocate foodgrains to all states for the public distribution system going by the number of below poverty line families estimated by the states under central norms.
India on a roll in scientific research: Report
Hyderabad, October 23
India has emerged as an international hub of scientific research over the last few decades but still faces a key challenge to convert the knowledge into inclusive growth, according to a report by the Academy of Sciences for the Developing World.
AGP turns to tribes to fight Cong
Guwahati, October 23
The regional Asom Gana Parishad (AGP), the main opposition party in the Congress-ruled Assam, after snapping its ties with the BJP, is now trying to form a formidable anti-Congress force by forging alliance with tribal political groups.
PIL challenges Thomas' appointment as CVC
New Delhi, October 23
A Public Interest Litigation (PIL) has been filed in the Supreme Court challenging the appointment of PJ Thomas as the Central Vigilance Commissioner.
Free cycle scheme for temple priests
Chennai, October 23
In a marked shift from the early days of fiery atheist propaganda, Tamil Nadu Chief Minister M Karunanidhi recently launched a free cycle scheme for priests of village temples, who did not have sufficient financial resources.
Sukhoi to get indigenous cockpit displays
New Delhi, October 23
For the first time fighter Sukhoi 30 MKI of the Indian Air Force will have an indigenously developed multifunction cockpit display for pilots. A joint venture between public sector giant the Hindustan Aeronautics Limited and the Samtel Display Systems has been given the go-ahead to manufacture this sophisticated piece of equipment.
Jet flight grounded in Mumbai
Mumbai, October 23
The pilot of a Jet Airways' Muscat-bound aircraft, with 122 passengers on board, was forced to ground the flight after the tip of the plane brushed against the tail fin of a parked Kingfisher aircraft at the city airport in this morning.
I-T raids on Oasis Group units unearth Rs 20 cr
Chandigarh, October 23
The search and seizure operations conducted by the Income Tax Department on the Oasis Group of Companies, which has diverse business operations in the fields of hotels and liquor in this region and Madhya Pradesh, led to the surrender of concealed income to the tune of Rs 20 crore.