M A I N N E W S
Soon, device to help troops read enemy minds
Vijay Mohan
Tribune News Service
Chandigarh, October 24
A soldier's sixth sense often proves to be his saviour during face-to-face confrontation with a potential adversary. This instinct comes from years of experience and the prospect of facing death at the hands of an unknown and often unseen enemy. The Defence Research and Development Organisation (DRDO) is now engaged in developing devices that would enable soldiers to "read" the mind of the individuals and assess their intentions.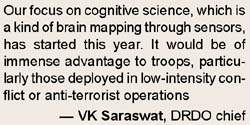 "Our focus on cognitive science, which is a kind of brain mapping through sensors, has started this year," VK Saraswat, scientific adviser to the Defence Minister and DRDO chief, said. "It would be of immense advantage to troops, particularly those deployed in low-intensity conflict or anti-terrorist operations," he said.
Saraswat was here on a two-day visit to review the ongoing projects at the Terminal Ballistics Research Laboratory and the Snow and Avalanche Studies Establishment, and discuss future programmes with their top scientists.
Cognitive science has been defined as the interdisciplinary study of the mind, which examines how information concerning faculties such as perception, language, reasoning, and emotion is represented and transformed in the brain. Devices to assess human intention would involve remotely sensing and interpreting neurological signals and electromagnetic impulses transmitting through the body.
This is a part of DRDO's recent focus on meeting the requirements of the Armed Forces and paramilitary organisations for anti-terror operations.
With cyber security being a major issue in the wake of a series of attempts to hack networks, Saraswat said DRDO was developing its own computer operating system that would be much more resistant to penetration as the source codes for the software would not be available.