Man-portable surface-to-air missiles (SAMS) continue to be potentially lethal weapons in America's Afghan war as these were during the war in the 1980s when Afghanistan was under the control of the then Soviet Union.
Afghanistan: Threats from SAMs
Abhijit Bhattacharyya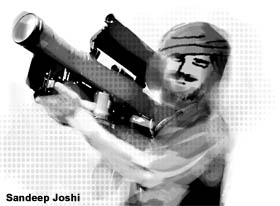 The death of nine US/NATO soldiers in a helicopter crash in Daychopan district of Zabul province, Afghanistan, last month once again raised the plight of Western troops facing the lurking danger from the man-portable surface-to-air missiles (SAMs). This had been happening since long even in commercial aviation as it was noticed on November 22, 2003, when an Airbus-300 cargo flight on takeoff from Baghdad (to Bahrain) was reportedly hit by a SAM-7.
According to a US Congressional Research Service (CRS) report of November 3, 2003, "attacks using the portable SAM/anti-aircraft missile" (operated by a single person) have been attempted "several times" since at least 1979. And there were at least five serious incidents during this period, resulting in two fatal crashes (with all dead).
In 2005 a study released by the Rand Corporation accepted that shoulder-fired surface-to-air missiles, also known as the man-portable air defence system (MANPADS), constitute a real terrorist threat to civilian aircraft all across the globe. It was indeed felt what will happen if Al-Qaida and various associated outfits, instead of trying to hijack a passenger aircraft, find the option of using man-portable SAMs to destroy it on their landing or take-off flight path!
Obviously, one success, killing 200 passengers and destroying one aircraft, would result in devastating economics. Flights would be cancelled, passenger numbers will drop, airport business will fall and, above all, fear will grip the administration also, thereby resulting in an all-round turbulence in the world market. According to a Rand estimate, "a single successful missile attack against a commercial airliner could inflict economic losses from US $1.4 billion, if there was a total shutdown of airline traffic for just one day, to US $70.7 billion if the shutdown stretched out to a month."
Ironically, although we are seriously discussing the threat to civil aviation owing to the September 11, 2001, terrorist attacks, the legacy of the subject goes back several decades with successful missions in the military arena.
The recently leaked WikiLeaks documents had it that on May 30, 2007, Afghan insurgents shot down a twin rotor Chinook helicopter over Helmand with a portable SAM. The documents also maintain that the "most insurgent usages of portable SAM/anti-aircraft operations were unsuccessful". The use of the word "most", however, implies a confession of success of the insurgents. But the Americans need not be surprised that Afghans use those missiles. After all, the earlier generation of Afghans too got a huge quantity of US-made Stinger missiles to hit the Soviet choppers in the 1980s through the Pakistani, Saudi and US intelligence services. Reportedly, lots of those weapons are still available.
A lot more can be had in future also owing to the fact that at least half a million portable SAMs have already been produced worldwide and will continue to be produced in the future. And at least two dozen non-state actor organisations (including Al-Qaida) are believed to be in possession of various types of weapons. Thus, from the Soviet SA-7 missiles to American Stingers, different kinds of such weapons are available in the black market, and it seems that militants are still using their fathers' and uncles' missile technology.
Thus, in October 2007 was discovered a cache of Chinese-made HN-5 missiles (a very early MANPAD) in Farah province of Afghanistan. In January 2008, an explosive ordnance team unearthed two HN-5 missiles at Kandahar. In July 2008 insurgents tried in vain to shoot an F/A-18 Hornet with an early generation MANPAD at night.
Today, proliferation of MANPADS in Afghanistan continues unabated, making the country one of test centres, as once again, like the USSR in the 1980s, the US is heavily dependent on helicopters to get around the uneven and often-unpaved terrain of countryside.
It is, however, common knowledge that insurgents so far have fired only early versions of MANPADS against the US in Afghanistan. Although their exact number is not known, it is believed that that most of these were Redeyes of the General Dynamics origin of the 1960s. Understandably, therefore, all these MANPADS have become obsolete and do not necessarily have the modern-day tracking technology. Still, it is quite scary that so many of these obsolete MANPADS are still working.
Observers may wonder as to where from these MANPADS have come! Answer: From the inventory of the 24 manufacturing countries. However, all of these countries are not major players today.
The Chinese, however, have emerged as a major producer, seller and user of these MANPADS. Beijing began with the Soviet-era Strela-2 systems, which were supplied by Egypt in 1974 as a "technology gift" owing to Chinese assistance in the 1973 Yom Kippur War. China took off and soon transferred the HN-5 technology to Pakistan for use in the production of Anza Mk I man-portable SAM system at the Institute of Industrial Control Systems (IICS), earlier called the A.Q. Khan Research Laboratories. It is in service in China, North Korea, Afghanistan, Bangladesh, Iran, Iraq, Myanmar, Pakistan and Thailand. Another MANPADS, FN-6, "specifically designed for use against low and very low altitude targets such as fighters, fighter-bombers and helicopters", have been offered to Malaysia.
China also has another type, Qian Wei-1 (QW-1) MANPADS, reportedly "in many respects the technology involved is similar to that used in the (US) Raytheon Missile Systems FIM-92 Stinger and (USSR/Russia) Igla systems". And expectedly, Pakistan has been the beneficiary, being the "all-weather friend"; it has built a similar missile in appearance and performance to the QW-1 Vanguard, known as Anza Mark II.
In Europe, France has made spectacular progress in man-portable SAM's development and exporting to foreign customers. In the Middle-East, the Gaza and West Bank "military wing of the Al-Quds Martyr's Brigade is attempting to develop SAMs, according to Jane's.
There are many other countries engaged in the production of MANPADS —— Germany, Iran, Israel, Japan, North and South Korea, Poland, Pakistan, Romania, Serbia, Sweden, UK and Ukraine. However, the most widely used MANPADS still originate from Moscow and Washington. The Russian made Strela-2/ SA-7 systems were "widely deployed to the various wars between Arabs and Israelis".
Of all the available MANPADS, the US-made Stinger, perhaps, has the maximum variants. Little wonder, therefore, that Stinger continues to be operated by all and sundry.
In South Asia, however, Pakistan seems to have gone ahead of India in the manufacture of MANPADS. Islamabad's Anza Mark-I and II systems have been used in the Kargil war in 1999. The weapon has also been exported to Malaysia.
In brief, man-portable SAM missiles continues to be a potentially lethal weapon in America's Afghan war as these were during the war in the 1980s when Afghanistan was under the control of the then Soviet Union.
The writer is an alumnus of the National Defence College of India, Delhi, and a member of the International Institute for Strategic Studies, London.