REEL CRUSADE
Punjabi cinema has taken up the cause of freeing Punjab from the clutches of drug abuse
Jatt, zameen and zamindari, NRIs and their love stories combined with love for their motherland….then comes the surprise, female foeticide followed by drug abuse. Punjabi cinema has gone beyond its trademark subjects-land and love. Not that we mind watching the same old stories packaged differently and shot in different locales, but issue-based films are definitely making more sense. Even if these movies can put a full stop to the social maladies, but at least some difference can be made. It all began five years back with Mangal Dhillon's Sarvanash.

Iqbal Dhillon (L) with the cast of Channa Sachi Muchi

Spa-cial moments
In the city to kick off a spa fest, actor Surinder Pal recollects those days of playing Dronacharya in Mahabharta
He debuted by playing a130-year-old. The role of the most iconic teacher Indian history has ever acknowledged. Twenty years down the line, he's a fifty-year-old actor, who's played almost every conceivable character on television; a king, a saint, a father…With actor Surendra Pal, the conversations inevitably steer towards the role Dronacharya in Mahabharata. In Chandigarh to kick off the one-month spa fest at Cleopatra, he revisits his career graph over a lavender spa. Before we settle down to reliving the grand old Mahabharata days, here's first throwing a couple of beginners' queries…

— Photo: Vinay Malik


The fine line
Nishant Saxena teaches one how to have the right attitude and finesse
If 'bookish' knowledge were the ends and means, we wouldn't have the problem of unemployment. Agreed? Well, then the question is how to solve this problem. Of course by preparing the students to meet the professional requirements of the industry. Something like an engineer or an MBA equipped to crack the professional demands, create a good space and touch heights in their career.


Fill up the gap
There are ample new techniques as far as the treatment of skin disorders is concerned. Says Dr Vikas Sharma, chief consultant dermatologist and dermato-laser surgeon at the National Skin Hospital, "Though the latest developments of dermal fillers are in demand, these should be used with extreme caution." He feels that people know about botulinum toxin but the awareness about dermal fillers is still lacking.
So natural!
Certainly there is no age limit for making a literary creation or contribution, at least not for Lalita Puri Raj Manohar who came out with her maiden Hindi poetry book Keekar ka Paed after her retirement from government job. "In fact, I have been writing poetry since my childhood, compiling and embellishing these raw and refined collections from time to time with the expertise I gained from the experiences in life and tryst with the times," claims Lalita.
Happy feet
Valentino has launched fashionable leather shoes for men's category emphasising on the comfort and quality. The collection will enthrall you with its variety, which caters to the taste of young and old alike. The range of leather footwear strikes to have a hit in the market with its finest collection, thus keeping in mind the other effects of synthetic made shoes which cause condensation on the surroundings of the foot giving you the feeling of wet feet.


Ultimate fun
It was a treat for Ben 10 lovers Cartoon Network hosted a party at McDonald's in Mani Majra to celebrate the launch of BEN 10: Ultimate Alien Series. Ben 10 gave Chandigarh kids an unforgettable experience as he performed to the theme song and played fun games with them. Ben 10 fans jumped to the challenges of styling their hair just like their cool hero, identifying the Ultimate Aliens from shadow sketches and solving the McDonald's Happy Meal Ben 10 puzzle in record time.



Art & craft


Courtesy and the concerted efforts of Theatre for Theatre group and Oscar Institute of Performing Arts, the Panchkula theatre buffs will be treated to a grandiose entertainment in the First four day TFT-Oscar theatre fest-2010 commencing today at the Indradhanush auditorium. The organiser VK Sood and director Sudesh Sharma maintained that a good theatre should not only provide engrossing entertainment but it should have a meaning for the life and for the society we live in.


Spice up
Get the GLOW
The festive season is here. It is time to get a low down on some make-up and grooming tips. Festivals mean bright lights, so for night make-up, go for brighter colours and extra touches. Cleanse the skin first. Apply moisturiser for dry skin and astringent if the skin is oily.
BODY WISE
Wo(e)man ZONE
What were earlier considered the 'middle years' are now rapidly becoming the best years of a woman's life, as she settles into her career and life. However, health care in most cases takes a back seat because of the multiple tasks she has to undertake. Health care for women means extra nutrition and care, especially when they cross the age of 35.


Natural progression
She made heads turn with her chirpy girl-next door image in Rab Ne Bana Di Jodi and later set the screen on fire with her glam avatar in Badmaash Company but Anushka Sharma is totally unperturbed by her transformation from a demure to oomph image. "I do a film when I like a character or a script. As an actor I would not confine myself to limited roles and become a monopolist. I am not trying to sell any image," Anushka said.

Lips 'locked'
Hollywood actor Emma Watson felt uncomfortable while filming romantic scenes with her co-stars Daniel Radcliffe and Rupert Grint in the new Harry Potter film. Watson who rose to prominence playing wizard kid Hermione Granger, is currently filming the next installment of the wizard franchise Harry Potter And The Deathly Hallows: Part 1. The star says she gritted her teeth when she was called on to kiss her co-stars.



Standing up for Paa
Bollywood mega star Amitabh Bachchan says his eyes were moist as the audience stood up to give him a standing ovation when he received the best actor award at the national awards. The actor was honoured for his performance in Paa, where he played a 13-year-old child suffering from progeria.

Bollywood actors Amitabh Bachchan poses with his family after receiving the Best Actor award for Paa




Dance? No Problem!
International celebrities make way. Director Anees Bazmi says he's more than happy to have Bollywood's own sizzling stars, Sushmita Sen and Kangana Ranaut, to scorch the dance floor for a song in his forthcoming film No Problem. "There was no time to get any international celebrity. Our film is complete.

Happiness for Kristin
Sex And The City star Kristin Davis is planning to make a return to the small screen with TV drama Happiness Project. The actress, best known for her role of Charlotte York in SATC, will play a women in quest of true happiness on the NBC show.







Couple entry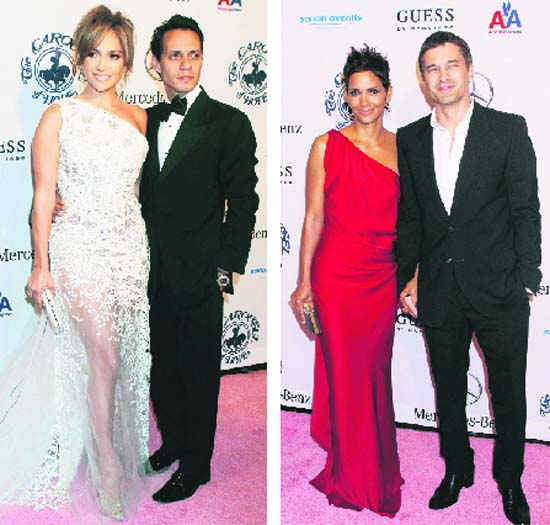 L-R: Actor Jennifer Lopez and husband, singer Marc Anthony, actor Halle Berry and boyfriend Olivier Martinez arrive at the Carousel of Hope Ball in Beverly Hills, California on Saturday night. The ball benefits The Barbara Davis Center for Childhood Diabetes. Photos: Reuters