HSGPC softens stand
To hold talks with SGPC leaders on Nov 16
Kurukshetra, November 2
Virtually snubbed by the Haryana government on the issue of a separate gurdwara committee, the Haryana Sikh Gurdwara Prabandhak Committee (ad hoc) today softened its stand and decided to hold talks with the SGPC for a negotiated settlement.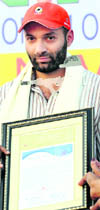 Shooter Harpreet honoured
Karnal, November 2
A day after the state government awarded the medal winners from the state in Sonepat, Harpreet Singh, who clinched two gold medals in shooting in the Commonwealth Games, was honoured with Karnal Ratna Award by the National Integrated Forum of Artistes and Activists (NIFAA), SBS Public School and Nav Chetna Manch for his rare accomplishment.




Commonwealth Games gold medallist in shooting Harpreet Singh poses for photographers after receiving the Karnal Ratna Award in Karnal on Tuesday. Tribune photo: Ravi Kumar

702 errant school bus drivers proceeded against, HC told
Chandigarh, November 2
Haryana has proceeded against 702 school bus drivers for violation of traffic rules till August 31 this year. This information was provided to the Punjab and Haryana High Court by Karnal DSP (Traffic and Highways) Ashok Kumar. The details were placed before the Division Bench comprising Chief Justice Mukul Mudgal and Justice Ajay Tewari.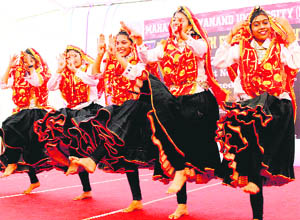 Girls perform at the zonal youth festival at Sheela Devi Institute Management and Technology in Faridabad. Tribune photo: Sayeed Ahmed
Youth, sister-in-law commit suicide in Jind village
Jind, November 2
Manish (23) eloped with his sister-in-law Veena (27), a mother of two, from their village last night. Their bodies were found near the Uchana railway station this morning.
Father-in-law held for setting woman ablaze
Jind, November 2
The police has arrested a resident of Malwi village here for allegedly setting afire his daughter-in-law with the help of his family members. The police is yet to arrest the other three accused in the case.
Jats to hold protest on Nov 25
Chandigarh, November 2
The All-India Jat Arakshan Sangharsh Samiti will stage a demonstration at Jantar Mantar in Delhi on November 25 to press for reservation for the Jat community.
12 folklore, film artistes honoured
Chandigarh, November 2
As many as 12 artistes were honoured for their significant contribution at a special cultural function held at Haryana Rajbhawan on Haryana Day yesterday. Governor Jagannath Pahadia and Chief Minister Bhupinder Singh Hooda presented the awards.
No sale of crackers to minors
Fatehabad, November 2
Cracker dealers in Fatehabad district will not be able to sell crackers to children below the age of 18.
Govt hikes dearness allowance
Chandigarh, November 2
The state government has enhanced the rate of dearness allowance payable to its employees on unrevised scales from existing 87 per cent to 103 per cent with effect from July 1, 2010.
Addl charge for 2 IAS officers
Chandigarh, November 2
The state has given the additional charge to two IAS officers . P Raghavendra Rao, Financial Commissioner and Principal Secretary, Development and Panchayats Department, and Secretary, BAC and Commissioner, Gurdwara Elections, Haryana, will also look after the work of Financial Commissioner and Principal Secretary, Environment, against a vacant post. Anil Malik, Managing Director, HAFED, has been given the additional charge of Registrar, Cooperative Societies, against a vacant post. — TNS