M A I N N E W S
US dims India's hopes on UNSC
Obama says it's a difficult and complicated issue
Washington, November 3
Ahead of his visit, President Barack Obama today described India as a "cornerstone" of the US engagement in Asia. But he held out no assurances on the key topics of support for India's permanent membership of the UN Security Council and ending curbs on the export of dual-use technology, saying both were "very difficult and complicated" issues.
Outlining the objectives of his three-day maiden trip beginning Saturday, Obama said building "a true strategic partnership" with India had been one of his "highest foreign policy priorities" since he assumed office in January last.
The visit would give him an opportunity to work with Prime Minister Manmohan Singh to bring Indo-US cooperation on a broad range of issues "to a new level", he told PTI.
"The Indo-US partnership is based on both our shared values and our shared interests, and for these reasons, I welcome and support India's rise as a global power," the President said. "India's rise was in the best interests of both the countries (India and the US), of the region and the world."
The President answered a wide range of questions covering contentious issues like US curbs on the export of dual-use technology items, outsourcing, UNSC membership and Pakistan's failure to take action against the perpetrators of 26/11 attacks.
Asked about the possibility of his announcing lifting of curbs on export of dual-use technology items and more concrete support for India's permanent membership of UNSC, Obama described the two issues as "very difficult and complicated".
"Our teams continue to work hard to reach an agreement that strengthens the international non-proliferation system while treating India in a manner that is consistent with our strategic partnership," he said in a reference to export restrictions that cover items that have both peaceful and military usage.
Without committing himself to a firmer support for India's bid for permanent seat in UNSC, Obama said, "I do also expect to discuss India's role as an actor on the global stage during my visit."
When told that there did not seem to be any "big ticket items" on the agenda, Obama responded, "I do not want to pre-empt the announcements that the Prime Minister and I will make while I am in India. "I think you can expect a series of announcements on how we are going to deepen and broaden our cooperation on a range of things that will have a direct and very positive impact on millions of people both in India and the United States."
"There will be big items on the agenda, and -- just as importantly -- I believe that we will build an even stronger foundation for the US-India partnership going forward." The President went on to emphasise that Indo-US relationship "now goes well beyond any one particular issue".
Outlining his vision of the relationship between the two countries, the President said, "My vision is a US-India partnership in which we work together to shape a more secure, stable, and just world… My visit gives me an opportunity to experience first hand your fascinating country, discuss issues of mutual concern with my friend Prime Minister Singh, and work with him to bring our cooperation on a broad range of issues to a new level."
When asked about reports that the US companies were unhappy with some of the provisions of the Nuclear Liability Act passed recently by India, he said: "I believe that Indian officials are aware of our concerns over the law".— PTI
India as global power:
US President says India a cornerstone of America's engagement in Asia
Building a true strategic partnership with India has been a foreign policy priority with him
Lifting curbs on export:
Remains non-committal, but says teams at work
Nuclear Liability Act:
Says US has some concerns and both the countries were in talks to resolve them
26/11 terror attacks:
Says Pakistan has a special responsibility to bring the perpetrators of the Mumbai attacks to justice
Top level security for Obama
Ajay Banerjee/TNS
New Delhi, November 3
In what will be unprecedented security measures for any visiting head of a state, an Air defence drill that was deployed during the opening ceremony of the Commonwealth Games on October 3 will be put in place when Barack Obama arrives on November 6.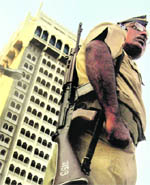 A cop stands guard near Taj hotel in Mumbai. — PTI
This will include complete coverage of air space using Unmanned Aerial Vehicles (UAVs) equipped with high resolution cameras, sensors and choppers when he is in Delhi. All high-rise buildings in Delhi that fall along Obama's route will have National Security Guard (NSG) snipers during the entire visit, sources here said.
When Obama will be in Mumbai, the security will be even more widespread. Apart from the NSG snipers atop the buildings near his place of stay and the police on the ground, US Navy's amphibious assault ship - USS Peleliu - will be sailing close by. It can carry about 1,000 marines and a complement of 20 reconnaissance or attack choppers.
The Indian Navy's sea-borne aircraft carrier - INS Viraat - along with its full fleet will be also out at sea near Mumbai. Apart from the Navy and the Coast Guard, choppers will also be on vigil.
In Mumbai, the US President will be flown in chopper from the airport to a Naval air base located near the Taj Hotel in southern Mumbai.
Separately, an intense security drill involving US secret service agents, the Indian intelligence agencies and NSG commandos will take place tomorrow in Mumbai.
A similar exercise will also be carried out in Delhi on Friday to fine-tune the security arrangements in the Capital during Obama's visit here.
Scramble for invites
Anita Katyal
Our Political Correspondent
New Delhi, November 3
US president Barack Obama's popularity ratings might be plummeting back home but his charisma has not shown any signs of waning in India.
This is clearly evident from the mad rush to grab an invite for the visiting President's address to the members of both Houses of Parliament in the Central Hall on November 8.
Lok Sabha Speaker Meira Kumar's office, which is overseeing the preparations for this programme, is having a tough time fending off the unending requests for an invite.
However, it is being made clear that the sitting members of Parliament, former Prime Ministers and speakers will be given top priority.
A number of former MPs, who are associated with the Indian Parliamentary Group (IPG), under whose auspices this programme is being conducted, are being given top priority.
Among the former speakers who have been extended an invite include Somnath Chatterjee, PA Sangma, Shivraj Patil, Balram Jakhar and Baliram Bhagat.
The programme itself is short and has been especially timed for the evening as television channels back in the US will be able to air it during their morning news bulletins.
Khurshid chosen minister-in-waiting for US President

Union Minister Salman Khurshid, who has been chosen to be minister-in-waiting for US President Barack Obama during his visit, termed the assignment as "opportunity of a lifetime". "I am honoured that the Prime Minister has given me this assignment.....Of course, it is an opportunity of a lifetime to be with a head of state in such close vicinity...just taking it as it comes," he said. — PTI