President-elect's economic proposals
Dilma Rousseff of the ruling Workers' Party who won Brazil's presidential election is a former chief of staff under President Luiz Inacio Lula da Silva. Rousseff, 62, endorses the pillars of economic policy that have made Brazil one of the world's hottest emerging markets. Here are some of her positions on key issues:
ECONOMIC STABILITY
Rousseff would maintain the mostly market-friendly policies that have provided economic stability over the past decade: a free-floating currency, inflation control and fiscal discipline.
FISCAL DISCIPLINE
The career civil servant whose party has strong ties to public sector unions, Rousseff proposes maintaining fiscal discipline with gradual adjustments but has ruled out the kind of drastic austerity measures that marked the first year of Lula's administration in 2003. She has said Brazil does not need to rein in public spending for the economy to keep growing at a robust pace.
She has pledged to keep a primary budget surplus target of 3.3 percent of gross domestic product until net debt falls to 30 percent of GDP in late 2014. It was 41 percent of GDP in September.
The government still expects to hit its primary budget target in 2010, after a large one-off payment by state oil company Petrobras helped it partially offset a ramp-up in public spending this year.
STATE ROLE IN ECONOMY
Rousseff favours a strong state role in strategic areas, such as banking, petroleum and energy, but she insists private companies in those sectors would not be crowded out.
She also pledges to promote government efficiency and a meritocracy while cutting red tape.
A former energy and mining minister under Lula, Rousseff may also increase state intervention in the mining sector, which could create risks for iron-ore giant Vale.
Rousseff is likely to push on with efforts to boost access to broadband Internet services among low-income households through the revived state-run Telebras, whose assets had been privatised in the 1990s.
CENTRAL BANK
Rousseff said she would maintain the central bank's operational autonomy and the status of its president as a cabinet minister. Brazil's central bank follows an inflation-targeting regime that investors say is crucial for price stability in the country.
Rousseff praised the central bank for successfully steering Brazil through the global credit crunch that began in 2008.
STRUCTURAL REFORMS
Rousseff has made an overhaul of Brazil's complicated tax system a top priority and could push a series of microeconomic reforms to improve the investment climate.
Her proposals include capital investment and payroll tax breaks and harmonizing tax levels among states. Rousseff favours a piecemeal reform of the costly pension system that would raise more money to finance the growing social-security deficit and alter some retirement rules.
MONETARY POLICY
Rousseff has said that until Brazil's debt burden falls considerably, the central bank will have to focus exclusively on inflation, rather than looking at the broader economy, including job growth.
Rousseff has said she wants to bring down Brazil's interest rates, which are among the world's highest and are a major factor keeping the currency strong. But she is not expected to strong-arm the central bank into lower rates.
OIL INDUSTRY
Rousseff fully supports the Lula government's drive to heighten government control over massive newfound oil reserves, and she helped draft the proposal.
CURRENCY
Rousseff has ruled out targeting a specific exchange rate for Brazil's currency, which is trading near a two-year high and hurting exporters.
The Lula administration has taken steps to limit the flow of foreign capital into Brazilian financial markets in a bid to curb the real, but so far has had little success in reversing the currency's rally.
FOREIGN POLICY
Rousseff favours continuity of Lula's foreign policy objectives, including regional integration in Latin America and a greater say for developing nations in the World Bank and the International Monetary Fund.
She has proposed to create a bi-national energy company with Bolivia. But given her priority on domestic issues and her lower international profile, she is less likely to continue Lula's high-profile diplomacy. — Reuters
Brazil: Bare facts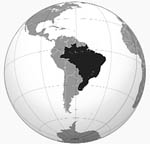 Capital: Brasilia
Official name: Federative Republic of Brazil
Size: 85,11,965 square kilometers)
Population: 1,98,739,269 as of July 2009
Official Languages: Portuguese (official), Spanish, English, French. There are over 120 Amerindian languages.
Literacy: Overall, 88.6%. Male 88.4%, Female 88.8% (2006)
Climate: Mostly tropical; cooler in the south
Currency: 1 real = 100 centavos
Products: Coffee, soybeans; beef; iron ore; footwear, motor vehicles
(Statistical source: Reports by UN bodies)