| | | |
| --- | --- | --- |
| | OPED THE ARTS | |
Without doubt audiences are the most significant element on which hinges the success of a performance. Take them away and performing arts will have little meaning. The way they behave, how they respond can make or mar live performing arts, especially theatre. So, is there a set code for audiences? Do they need guidance or may be special lessons, some kind of an initiation course on how to behave? Or is self-restraint the best policy and audiences have to be left to learn on their own?


Good theatre needs good audience
Neelam Man Singh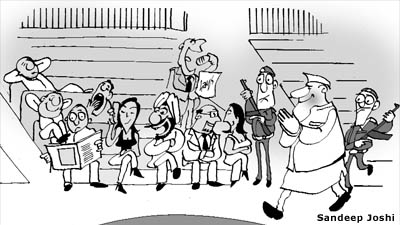 Imagine a grand theatre with spectacular sets, brilliant actors' complex, lighting design, magnificent costumes, and great music - all happening in an empty auditorium. Devoid of the vital energy that is provided by the audience, the actors' speech, emotions and feeling, float around in a vacuum and ultimately connect with nothing.


Dr Atamjit,
noted playwright and director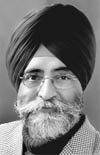 No doubt each audience has to have a certain code. Theatre audiences are vastly different from the ones that would come to see pop icon Gurdas Maan perform. Having said that I want to qualify that no code can be imposed from outside. It has to be evolved and many theatre organisations like Abhinet and theatre persons like Neelam Mansingh Chowdhry have contributed in the making of a disciplined and discerning audience. The relationship between audience and organisers is not a one-way street and organisers too must respect audience's time. What happens is that often when a bureaucrat or a politician is part of the audience we tend to disturb the code we apply on lesser mortals. Yes, there can be a censure of misbehaviour but it has to come from within the viewers themselves who must react against both organisational faults and misdemeanours of fellow audiences.
Kewal Dhaliwal,
Amritsar-based theatre person

Can audiences be trained? I don't think so… for audiences are not a fixed entity but change each time. Besides, no two audiences are the same. Urban audiences have different sensibilities and rural audiences would behave differently, though it no less disciplined fashion. Similarly audiences we encounter at the youth festivals are more charged up and likely to be more disruptive. However, I feel that wherever theatre is a tradition, viewers tend to be not only more civilised but even their feedback by way of clapping or sheer silence is most apt and encouraging. Yes there are minor irritants like, people trooping in late with children in tow, munching popcorn and chips. But these can be ironed out and audiences can be guided subtly and by organisers setting an example. At the end of the day the credit or discredit for making audiences goes to theatre persons. If they are following rules, like say starting the play on time, viewers would automatically learn the lesson of punctuality.
Balwant Thakur,
Jammu-based theatre director

Actually in India audiences have a rather casual attitude towards arts and that manifests in their behaviour while watching a performance. So despite repeated entreaties regarding switching off mobile phones, phones continue to ring and that too often when the performance is at its peak. People, generally forget that theatre is not cinema, but a live art, and actors are sensitive beings that get distracted with the slightest disturbance. Thus first of all there is a dire need for inculcating respect towards art and artists. Once they realise the effort that goes into the making of a play, they will begin to appreciate it the right way. Perhaps, a few lessons in theatre appreciation wouldn't be a bad idea at all to make audiences learn the significance of this art as well as make them understand the difference between good and bad performance.
(as told to Nonika Singh)
The above stated scenario can be truly frightening and each performer shudders at such a fate beholding him/her. A theatre audience is not just a collection of passive watchers and listeners, but is essential for the success of a performance. The relationship between the actor and the audience is a significant theatrical problem that has occupied the minds of theatre directors as much as the creative dimensions of creating a performance
A performance without an audience cannot be called theatre. Theatre can only happen when an actor, through the power of his storytelling techniques, creates an invisible thread that binds a disparate group of people into a collective, through a shared experience. Peter Brook describes Theatre as "the notion that the stage is a place where the invisible can appear." I personally associate with this type of theatre because I believe that theatre is a magical art form in which anything is possible. Theatre is a place where the audience has to suspend their beliefs for a certain period and enter a world of 'make-believe', and sometimes this make-believe can be more 'real' then the world they inhabit.
The play, actors and audience are all crucial and interlinked parts of any live performance. Remove anyone of them, un-link and shake any of their relationships with each other and a production collapses. An actor is a storyteller, but - in some theatrical cultures - performs the social function of a shaman. Too often the actors feel it's all about them, but actually it's about the audience -- being able to identify and recognise some aspect of their lives being revealed on the stage. The more you move away from the audience, the less power you have on stage.
If an actor has to be prepared to face a live audience, what is the responsibility and preparedness of an audience? The Chandigarh audience does not lack enthusiasm, sensitivity or artistic inclinations towards theatre - but what they definitely need to cultivate is that not only does an actor get ready for a performance, but an audience also need to prepare his inner and outer spirit to witness a performance Having performed in most of the major cities in India as well as festivals in the world, I have noticed that if a performance is disturbed by any member of the audience, he/she is made to feel like a social pariah and temporarily ostracised. The audiences take their role seriously.
I have often been aghast to see a play delayed for the arrival of a VIP guest who walks in with an entitlement that is impervious to the mood of the audience or the status of the artist. Pandemonium and chaos ensues if VIPs are denied their seating rights, while the rest of the disfranchised audience look on in bemusement.
We have often noticed that an audience saunters into an auditorium, invariably harried and late, loudly mouthing a bunch of trivia in an insistently beeping cell phone.
When I was working in Bharat Bhavan (Bhopal), a cultural complex in the early 80s, Chief Minister Arjun Singh would arrive for a show, always punctual and buy his five-rupee ticket for himself and his family. This was not an empty gesture or an affectation, but was an endeavour to inculcate the spirit of respect towards the arts.
I believe that in a great city, or even in a small city or a village, a great theatre is the outward and visible sign of an inward and progressive culture. Chandigarh has all the ingredients to be considered a liberal and forward thinking city. However, it needs to actively cultivate a responsibility, which is far more complicated then mere respect, towards the arts. A lot of this cavalier attitude from the audience comes from being a city of 'freebies' where theatre and art shows come without a price tag. You can hear a great singer, painter or actor without having to dip into your pocket. Instead of celebrating this generosity as a 'gift' from the city and the organisers, we take advantage.
The key to building any relationship with the arts is to recognise that sometimes, even though they are free, they represent immense value, both for the artists as well as the audience. Tapping into this invisible value is the essence of a theatrical and artistic culture.
Neelam Man Singh Chowdhry, an NSD alumnus, is a celebrated theatre person whose plays have been staged at prestigious international theatre festivals all over the world