Swimming against the tide
Activism may or may not come naturally to women, but more than one woman is finding the nerve to make her mark in this field
Nonika Singh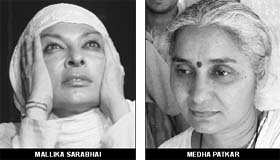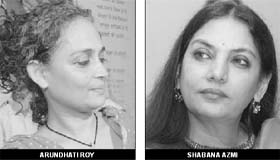 Arundhati Roy defends the cause of Maoists. Mallika Sarabhai shoots off an open letter to Amitabh Bachchan provoked by his becoming a brand ambassador for Modi's Gujarat. Shabana Azmi has time and again picked up cudgels on behalf of the underprivileged, particularly for the slum dwellers of Mumbai. And for most of us Medha Patkar and Narmada Bachao Andolan are almost synonymous with each other.
Welcome to the world of women activists who may often strike a strident note, may go ballistic to the other extreme while espousing their cause but there is no mistaking their invincible will and resolve. Since long they have played a significant role in ensuring the rights of others. Besides, some of them have made sure that they are visible — seen and heard loud and clear.
While feminist activism gained momentum in late seventies and considerable work has been done to empower women, to implement schemes targeted at women and children, gender issues have not been the only concerns of women. From environment to human rights to animal concerns their presence is palpable in virtually every domain. So does activism come naturally to women?
Payal Sodhi, Founder Trustee People for Animals (PFA), Chandigarh, who has been lending a voice to mute animals since past 16 years doesn't think activism has anything to do with gender but is a matter of personal choice. Sangita Vardhan, chairperson, Vatsal Chhaya Trust, engaged with providing education, vocational and motivational opportunities for urban deprived children, puts it in another perspective, "See, traditionally women have been socialised in such a way that they fail to look beyond their family and children. Activism, however, is connected to a sense of ownership (of world at large) and outrage. But since it is all about being able to connect, once they decide to enter this realm they are undeniably able to relate to people in a far better fashion. For women are not only capable of multitasking but also have a holistic vision of life."
Harleen Kohli, who was once associated with a feminist organisation Shamshir, may not nurse firebrand feminist ideology anymore, "For, patriarchy hurts men as much as women". However, even she agrees and says, "Without a doubt, women have a holistic perspective and thus a Vandana Shiva as an environmental crusader is any day better than a man in her position." Of course, not all share her magnanimous opinion of female activists who are often viewed with a fair degree of scepticism if not outright suspicion.
The popular (mis) conception views them as screechingly sentimental, breast beaters, impractical, eccentric and jingoistic at worst and as bored rich hausfraus club at best. First things first, Sodhi dismisses the notion that emotions play any role in activism that arises out of a sense of responsibility and requires both knowledge and commitment. As for the bored housewives taking to activism, she is cryptic, "Let their tribe increase. Isn't it better they make social work and not kitty parties their prime time preoccupation?"
On celebrities joining the activism bandwagon, Vardhan rebuts the claim that they do so for an added share in the limelight. She questions, "Let us not forget that Arundhati Roy was a best-selling writer before she decided to address various issues she feels strongly about at several platforms." Manmohan Sharma, executive director, Voluntary Health Association, Punjab, offers a more rational explanation, "See for every celebrity activist there are hundreds who are working at the grassroots level doing their work quietly without much ado." While he feels that celebrities can afford to speak out their mind, the woman in the village has to follow a more balanced approach. He opines, "You need both kinds to spur the causes forward."
Vardhan agrees that there are a few "holier than thou", "nobler than all others" tribe of activists whose exaggerated sense of importance can be dangerous. For ultimately activism is about taking people along not alienating them.
Reicha Tanwar, director Women's Studies, Kurukshetra University, Kurukshetra, however, feels that sometimes society deserves a shock treatment and thus there is no harm in some activists raising a shriller voice than required. Anyway, she feels that by all means India could do with more and more women activists of all hues and shades. First and foremost to draw attention to concerns related to them, for women's problems are very many and a large majority of women are simply not clued in to what their rights are and need to be made aware of the blatant infringement of their rights.
Of course, becoming an activist is never a cakewalk, albeit an uphill task. As in life so in the domain of activism, women do face greater challenges. The society so used to seeing women in conventional roles doesn't respond to them effusively. Quips Tanwar, "Each time you stand up for a cause, let's say when I take up the issue of equal property rights for women, the stock response is —why is she propagating it? What axe does she need to grind?" Yet despite obstacles more and more women are realising that their world doesn't begin or end with their small little cocoons and they have a stake in a just and egalitarian society. Thus despite odds, often at the risk of being labelled a deviant, they have found the courage to pursue the cause close to their hearts and the way they want to. And many more would gladly make a contribution, provided, says Sharma, "We create the environment and space for them." Well, till we don't, the feisty ones as well as the unassuming gentle crusader, will grab their chance and go about it. Love them or hate them… "God's special women", as Sodhi calls them or volatile, belligerent brigade as many deem, women activists are here to stay and make society a better place. For men too.