| | |
| --- | --- |
| Agitated Sector 45 residents argue with a staff member at the CHB secretary's office. Tribune photo: Manoj Mahajan | An unauthorised gate constructed on the side of the CHB executive engineer's house in Sector 45, Chandigarh. Tribune photo: Manoj Mahajan |
school recognition
UT's selectiveness draws flak
Chandigarh, October 27
Privately run schools are peeved over the different set of rules followed by the UT education department on regulating primary and secondary education. While certain schools have been targeted by being denied any extension in recognition many others have been granted provisional extension on the same grounds.
Most milk samples fail
Chandigarh, October 27
As many as 32 samples of milk out of 43 collected from houses in Sector 27 here today were found adulterated. While all samples had 52 per cent water, the only consolation for consumers was that no substance hazardous to health was found.
Consumer is king this Diwali
Three major fairs woo consumers this festive season
Chandigarh, October 27
The consumer is king in the run-up to this Diwali. With plenty of gift options available at the three major sale-cum-exhibitions, shoppers will have an array of gift items with attractive schemes to lay their hands on this festive season.
F&CC skips its job
No time for action taken report in 90 minutes
Chandigarh, October 27
The meeting of the Finance and Contract Committee (F&CC) of the municipal corporation (MC) today rubbished the action taken report, pointing out that it was a shoddy job.
Dharna by safai sewaks
Demand abolition of contract system
Mohali, October 27
Members of the Safai Mazdoor Union staged a dharna outside the Deputy Commissioner's office.
3 Pak nationals rounded up, freed
Chandigarh, October 27
A visit of three Pakistan nationals to the city left them with a sour experience when they were picked up the police on suspicion here today.
Food adulteration conviction rate low
Chandigarh, October 27
The conviction rate in food adulteration cases at the district courts here continues to be low.
Sweets to pinch pocket more
Chandigarh, October 27
Those with a sweet tooth may have a toothache this season, thanks to the soaring prices of sweets. With the onset of the festive season, the prices of sweets have risen and are likely to increase further.
Too tempting to resist
Subtle Strawberry (Rs 500/kg)
Alive but not kicking
City centre presents a neglected picture as lack of basic amenities keeps prospective investors away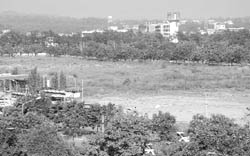 Panchkula, October 27
Patterned on Chandigarh's commercial hub, Sector 17, the commercial centre in Sector 5 here seems to be losing its steam due to lack of commercial activities.




A view of vacant plots at the commercial centre in Sector 5, Panchkula. Tribune photo: Manoj Mahajan
Back to the front
Violators use rear side as the main entrance and green space to park vehicles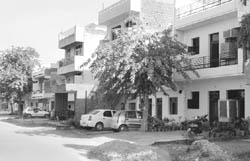 Panchkula, October 27
Illegal construction in independent houses constructed by the Haryana Housing Board in various sectors of Panchkula has drawn flak, as owners have totally changed the rear view of the houses.



Four-wheelers being parked illegally outside houses under Haryana Housing Board in Panchkula. Tribune photo: Nitin Mittal
Mission space captures students' fancy
Panchkula, October 27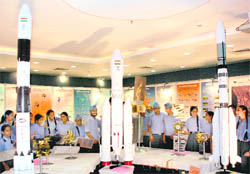 Models of various communication satellites, including weather forecasting satellite — Kalpana, remote sensing satellites- Cartosat-2, Resourcesat and the Astosat were the major attractions for the students at Indradhanush Auditorium in Sector 5 here today.



Students at an exhibition on 'India in Space' organised by Isro in Panchkula on Wednesday. Tribune photo: Nitin Mittal
HC chips in with Rs 4.75 lakh for Uttarakhand flood victims
Chandigarh, October 27
The Punjab and Haryana High Court has become the first judicial institution in this part of the country to contribute for relief work going on in Uttarakhand by presenting a cheque for Rs 2.75 lakh. Complimenting the High Court's efforts, the Bar Association too contributed Rs 2 lakh.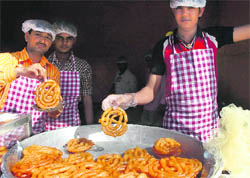 Crafts Mela a foodies delight
Chandigarh, October 27
The second "National Crafts Mela" at Kalagram has been attracting food lovers to "street food of India" stalls.




The famous Gohana jalebis are a hit with foodies at the Street Food Festival of India in the ongoing crafts mela in Chandigarh. A Tribune photograph
Infantry Day observed
Chandigarh, October 27
Infantry Day was observed at Western Command Headquarters, Chandi Mandir, today with a solemn wreath laying ceremony to pay tributes to martyrs.
Philosophical Punjabi play leaves audience awestruck
Panchkula, October 27
"Change is the law of nature and life, too, is a process of constant move and perpetual change, but this universal truth is sadly forgotten or abandoned in the world of 'isms'." This explosive reality was recovered and illustrated in a philosophical Punjabi play "Qatra qatra zindagi" staged on the third day of the ongoing TFT- Oscar Theatre Fest-2010 at the Inderdhanush auditorium here today.
VAT hike flayed
Chandigarh, October 27
The decision of the Chandigarh administration to hike VAT on essential commodities from 4 per cent to 5 per cent has come in for severe criticism from the trading community.
Conference concludes
Chandigarh, October 27
On the concluding day of the UGC-sponsored two-day national conference on "Rural India in a global village: Issues and perspectives", organised by the department of sociology of Postgraduate Government College for Girls, Sector 11, four technical sessions were held today.


Dharnas by college teachers from today
Chandigarh, October 27
The Joint Action Committee of Teaching and Non-teaching Staff of aided colleges of Chandigarh held a meeting yesterday to discuss the delay in releasing revised pay scales to non-teaching staff from January, 2006 and payment of arrears to teaching staff.
Vacant Posts of Deputy Director
Education dept accused of favouring DEO
Chandigarh, October 27
The UT education department's troubles over vacant twin posts of deputy director, adult education, seem to be far from over. On one hand, it has failed to convince any lecturer or principal to opt for these ex-cadre posts, on the other, it is being accused of favouring Chanchal Singh, current district education officer (DEO), by not posting him there, despite him being the senior most.
150 take online CAT on Day I
Chandigarh, October 27
Common Aptitude Test-2010 (CAT-2010), an entrance exam for admission into the coveted Indian Institute of Management (IIM) and nearly 159 non-IIM business schools in the country, kicked off today in the city without many technical glitches, as those reported last year.
Soch-10 concludes with panel discussion
Chandigarh, October 27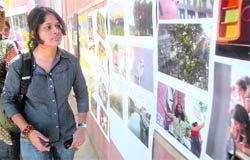 Soch 2010 of the School of Communication Studies, Panjab University, concluded today with "Gehri Soch", in which a blood donation camp, a seminar on traffic awareness and a panel discussion was organised.


A girl sees photographs being exhibited at Soch-2010, the annual media fest of the School of Communication Studies, Panjab University, Chandigarh, on Wednesday. Tribune photo: Vinay Malik
PU bridges gap between student bodies
Chandigarh, October 27
Having predicted a tough year ahead for the functioning of the student council with rival party members working together in it, Panjab University is now doing the balancing act.
From Colleges
CHANDIGARH: The NSS unit of Sri Guru Gobind Singh College in collaboration with the Lions Club, Chandigarh, organised a blood donation camp in memory of Late S Bharpur Singh, former secretary, Sikh Education Society, in the Multi-Purpose Hall of the college here on Wednesday. Junior doctors of the PGI visited the college. As many as 202 volunteers of NSS, along with teaching and non-teaching staff donated blood. Gurdev Singh Brar, IAS (retd), president, Sikh Education Society, was the chief guest.