'Rise in sea level not alarming'
Dehradun, November 9
Major-Gen VP Srivastav, Chairman of the Indian National Cartographic Association (INCA) International Congress, said today that rise in sea level over the years as a result of climate change was not alarming.
Small-time leaders acting as stooges of contractors, says Water Man


Dehradun, November 9
Magsaysay Award recipient Rajinder Singh who has earned the sobriquet of "Water Man" and was at the helm of Ganga Lok Yatra that travelled through different parts of Uttarakhand, has said no sooner did the yatra end the National Ganga Basin River Authority, under the Chairmanship of Prime Minister Manmohan Singh, declared the 135-km stretch from Gomukh to Uttarkashi as an eco-sensitive area.
Lata Mangeshkar-sung Garhwali song to hit market soon
Pauri Garhwal, November 9


In a first of its kind, which can be termed as a major recognition and popularity of Garhwali language, Nightingale of India and Bharat Ratna laureate Lata Mangeshkar's maiden Garhwali language-based song is going to hit the market soon, which surely will give the regional language a national popularity and identity. This much-awaited song has been picturised in a video album with local artistes and is already being hailed as a sure chart-buster as this is for the first time an artiste of the calibre of Lata Mangeshkar, who is regarded as the greatest female vocal artiste in India, will be lending her melodious voice to a song having Garhwali lyrics.
Rehabilitate people hit by Tehri Dam: SC
Dehradun, November 9
The Supreme Court (SC) today ordered the state of Uttarakhand to immediately take a number of urgent steps with regard to rehabilitation and development of the Tehri Dam-affected people.
Parties seek proper relief to disaster-hit
Dehradun, November 9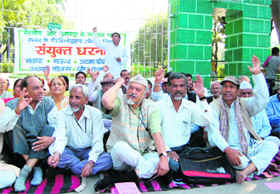 The CPI, CPM, Parivartan Party, Uttarakhand Mahila Manch and Tanzeem-e-Rehnumay Millat held a joint protest at the Gandhi Park here to ensure proper relief work for the disaster-hit people. CPI state secretary Samar Bhandari said the state had to pass through this enormous calamity and incurred losses to life and property.
Workers of Left parties and other organisations stage a dharna in Dehradun on Tuesday. A Tribune photograph

Speed up relief distribution to rain-hit, admn told
Haridwar, November 9
At a review meeting of the district administration regarding the disaster management and relief works being undertaken in the district, Gobind Singh Bisht today directed officials to ensure transparency in the relief work and a speedy redressal of problems of flood-affected people.
Parties term Obama visit as bid to bail out USA
Haridwar, November 9
While US President Barack Obama signed several multi-lateral deals with his Indian counterpart Manmohan Singh at Hyderabad House in New Delhi today, several protests were held here against the three-day visit of Obama terming it a visit to bail out the Obama government from financial crisis using India's economic growth and manpower.
GMNV staff losing faith in vice-president
Dehradun, November 9
The tone of agitated employees of the Garhwal Mandal Vikas Nigam (GMVN) has mellowed down a tad bit in the past few days, but their concerns have not shifted at all. The employees, who had been hitherto reposing faith in vice-president of the GMVN Raghunath Singh Negi's words of bringing justice to them, seem to be losing faith in him.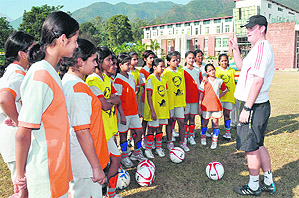 World footballers to train 50 students
Dehradun, November 9
To give an international exposure to the budding footballers, Unison World School is holding the fourth International Football Coaching Camp in collaboration with the Premier India Football Academy (PIFA), Mumbai, from November 9 to 12 at the school.
Nicolas Jones , Manchester United Development Coach, gives training to girl foootballers at Unison World School in Dehradun on Tuesday. A Tribune photograph

Rehabilitation of disaster-hit top priority: Minister
Pitthoragarh, November 9
Medical Education Minister and in charge of Pitthoragarh district Balwant Singh Boriyal said today that the Uttarakhand government was giving top priority to the rehabilitation of those families who had been rendered homeless in natural disasters.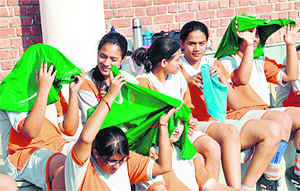 Sun screen: Girl footballers try to shield themselves from heat after a training camp at Unison World School in Dehradun on Tuesday. Tribune photo: Vinod Pundir

Gokul society holds yajna for world peace
Dehradun, November 9
Gokul, a society that works for the physically challenged, held a yajna for world peace and welfare of mankind at Harrawala today.
Doon Tigers register 4-wkt win
Dehradun, November 9
Doon Tigers scored four-wicket victory against Sports Hostel here today during the Chaudhary Charan Singh Memorial Twenty20 Cricket Tournament held at Matawala Bagh.
Aryan thrash St Jude
Dehradun, November 9
Aryan School thrashed St Jude School 30-9 in the boys' section on the inaugural day of the District Basketball Championship for Boys and Girls in the under-15 category organised by the District Basketball Association at Doon International School.
Bahadur Rana trounces Anand Chauhan
Dehradun, November 9
The State-level Boxing Championship for seniors commenced on the Parade Ground here today.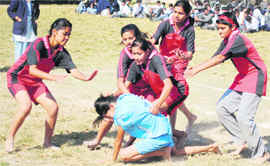 SGRR Basant Vihar emerge winners
Dehradun, November 9
SGRR Basant Vihar defeated SGRR Nehru Gram 20-14 to win the boys title of the Shri Guru Ram Rai Sahodya Complex Inter-School Kabaddi Tournament held here today.
A match in the Inter School Girls Kabaddi Tournament in Dehradun on Tuesday. A Tribune photograph