With cops on VIP duty, thieves having field day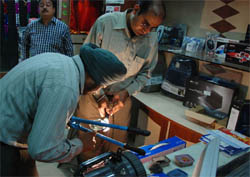 Bathinda, November 10
The tall claim by the district police of maintaining law and order in the district has been falling flat with thieves having a field day in the city of late. Recent trends indicate that besides breaking into houses, theives are now targeting computer and sanitary ware showrooms.


Forensic experts examine the shop where theft took place, in Bathinda on Wednesday. Tribune photo: Pawan Sharma
Protest against DRDA official's suspension
Bathinda, November 10
Protesting against the suspension of assistant project officer (APO) of the Bathinda District Rural Development Agency (DRDA) Sadhu Ram Kusla, members of self-help groups of this district, local Beti Bachao Manch, several youth clubs and NGOs carried out a rally on the Zila Parishad complex here today. A protest march was also held up to the Mini-secretariat here with slogans in favour of Kusla and against the government renting the air.
'Offensive' remarks by Congress
RSS workers stage protest
Bathinda, November 10
Protesting against the Congress party and its leader Rahul Gandhi for allegedly issuing statements against the Rashtriya Sweyamsewak Sangh (RSS) and other Hindu organisations, a large number of persons under the banner of RSS held a rally here today. They also took out a protest march through the bazaar from Gol Diggi area that culminated at the Arya Samaj Chowk here. A deputation of the protesters also submitted a memorandum to the district administration here.
RSS workers flay Cong leaders
Ferozepur, November 10
In a series of the nationwide protests against the alleged terming of certain Hindu organisations and workers as 'saffron extremism' by ministers in the Congress-led UPA government, the RSS leaders and workers today held a two-hour protest demonstration in front of the DC office here.
Bittu flays new sports policy
Barnala, November 10
The sports policy announced by Deputy Chief Minister Sukhbir Badal is a mere eyewash and a major setback for the youth of Punjab, said Member of Parliament from Anandpur Saahib and president, Punjab Youth Congress, Ravneet Singh Bittu, on the 10th day of the Nav Inquilab Yatra here.
Property dispute claims woman's life
Ferozepur, November 10
In a bizarre incident, Gurdev Singh, a resident of Kot Karor village of this district today shot Manjeet Kaur (wife of his deceased brother) dead and caused gunshot injuries to four other close kin to pave his way to get possession of a small piece of land measuring about a few yards.
Faridkot school artists excel in drama
Bathinda, November 10
The Punjabi science drama 'Qatil Kaun' was staged by the student artists of Dasmesh Public School, Faridkot. The drama won first position in the competition where nine northern states of India represented.
Three pilgrims from Gujarat die in mishap
Ferozepur, November 10
Three residents of Gujarat, who were on pilgrimage died on the spot while nineteen others sustained injuries when the bus in which they were travelling collided head-on with a speeding truck, coming from the opposite direction near Sande Hashm village, located on the Ferozepur-Zira road, today in the morning.
12 hurt as bus rams into house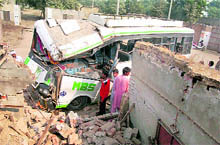 Sahib Chand (Muktsar)
As many as 12 girls of the Everest Girls' College of Kotbhai village sustained multiple injuries when their bus (PB30C7077), carrying about 30 students from Kotli Ablu and Bhalaiana villages, rammed into a house at Sahib Chand village in Muktsar district on Wednesday.


The bus which rammed into a house in Sahib Chand village in Muktsar on Wednesday. A Tribune photograph

Gang of robbers busted in Moga
Moga, November 10
Moga police has claimed to have busted a gang of robbers and arrested five youths after a brief encounter on Tuesday. One of their associates fled from the spot firing in the air but later surrendered before a local court on Wednesday.
Jatts to intensify stir for reservation
Ferozepur, November 10
Jatts have decided to intensify their stir in support of their demand for inclusion of their community in the OBC reservation quota list. Karnail Singh Bhawra, state president, All India Jatt Reservation Samiti, today said the union government was dilly-dallying this issue on one pretext or another. He added that earlier after intervention of Indian players and some senior politicians including Congress leader Janardhan Dwivedi, they had dropped the decision to oppose Commonwealth games. However, now we would agitate till our demands are met, he said. Cautioning government of facing ire of the Jatt community, Bhawra said now we would not relent and get lured by hollow promises until the government initiates some meaningful steps towards granting reservation to Jatts.