Lobbying on to save part of Adarsh society
Shiv Kumar
Tribune News Service


Desperate measures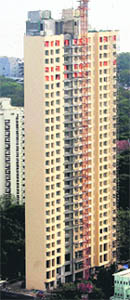 n The Adarsh society has been given two weeks to reply to the show-cause notice for violating green norms

n Some representatives of the society have appealed to the Maharashtra government seeking regularisation of the first seven floors of the building after paying a penalty

n Under the rules governing construction in the area, there is a height limit of 45.6 metres while the Adarsh Society is 104 metres in height

n Residents on the upper floors of Adarsh Society are examining legal options to say the demolition of the building
November 13, 2010
Flat owners in the controversial Adarsh Co-operative Housing Society have begun lobbying to save at least part of the building after the Union Environment Ministry on Friday issued show-cause notices asking why the building should not be demolished.
The society has been given two weeks to reply to the show-cause notice. The society would be allowed another week if it sought to make representations before the environment ministry seeking a stay on demolition.
Under the rules governing construction in the area, there is a height limit of 45.6 metres while the Adarsh Society is 104 metres in height. The Maharashtra Coastal Zone Management Authority (MCZMA) permits construction of buildings confirming to the height restrictions, officials from the body said.
Some representatives of Adarsh society have appealed to the MCZMA seeking regularisation of the bottom seven floors of the building after paying a penalty, sources said. However if the state authority agrees to the proposal, all the floors higher than seven floors would be demolished.
However the Union Environment Ministry under Jairam Ramesh has clarified that the MCZMA's clearance for the project was not sought and the construction of Adarsh would not be regularised. Powerful sections in the Maharashtra government are taking solace from the fact that the Union Environment Ministry has been accommodating in the past particularly in connection with projects like the proposed airport at Navi Mumbai.
Meanwhile, residents on the upper floors of Adarsh Society are examining legal options to say the demolition of the building.