Delay in info under RTI Act
CIC raps GMCH authorities
Chandigarh, November 15
The Central Information Commission (CIC) has pulled up the Government Medical College and Hospital (GMCH) authorities for delay in providing information sought under the Right to Information (RTI) Act.
Ekdum filmy hai!
Suicide threat to get leave
Chandigarh, November 15
Kailash, a constable with the Chandigarh Police, today showcased a scene from the Bollywood hit 'Sholay' when he threatened to commit suicide if his wish was not granted. He wanted leave for a week and interestingly, like Hema Malini's 'mausi', the Chandigarh Police reportedly granted him five days' leave. The constable, evidently under depression, was staging his threat on the balcony on the fourth floor of the UT Secretariat. He was high on booze. The drama was short as a team of cops rushed to the balcony and overpowered him.
Capitation fee, screening banned
RTE Act: Schools found guilty to be fined
Chandigarh, November 15
The UT administration today banned the charging of any capitation fee or subjecting children or their guardians to screening for admission by formally implementing the Right of Children to Free and Compulsory Education Act, 2009.
Big fat weddings are here, delicacies leading the way
Chandigarh, November 15
From expensive "herbal delicacies" to Arabian, Italian and Mexican refreshments, coupled with flavoured homemade chocolates as complimentary gifts, expenditure on "lavish food" has become a fad at city's big fat weddings at the onset of this wedding season.
Two get police remand, 15 in judicial custody
Chan1igarh, November 15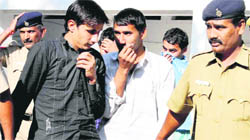 The district courts today sent two impersonators, Pradip Kumar from Bihar and Shamsher from Bhiwani, on two-day police remand and 15 others, including a woman, to 14-day judicial custody.


The accused in the impersonation case being produced in the district court, Sector 17, Chandigarh, on Monday. Tribune photo: Manoj Mahajan


Kajauli Water Works
MC to acquire 66 acres for phase VII, VIII
Chandigarh, November 15
To increase the quantum of water supply in the city, the Chandigarh Municipal Corporation is making a proposal to acquire 66 acre of land in Punjab for setting up phase VII and VIII of the Kajauli water works.
MC makes Rs 3.16 crore
Chandigarh, November 15
The Chandigarh Municipal Corporation made ` 3.16 crore from the auction of parking lots of the city today. The MC allotted 13 parking lots out of 16 to contractors for one year.
MC in no hurry
Was asked by GMADA to take over maintenance of parks in developed sectors more than six months ago
Mohali, November 15
Taking over the maintenance of parks from the Greater Mohali Area Development Authority (GMADA) does not figure anywhere on the priority list of the engineering wing of municipal council, which has even gone to the extent of ignoring a resolution passed by the general house of the civic body in this regard.
MC goes in for e-tendering
Zirakpur, November 15
To bring in transparency, the municipal council (MC) has decided to call tenders through e-tendering.
Mount View students donate Rs 1 lakh
Zirakpur, November 15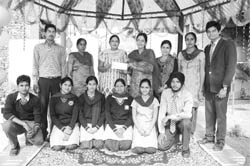 Students and principal of Mount View Public School, Baltana, today contributed ` 1 lakh to rehabilitate Leh-Ladakh victims.






Students of Mount View Public School, Baltana, who donated ` 1 lakh for the rehabilitation of Leh-Ladakh victims on Monday. A Tribune photograph
No clue in missing cash case
Mohali, November 15
The disappearance of Rs 5 lakh cash from the drawer of a cashier at the Punjab Cricket Stadium (PCA) continues to remain a mystery, as there is no clue about the person behind the alleged theft.
Notices issued to 17 successful applicants
Mohali, November 15
During the scrutiny of successful applicants falling under the reserved categories in Aerocity, officials of the Greater Mohali Area Development Authority (GMADA) have sent notices to over 17 successful applicants, who have so far failed to furnish documents pertaining to reservation sought by them.
Fire breaks out at restaurant
Panchkula, November 15
Fire broke out at a restaurant in the Sector 8 market here today. A loss of more than Rs 4 lakh was reported due to the accident, suspected to be because of a short circuit, said Surinder Khurana, owner of the restaurant.
Mountaineer honoured
Chandigarh, November 15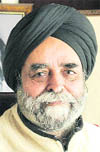 In yet another feather to his cap during his illustrious sojourn in the Himalayan glaciers, Chander Prakash Vohra, a former Director of the Geological Survey of India, has been conferred the "Nain Singh-Kishen Singh Lifetime Achievement Award 2010" by the Indian Mountaineering Federation in New Delhi last week.




Chander Prakash Vohra with his lifetime achievement award at his residence in Chandigarh on Monday. Tribune photo: Pradeep Tiwari
Patil assures govt docs of change in promotion rules
Hears 30 complaints during public hearing
Chandigarh, November 15
Punjab Governor and UT Administrator Shivraj Patil today assured government doctors that promotional rules governing them would be modified. He spoke to the doctors led by
DC seeks report from UT police
Chandigarh, November 15
Acting on a complaint filed by a local leader regarding carrying out of religious ceremonies at Sukhna Lake despite prohibition orders, the Deputy Commissioner, Brijendra Singh, has sought a report from the UT Police.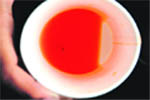 They serve insects, too
Chandigarh, November 15
Two youths were left with bad taste in their mouths when they found insects floating in their cold drinks bought from a well-known restaurant in the city.
A man holds the glass of cold drink with an insect floating on its surface at KFC, Sector 8, Chandigarh, on Monday. Tribune photo: Vicky Gharu.
Amarinder brings laurels to city
Chandigarh, November 15
Local bodybuilder Amarinder Singh Aulakh won the fourth position in the recently held Mr World Bodybuilding Championship at Varanasi.
'Arthdosh' staged to perfection
Chandigarh, November 15
The Theatre Lab ensemble staged a Hindi tragedy play "Arthdosh", an adaptation of French Noble Prize winning author Albaru Camu's classic "Misunderstanding" in the ongoing CSNA Theatre Fest-2010 at the Bal Bhawan auditorium here today.
Artistes stage the play 'Arthdosh' at the Bal Bhawan auditorium in Chandigarh on Monday. Tribune photo: Pradeep Tewari


Conference on applied psychology at Panjab varsity
Chandigarh, November 15
Emphasising that science must be studied and used with spirituality, UT administrator Shivraj V Patil today inaugurated the first international conference of the Asian Association of Applied Psychology on the theme "Enhancing Human Potential Bio-Psychosocial Perspectives" at Panjab University.
Role of media underlined at education meet
Ambala, November 15
Dr KK Khandelwal, Additional Principal Secretary to the Haryana Chief Minister, stressed on the importance of objective approach and deeper study of media.
New PU computer centre to ramp up networking
Chandigarh, November 15
A newly set up computer centre on the Panjab University campus will provide technical services, develop software and train teachers in improving their computer skills. The centre is proposed to be an independent unit with a separate budget (other than that sanctioned to the computer science & applications department), in accordance with the UGC guidelines.
PU professor is law varsity V-C
Chandigarh, November 15
Panjab University's Department of Law chairman Professor Paramjit S Jaswal has been appointed Vice-Chancellor of Hidayatullah National University of Law.
Clash of dates over science events
PU gives instructions to departments
Chandigarh, November 15
Foreseeing a clash of dates over two major science events on the campus next week, the Panjab University authorities yesterday instructed the departments to organise their activities on days that have no other event on the campus.
Expert dwells on trend in mental training models
Chandigarh, November 15
As a part of the international conference on "Enhancing human potential: Bio-psychosocial perspectives", a mental training workshop was held yesterday on the Panjab University campus.
Govt school education goes online
Chandigarh, November 15
The government school education goes online with the UT education department initiating the first phase of long-awaited information technology renaissance.

PU don is VC of Raipur varsity
Chandigarh, November 15
Professor Paramjit S Jaswal, chairman, department of laws, and former director of the University Institute of Legal Studies, Panjab University, has been appointed as Vice-Chancellor of the Hidayatullah National University of Law, Raipur, in Chhatisgarh for a term of five years.