HCS officer gets 7-year jail for rape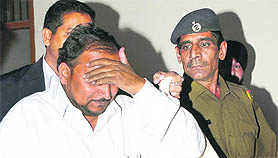 Panipat, November 16
Having found an HCS officer guilty of rape and cheating, a local court today awarded him seven years in jail under Section 376 for rape (with a fine of Rs 10,000) and two years for cheating (with a fine of Rs 2,000) a woman by fraudulently marrying her.
Convicted officer Jeet Singh at the Panipat courts. Tribune photo: Ravi Kumar
Runaway couple 'kidnapped' by girl's relatives
Sirsa, November 16
A runaway couple, which had come to the local courts for marriage and protection yesterday, was intercepted by the girl's kin and allegedly kidnapped. The couple was allegedly taken to their native village Dhottar, where the girl was taken to her home and the boy beaten up.
Kin blame doctors as expectant woman loses twins
Bhuna Civil Surgeon orders probe
Fatehabad, November 16
An expecting woman lost her twins allegedly due to delay in treatment at the Community Health Centre at Bhuna last evening. Civil Surgeon Dr OP Arya has asked his deputy, Dr Ramesh Chakarvarti, to conduct an inquiry.
MDU students to evaluate teachers' performance
Rohtak, November 16
The Academic Council of Maharshi Dayanand University (MDU) in its 160th meeting held here today gave its approval for evaluating the performance of university teachers on the feedback from regular students.
Rameshan is Rohtak IIM Director
Rohtak, November 16
The IIM, Rohtak, the youngest and ninth IIM of the country, has got a Director. Dr P Rameshan has taken charge of the office.
Role of Press highlighted
Jhajjar, November 16
The Jhajjar Patarkar Sangh today organised a seminar at the auditorium of the mini-secretariat here to celebrate National Press Day. Jhajjar SDM Chander Shekhar was the main speaker on the occasion while senior scribe Praveen Khurana and Sanjay Bhatia conducted the seminar.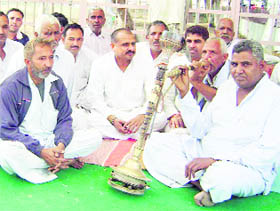 HJC man joins dharna by Gorakhpur farmers
Fatehabad, November 16
The dharna of Gorakhpur farmers against the acquisition of their agriculture land for the proposed nuclear plant of Nuclear Power Corporation of India Limited (NPCIL) entered the 92nd day today. Devi Lal Manjhu, media coordinator of the Haryana Janhit Congress, sat on dharna with the agitating farmers in front of the mini-secretariat today.
Farmers enjoy puffs of hookah during a dharna at Gorakhpur in Fatehabad. A Tribune photograph


Mirchpur case: Minister Selja's name dropped
Chandigarh, November 16
Four months after a petition was filed before the Punjab and Haryana High Court in the Mirchpur case, Union Minister for Tourism Kumari Selja's name stands deleted. As the case came up for hearing before Justice MMS Bedi, counsel for the Union Ministry of Tourism and Urban Development Anmol Rattan Sidhu said the notice had been inadvertently issued to the Minister.
Headmaster jailed for embezzlement
Sirsa, November 16
A local court today sentenced a school headmaster to five years of imprisonment and imposed a fine of Rs 2,000 for embezzlement of funds received as scholarship for students belonging to the Schedule Castes and nomadic tribes.
4 get jail for dacoity
Kaithal, November 16
The court of Additional Sessions Judge AK Shori here today sentenced four persons to five years of rigorous imprisonment after holding them guilty in a dacoity case.
School timings changed
Chandigarh, November 16
Haryana has changed the timings of single-shift schools in view of the winter season. The new timings in all government and private schools in the state will be from 9 am to 3 pm with immediate effect.