Chatterati
Stars at big, fat Dilli shaadis
by Devi Cherian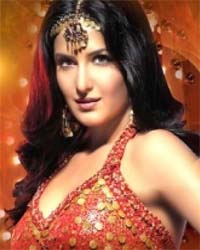 The shaadi season is always a fun time for Delhities. Delhi being a cosmopolitan city, we have all kind of weddings here. The expenditure of a wedding can vary from a thousand rupees to crores. Elaborate and over-the-top is an understatement here.
This year, it seems there is a craze for Bollywood stars performing at Delhi weddings. There is also a demand for Pakistani gazal and sufi singers. Recently, we had the 'not so busy' star Ameesha Patel performing at a shaadi. Singer Sunidhi Chauhan in fact acted pricey and so arrogant at a sangeet, even though she had charged a hefty amount. At last, the host had to ask her to leave without performing.
The gutka weddings in town were paying approximately Rs 25 crore for stars like -- Katrina Kaif, Salman Khan and Shah Rukh Khan. But the designers who dress the bride and the groom also get richer by lakhs. Work of real crystals and gold embroidery is done on their trousseau. It is not rare in Delhi for the bride to be wearing a lehnga worth Rs 10 to 15 lakh. The card for such a wedding itself costs between Rs 15,000 to Rs 20,000.
It is amazing that while the rich have so much to spare, the poor in India can hardly afford one decent meal a day. Witnessing all this, India is on an economic-rise. I would support the Indira Gandhi regime for serving four kinds of potatoes and simple marriages with limited baraaties.
Builders' jungle raj
This is not the first time that a building has collapsed in Delhi and that blame game has started between the Delhi administration and the Municipal Corporation of Delhi. It is unfortunate and extremely sad at the way lives are lost and people are left handicapped for life. India may be emerging as a large economic power in the world, but we have immense poverty.
A six-storeyed building housing 200 people collapsed, killing 80. The occupants were mainly migrants from West Bengal and Bihar. Some had dozens living in one single room. There is no way you can stop these migrants, as they throng to the national Capital in search of work and better life.
We are aware that unauthorised buildings and illegal constructions crop up everywhere. As a result, accidents happen, leaving behind orphaned kids and widows.
Is there any way to stop all this? The answer to it is -- stop bribing officials concerned and punish the guilty. Officials are bribed to pass the plans, not to visit the site, or check the material being used.
One wonders what the officials concerned do while unauthorised floors and constructions are carried out. Corruption is so deep-rooted in our system that we all have in a way given in.
It is high time that the 'Jungle Raj' of these builders is stopped. At this time, when the Prime minister and the Supreme Court is on a cleaning spree of the corrupt tribe, stern action should be taken against the killers.
We are proud of the country's growth rate, but such incidents indicate towards a systematic failure of governance, planning and regulation.
Farooq, the star
The evergreen energetic leader from Jammu and Kashmir, Farooq Abdullah, is clearly the flavour of the season.
He was the chief guest at the Godfery Phillips Bravery National Awards ceremony. This ceremony is held every year to honour the bravehearts of our society.
Abdullah is the star at any do that he attends. The evening was anchored by actor Kabir Bedi. Abdullah had a special word for each winner. He applauded and appreciated each one of them.
Besides, last week, there was a musical recital in the Capital where Abdullah was in tune with the singers and was the star even there. He had everybody amused by his great sense of humour. His party MPs swear by him and claim that he is the best in the crowd and the vote puller for them. He clearly is the man who is popular with all classes of people and yet humble and grounded. He is one politician who can be said of not being a hypocrite because his life is an open book and he has his views clear.