Cash, goods worth Rs 3 lakh stolen in P'kula
Panchkula, November 27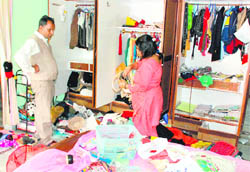 Keeping the police on its toes thieves once again targeted business and residential buildings in various sectors of the city and decamped with cash, jewellery and goods worth Rs 3 lakh.






The ransacked house in Sector 25, Panchkula. Tribune photo: Nitin Mittal


Fin secy Issue
Patil returns to city today
Projects may be probed
Chandigarh, November 27 With UT Administrator Shivraj Patil returning to the city tomorrow, all eyes will be set on him to decide the fate of the departments that were held by UT Finance Secretary Sanjay Kumar, who has proceeded on leave until the end of his tenure with the UT administration.
No room for separatist forces in city: BJP
Chandigarh, November 27
"Being a responsible political party, the Bharatiya Janata Party will not allow the city to become a platform for separatist forces," said Sanjay Tandon, president, local unit of the BJP, while addressing mediapersons at the party headquarters, Kamlam, in Sector 33, here today.
Honour for 2 PGI doctors
Chandigarh, November 27
Dr Chetana Vaishnavi, additional professor, department of gastroenterology, PGI, has received the prestigious ISG-Zydus-Alidac Oration Award in recognition of her outstanding research work in the field of gastrointestinal infections.
Enhancement charges unequal, say residents
Panchkula, November 27
Irked over the notices of enhancement charges to residents by the Haryana Urban Development Authority (HUDA), a delegation of group housing societies at Sector 20 has submitted a memorandum to local MLA PK Bansal.
Kashmir issue was settled in 1947: Dogra
Chandigarh, November 27
The Kashmir issue was irrefutably and irreversibly settled in 1947 and no Indian Government was politically empowered to negotiate as it was non-negotiable, as per a unanimous special resolution of the Indian Parliament.
'Peace, security must for human development'
Chandigarh, November 27
Stating that the concept of peace and security constitutes important basis of human development and progress of nations, Prof Biswas Chatterjee from Jadavpur University, Kolkata, said the concept had moved beyond the narrow canvas of demilitarisation to the domain of development that is the basis of comprehensive security.
BRO merges, redesignates junior ranks
Chandigarh, November 27
The Border Roads Organisation (BRO) has merged and redesignated some posts in Group-B in the General Reserve Engineer Force as part of its overall exercise to restructure the force. These posts are related to the technical cadre comprising civilians.
Pregnant woman falls from bus, dies
Zirakpur, November 27
A 26-year-old pregnant woman died after falling from a moving mini bus while alighting from the vehicle near Best Price at Zirakpur on the Ambala-Chandigarh highway this morning.
10 breeds to compete in dog show
Panchkula, November 27
Dogs of 10 popular breeds from the tricity will compete with each other in the dog show organised by the government pet clinic, Sector 3, here tomorrow.
Devotees take part in Rath Yatra
Chandigarh, November 27
The Chandigarh branch of the International Society for Krishna Consciousness (ISKCON) organised Lord Jagannath's 22nd Rath Yatra in the city with religious fervour here today.
A tribute to 26/11 victims
Chandigarh, November 27
The Theatre Arts, a leading city ensemble specialising in street theatre genre, paid an emotional tribute to the victims of 26/11 carnage in Mumbai by staging a play "Mission Mumbai-Doh Saal Baad" at the Plaza here yesterday.



Implementation of RTE
Govt schools, too, need a look
Chandigarh, November 27
While the UT education department is pulling up city private schools for not implementing the Right To Free and Compulsory Education Act 2009, many of its government schools may not even qualify as apt institutions to implement the Act, as they fail to fulfil the specified teacher-pupil ratio.
Protest at Yoga College
Students threaten to go on hunger strike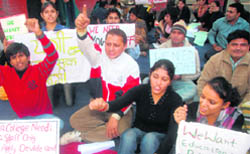 Chandigarh, November 27
The ongoing agitation at the GCYEH (Yoga College), Sector 23, against the current principal KL SODHI intensified today with ABVP members joining in.




Students of Yoga College, Sector 23,Chandigarh, protest in support of their demands. A Tribune phtograph