M A I N N E W S
Lavasa links may put Sharad Pawar in dock
Shiv Kumar/TNS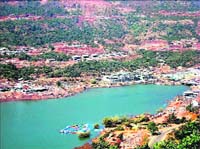 The promoters of Lavasa Corporation are answerable if they have committed mistakes while building the hill city. — Ajit Pawar, M'rashtra Deputy CM
Mumbai, November 27
Union Agriculture Minister Sharad Pawar is expected to face some heat in the coming days over his links with the controversial Lavasa hill station project after the Union Ministry of Environment and Forests (MoEF) said the Maharashtra government gave clearances to the project when it was not in a position to do so.
Pawar has openly flaunted his links with Ajit Gulabchand, promoter of Hindustan Construction Company (HCC), which is behind the Lavasa project. In a recent interview published in a city newspaper, Pawar said he spotted the potential of the area during one of his tours of rural Maharashtra and asked Gulabchand, a friend, to build a modern hill station in the area which is strategically located between Mumbai and Pune.
Pawar's daughter Supriya Sule and son-in-law Sadanand were major stakeholders in the project though according to Pawar they divested their stake in 2004. Lavasa has again come under the spotlight after the MoEF in its latest notice issued to HCC said it had not obtained central clearances under the Environment Impact Assessment (EIA) amendment of 2004. The notice also warned that the township may be razed for violating environmental norms.
Lavasa has come under fire from noted social activist Anna Hazare and the National Alliance for People's Movements (NAPM) headed by Medha Patkar. The NAPM has moved the Bombay High Court on the issue. Hazare has accused the politicians of Maharashtra, including senior leaders of the Nationalist Congress Party, of handing over tribal land to the promoters of Lavasa.
CAG hauls up Green Ministry
Tribune News Service
New Delhi, November 27
The Comptroller and Auditor General (CAG) has slammed the Environment Ministry for failing to implement its ambitious green projects and blamed it on loopholes in money allotment and poor implementation. It also recommended 37 specific corrective measures.
The CAG report tabled in Parliament yesterday said that money allotted under various environmental schemes was lying unused and targets had not been achieved in most projects. The audit done for April 2008-March 2009 highlights issues relating to the adequacy and effectiveness of programmes, schemes and interventions made by the ministry to tackle important environmental issues like deforestation, biodiversity and pollution.
Taking serious note there was a huge pendency of utilisation certificates (totalling 7,196), amounting to a staggering Rs 596.79 crore outstanding till March, CAG said this indicated the sbsence of a monitoring and follow-up mechanism in the ministry.
In the past seven years till 2009, the National Afforestation and Eco-Development Board (NAEB) released Rs 47.3 crore to implement 647 afforestation schemes. However, only 3.57 per cent and 23 per cent of total projects sanctioned to NGOs and state forest departments and agencies could be completed. The Comptroller and Auditor General did not rule out the "possibility of fraud .