It's getting better
Day 2 of the Chandigarh Carnival saw more and more people throng the Leisure Valley-10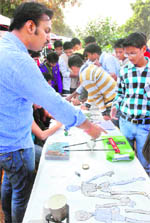 The city rose to a colourful carnival a sunny Saturday morning. Music and masti ruled as people from all age groups - toddlers to grandparents - had their own share of entertainment at the Leisure Valley-10. Despite the admission fee of Rs five introduced for the firsts time, there was no let up in the zeal of the crowd.

A canvas for peace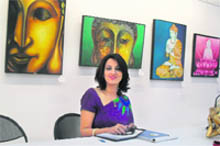 All paintings have a portrait of Lord Buddha and each conveys the same message - of peace. The inspiration to make a series on the theme came from the teachings of Dalai Lama — "If you wish to experience peace, provide peace to others." And it was a year back when art collector Kavneet Aggarwal decided to open a studio and start making paintings on the theme of peace, along with two more artists from the city.

Not just for show
Show window — it's an eye to a shop, showcasing what is on offer. And what goes behind a show window is not just a mannequin and few good clothes, but a thought process that takes into consideration a concept, theme and even colour code. Graduating from displaying weird-looking mannequins (wearing those dirty wigs) to chic poses and stylised dressing, our city has woken up to a new beginning with even insignia dressing of windows! Exhibiting their style with aplomb is Tashi in Sector 17. A Tata International Group, they have a life-size red sandal in their show window.
Bold & Beautiful
Shefali Zariwala Is in the city to Perform at The Chandigarh Carnival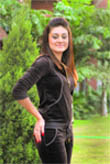 This was one of those rare interactions when a celebrity had an apt answer for every question; none was passed, ignored or answered diplomatically. Questions about her being tagged the item girl, her jaded career; marriage and then divorce, how she was physically abused and life post that, Shefali Zariwala shared all details of her life without any inhibitions. "I have nothing to hide. My life is an open book and I prefer to keep it that way. It's better to let people know the truth then let them presume wrong things," says a very candid Shefali, who was in the city to perform at the Chandigarh Carnival, organised by the UT administration.
Poor Show
Johnson Thomas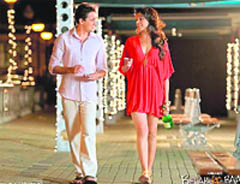 Following closely on the heels of Guzaarish, which has become a no-show after the first week itself, comes Kunal Kohli's Break Ke Baad, directed by newbie Danish Aslam and the much delayed Allah Ke bandey an attempt on children and crime. Despite the wide opening created by the Guzaarish debacle, neither of these films are likely to strike it rich or even create a small ripple at the box office. Break Ke Baad makes the unappetising Anjaana Anjaani look like a masterpiece in comparison while Allah Ke Bandey appears to have a City of Gold hangover.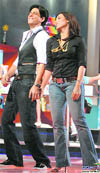 SRK to perform for the Wonders
Bollywood superstar Shah Rukh Khan is all set to front a campaign to get the Sundarbans, the world's largest mangrove forest, enlisted as one of the Seven Wonders of the World with a live performance. The 45-year-old actor will be joined by other stars including Rani Mukherji, Arjun Rampal and Isha Koppikhar at the gala event on December 10. "He will vote for the Sundarbans on stage during his performance," Swapan Chowdhury chairman of Ontar Showbiz, organizer of the performance, told newsmen.
Anurag's fan following


Anurag Kashyap counts himself as a huge fan of Turkish-German filmmaker Fatih Akin and it seems that the admiration is mutual as Akin says he has more respect for the Dev D director than for Quentin Tarantino. "I have become a fan of Anurag Kashyap after watching his That Girl in Yellow Boots, although I am not much aware about his other films," Akin said.
Bhatt again!


Bollywood director Mahesh Bhatt began filming Kuch Log, based on the 26/11 Mumbai attacks. The movie revolves around an individual belonging to the Muslim community. Actor Anupam Kher said that he was proud to be a part of the movie. "Out of every terror attack, a story comes out which depicts the life of an individual whose photographs are not printed in any newspaper.
The indomitable spirit
Author Sabita Paintal has shown that age is no bar for creativity


Age does not limit creativity; this has been amply proved by Sabita Paintal, wife of a late Army officer and now a grandmother. Born and brought up in the picturesque town of Dharamshala in Himachal Pradesh, she has been writing for the last five years. Coming from an Army background, her writings have marked impressions of the defence services, be it poetry, short stories or novels.
Creating unique spaces
Godrej Interio today announced the launch of an exclusive Pan India partnership with Knoll International, global leader in innovative modern design furniture and furnishings. This partnership is aimed at opening experience centres where architects, designers and consumers will have an opportunity to experience these modern designs and select the relevant products to create unique spaces.
Matka chowk
City tutorials


Education is such a joyless thing in India. It is an exercise to climb the score card; grades over mind, goals over learning, outcome over poor means.I was at a so-called tutorial or rather coaching centre today. Teeming teens were going in and out clutching Chemistry workbooks. They are all trying to become engineers or doctors - or rather they are trying to get admission into such a college. Daily grind for a better future.
For girls' sake
Director Darshan Bagga's latest movie Simran focuses on the abominable practice of female foeticide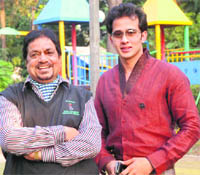 Female foeticide — A topic that has been discussed and documented too many times (yet there is no stopping the heinous practice) takes a new view with director Darshan Bagga in his latest movie Simran. Releasing on December 3, the tag line of the movie is 'Do not hate the girl child'. Darshan says, "This is my dream project. I had been thinking about making this movie for a long time. Today I have achieved my cherished dream." Ask him what took him so long to make the movie and he says, "The idea was born with my daughter as my mother never wanted a girl child. The moment I got the script I made the movie."
Mars vs Venus

Such stuff as dreams are made of, and our little life is rounded with a sleep. — William Shakespeare. The feeling of self-esteem for women comes from relationships, and thus being able to express feelings is very important. Women, a synonym with nurturing, are known to be more comfortable with their emotional life than are men. Men more likely see themselves as lone figures in a strange world. It is difficult for many men to express their feelings in words. This difference finds their way into dreams.
Power-packed handset
Creating a loud noise in the densely populated affordable handsets market is the all-new mobile Handset manufacturer, XAGE Mobiles, with its all-new range of exiting and futuristic handsets like the M108, the Music Masti Mobile. An all-in-one package, the M108 has a lot more to offer than the other conventional handsets in the market and also comes loaded with added features which will blow your mind.
Music that enriches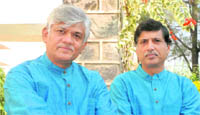 Music is an unending quest, an eternal pilgrimage. It is sacrosanct, but not free from contemporary influences where the past is enriched by the present," opine acclaimed Dhrupad maestros Uma Kant and Rama Kant, better known as Gundecha brothers, in the city for a concert at the Punjab Kala Bhavan for Triveni Sangeet Sabha and Department of Cultural Affairs, Haryana. Lifestyle catches up.
Bathe in style
To commemorate the completion of 50 successful years of its existence, HSIL Ltd, the group behind India's leading bathroom solutions provider - Hindware, has launched the Cornice collection. This elegant collection of sanitary ware and faucets comes with a perfect harmony of modern functionality and world-class designs. The superior range designed by international designers includes a wide array of products in the bathroom segment like sanitaryware, massage tubs, faucets, water closets and glazed vitrified tiles.