Action against anti-national elements in police sought
Jammu, November 28
The Bhartiya Janata Party's Mahila Morcha wing today demanded action against certain elements in the state police force. "There are many elements within the state police who not only have sympathies with anti-national and separatist elements, but also work clandestinely with them to carry out their nefarious designs," said Mahila Morcha state president Sakina Bano while addressing a press conference.
Payment woes plague MGNREGA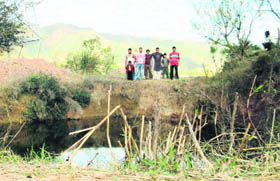 Sunder Bani, November 28
Complaints of workmen under the Mahatma Gandhi National Rural Employment Guarantee Act (MGNREGA) have increased manifold due to faulty supervisory mechanism on the ground despite computerisation of records.

A photograph of a pond in ward number 8 of Mawa village in Patrara panchayat. Tribune photo: Ashutosh Sharma
Separatist leaders not allowed to go to Sopore
Srinagar, November 28
Separatist leaders Shabir Ahmad Shah and Nayeem Ahmad Khan were prevented by the police from proceeding to Sopore as they were on their way to north Kashmir on their first visit after their release from jails recently.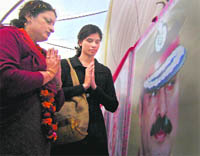 Wife and daughter of slain ATS chief Hemant Karkare, killed during the 26/11 Mumbai terror attacks, pay tributes to the victims, in Jammu on Sunday. — PTI
15 injured in bus mishap
Jammu, November 28
At least 15 passengers, including an ASI of the police, were injured, after the bus they were travelling in, skidded off the road at Jouriyan in Akhnoor, this afternoon.The police said the mishap took place when driver of the bus (JK-02-C-6569), plying on Khour-Jammu road, lost control over the vehicle.
Cases of lung cancer on the rise in Valley
Srinagar, November 28
Smoking has taken its toll on the males in the Kashmir Valley with the highest number of lung cancer cases being reported in the state so far this year. Till October this year, 316 cases of lung cancer were registered at the Sher- e-Kashmir Institute of Medical Sciences (SKIMS). There were 363 cases reported in 2009 and the number of such patients was 265 in 2008.
2 ultras killed in gunbattle
Jammu, November 28
Two militants were killed in a gunfight with security forces this morning in Doda district, the police said. A joint team of the Army and the state police raided a suspected hideout of militants in the Gandoh jungles in Doda, some 180 km from Jammu. A gunbattle followed in which two militants were killed, a police official said.
Geelani denies link between stone throwers, militants
Srinagar, November 28
The chairman of the hardline faction of the Hurriyat Conference, Syed Ali Geelani, has refuted the police claim that there is a link between stone throwers, separatists and militants, saying his party, Tehreek-e-Hurriyat, is purely a political organisation.
Victims' kin join protest
Srinagar, November 28
Family members of three youth from Rafiabad in north Kashmir, who were killed allegedly in a fake encounter in the Macchil sector of Kupwara district early this year, joined a day-long protest organised by the Association of Parents of Disappeared Persons (APDP) here today.
Leh highway to be reopened for 2 days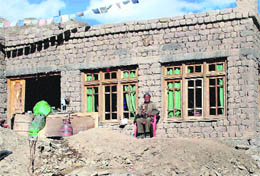 Srinagar, November 28
The 434-km-long Srinagar-Leh highway that was closed to traffic on Thursday following a snowfall on the Zojila Pass, will be reopened for two days from tomorrow to allow the movement of stranded vehicles.
A resident on Sunday sits in front of his house damaged in the cloudburst in Leh. Funds promised by the Centre to help local people reclaim agricultural land are yet to reach the local authorities. — PTI
Arrangements for Muharram reviewed
Srinagar, November 28
The district administration reviewed various arrangements in view of the forthcoming Muharram-ul-Haram and took many decisions. The meeting was held under the chairmanship of Deputy Commissioner, Srinagar, Mehraj Ahmad Kakroo here.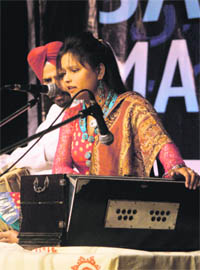 An artiste gives a performance at the Pandit Uma Dutt Sangeet Mahotsava in Jammu on Sunday. A Tribune photograph
Former NC minister's nephew joins PDP
Jammu, November 28
Kunwar Bali, nephew of former minister and National Conference (NC) leader Bodh Raj Bali, today joined the People's Democratic Party (PDP) in the presence of party General Secretary Balbir Singh.
Two injured in Rajouri group clash
Jammu, November 28
A group of youth belonging to a particular community allegedly attacked a youth of another community in Rajouri last night,sparking a group clash in which several persons were injured.
Mahurat shot of Ashayein taken
Jammu, November 28
A short film on a young rag picker entitled Ashayein is being produced under the aegis of Vyeth, an NGO. According to a statement issued here, the mahurat shot of the film was given today by Chief Guest Minister for Revenue, Relief and Rehabilitation Raman Bhalla.
School releases annual magazine

Jammu, November 28
The school management of ASN Higher Secondary School, Resham Ghar, today, released the 6th issue of combined annual school magazine "Adarsh" at Jammu Club. Minister for School Education Peerzada Mohammad Sayeed was the chief guest on the occasion, and Ajay Sadhotra, MLC, presided over the function.

Students recite Saraswati Vandana at a function organised by ASN Higher Secondary School in Jammu on Sunday. Photo: Inderjeet Singh
2 found dead in river
Jammu, November 28
Two friends in their mid-thirties, one of them physically challenged, were today found dead, under mysterious circumstances, from a river near Dablehar village in RS Pura, here, the police said.
Bid to commit suicide
Jammu, November 28
Two persons, including a woman, allegedly made abortive bids to end their lives after consuming some poisonous substance at their houses across Jammu region today, the police said.